| | | | |
| --- | --- | --- | --- |
| | The Words of Dae Mo Nim (Mrs. Hyo Nam Kim -- Hoon Mo Nim) | | |

"Special Grace to Commemorate the 11th Anniversary of the Chung Pyung Providence" Finishes
Dae Mo Nim
January 15, 2006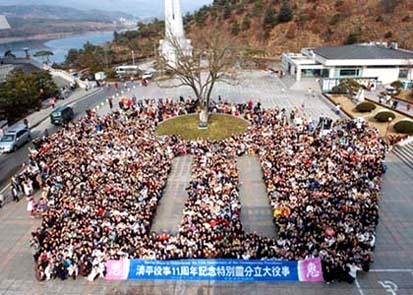 Around 21,800 people from 49 different countries came to participate in the 11th Anniversary of Chung Pyung Providence from January 12th till the 15th. Many trainees from the 101st Chung Pyung 40-day workshop continued to stay and participated in the Anniversary as well.
During the 11th Anniversary, those absolute good spirits that helped True Parents on his "Inaugural Convocation for the Universal Peace Federation, 120-City World Tour" were mobilized for the special separation of evil spirits.
Dae Mon Nim gave a lot of devotion so that the special separation of evil spirits could take place, by locating the absolute good spirits at 12 a.m. January 12th. Then blessed us with grace of Special Prayer, special healing, and consecration of the wish papers. Also there were graces such as the registration blessing.
The morning of 15th of January Hun Jin Nim and Dae Mo Nim had announced that they have prepared to take care of the potential cause of cancer.
"To commemorate the 11th Anniversary of the Chung Pyung providence, I have made for us to separate even more evil spirits from ourselves. Therefore, educating the absolute good spirits once again, to make the separation even faster.
From the year 2006, God can live in us, and vice versa. Yet, it has been difficult for this to happen since bad spirits would bring upon us illness and pain.
However, it has been understood that through organizing those problems, through absolute good spirits, we can have happiness and joyfulness.
Therefore, I educated the absolute good spirits once again.
I told the absolute good spirits to make the best use of their 11-year experience here in Chung Pyung and take away the cause of cancer that everyone carries. Furthermore, I shall make the night session of separation of evil spirits the same effect as the lunch time session. And hope that everyone will join the precious separation of evil spirits." (January 15th 2006, Dae Mo Nim's speech)
Also at 9:00 p.m. through Jae-sun Choi progress director of bureau, Dae Mo Nim said, "I thank deeply for all of those members who 100 per cent believed in the Special Anniversary Workshop."

Download entire page and pages related to it in ZIP format


Table of Contents


Information


Tparents Home