| | |
| --- | --- |
| | The Words of the Kim Family from 2009 and 2010 |
Testimony on Distributing 430 Copies of True Parents' Autobiography
Ki Hoon Kim
August 23 2010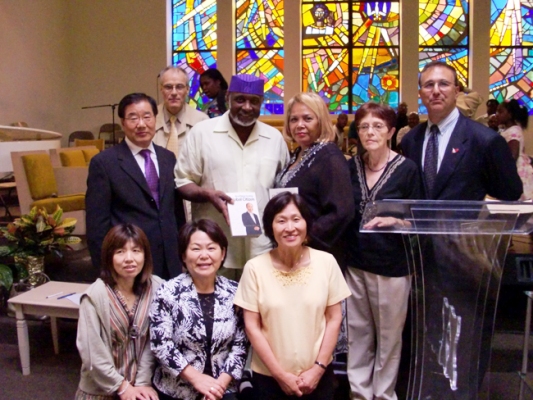 Blessed Central Families who attended service at
Rev. Barrett's church
True Parents' autobiography As a Peace-Loving Global Citizen has been published and sold in Korea since March 2009 and was on the bestseller list there for over a year. Also, soon after it was published in Japan, hundreds of thousands of copies of the book were sold. In America, on October 1st last year, 1,500 people gathered to hold a grand publication commemoration event at the Sheraton National Hotel in Washington, DC.
Early last year, scholars prepared an English edition of the autobiography, to be published in a large amount. It was published last June. 100,000 copies were printed to be distributed to members before the book was sold online or in bookstores. Families of members in America bought the book and started distributing 430 copies. This effort is continuing under In Jin nim's leadership, as the church headquarters encourages each family to distribute 430 copies of the Autobiography. In Jin nim herself has been continuously visiting Washington, introducing Father to political leaders and giving them copies of the Autobiography.
True Parents said that the Autobiography is a textbook that can
(1) allow all humanity to understand Heaven's Providence;
(2) show in detail the way humanity must go as children of God, and
(3) show the formula life True Parents have led to practice the truth.
Father said that the autobiography is a record of True Parents' life course of true love that was walked in accordance to God's commands. Father called the book his will that should be read not only by all members but by all humanity. Every time he came to America, Father emphasized that all members should buy 430 copies and give them out to neighbors and relatives. Father emphasizes when he comes and goes from Korea to America that we should make our relatives and neighbors into members of our tribes through giving out the Autobiography. True Mother also always emphasizes that distributing the Autobiography is the best way to witness, and encourages us to dedicate ourselves to distributing it.
As a Blessed Central Family, I always thought that my greatest responsibility was to become united with True Parents' substantial being. Thus, according to their words and heavenly command, I bought 430 copies and decided to distribute them to the people whom I have been connected to up until now. I set the time period at ten days and determined to do my best. In the end, I completed the distribution of 430 copies within ten days. After reading the Autobiography a few times, I was able to recognize within myself that True Parents have and are still practicing true love as the Messiah. Thus, I was able to recommend the book to many people without feeling any burden.
I first decided whom I should distribute the books to. I started working by first determining to distribute the Autobiography to religious leaders, mayors and other political leaders in the Chicago area, and Korean VIPs. I contacted Christian ministers and laypeople whom I have been educating for a long time and who deeply understand True Parents' Peace Ideology better than others. Rev. Barrett is a minister who is prepared to the extent that he has invited True Parents and True Children to speak in his own church. Thus, I chose him as the first person to give the Autobiography to.
I met with him and told him about the movement to distribute the autobiography. He actively helped me by giving the book out to 120 people at a gathering the next day and asking them during his sermon to write a book report about the Autobiography. He requested over 200 more books to give out on Sunday after service. Members from our church who had attended his service were very moved to see people lining up after service to receive the Autobiography. There were many people who could not receive the book so he requested 200 more copies.
In this way, the ministers who have been educated by True Parents are working hard to distribute the Autobiography. Elder Foss of Rev. Barrett's Life Center Church told Rev. Barrett that he read the Autobiography overnight; that he cannot remember how many times he shed tears while reading and that it's the first time he had ever read such a book. In this way, Elder Foss helped all the members of the church read the book.
Japanese sister Maeda who attended the Sunday service was moved to see the active cooperation of the minister and his congregation. She later attended one of the churches she was in charge of and gave out 20 copies of the Autobiography, having a good experience in the process. She sent me the following email:
Dear Bishop Kim,
How are you and thank you very much for your hard work.
As I learned how to distribute the autobiography from you at Rev. Barrett's church, I wanted to try at my contact church.
Last Friday I asked Rev. John Gray that I want to distribute to his congregation Father Moon's autobiography. He said OK.
So yesterday I attended the 11 AM service with my son.
The pastor invited me to come to front to announce about the book. So I did and I mentioned that I would like it if they could send feedback to me after reading the book.
His church is very small. Yesterday's attendance was about 30 adults and 20 children.
But everybody lined up to get the book and they were happy to get it. One lady doctor said to me that she was very concerned about Father Moon so she was happy to learn more about Father. That was a very exciting experience! I'm sorry that I forgot to bring the camera.
I asked Pastor Gray if he is reading the book and he said he has read a few pages but he promises to read the rest ASAP.
I think we have to make sure a little later whether everybody has read the book or not. I am thinking to print out and send to my contacts some pages which I was very inspired to read, so that they may also feel inspired to read the book.
I want to distribute more books to ACLC pastors' churches. But I have only one more box now and I heard that there are no more books now in USA.
Is the next shipping coming soon?
God bless you.
Sarah Maeda
If many members help each other to distribute the Autobiography, all families will be able to distribute 430 copies very efficiently within a short period of time. In the Chicago church district, we are considering a way of all members cooperating to complete the 430-copy condition by creating an Autobiography Distribution Committee.
It was not easy to meet the political leaders due to their busy schedules, so I chose 60 important leaders including the Chicago mayor and sent the Autobiography with an introductory letter by first-class mail, requesting for future meetings.
Next, I introduced the Autobiography to Korean leaders in Chicago with whom I have been connected for 33 years. I received a good response -- now the Korean leaders are all asking for the Autobiography for them to be able to read it. I have already bought 100 copies of the Korean edition of the Autobiography and distributed them to Korean leaders. I also introduced to them the English edition for second-generation Koreans to read. My contacts are asking for the English edition now to give to their children to read. Former Chicago Koreans Association President and current Chicago Koreans Development Council (a non-profit organization that increases the political power of Koreans by inviting President Obama, the governor and others) President Charles Kim read the Korean edition of the Autobiography in two days and shared his inspiration, saying, "If I had met this book in my forties, my life would have changed." He said that he would give book to second-generation Koreans working in professional fields that were part of the Chicago Koreans Development Council and asked for 60 copies of the English edition of the Autobiography over the phone. The next day, I heard President Charles Kim's inspiration after reading the book and gave him the 60 copies of the Autobiography in person.
I believed that I first and foremost had the responsibility to buy 430 copies of the Autobiography in accordance with Heaven's commands, and secondly needed to make a determination to invest a certain amount of time to distribute them. I had bought books a while ago, but due to my schedule of having to travel and attend various church events, I had to leave the books in my garage for a few weeks. Recently, when I returned to Chicago, I determined to mobilize my entire foundation and distribute the Autobiography within ten days. After starting this activity, many people helped me as if it was their own personal matter. With this kind of determination, I completed a distribution of 100 copies of the Korean edition of the Autobiography and 430 copies of the English edition. I made a name list of the 530 people who received the Autobiography, am praying for those people, and am planning as a follow-up to have an event in which people can read their reviews of the book within the month of September.
More than anything else, I was proud to unite with True Parents' words and to distribute the Autobiography, which introduces True Parents, to people of the world. I believe that the most important thing was to have the conviction and determination to complete the distribution of 430 copies. With this, I conclude my short testimony.
from Chicago,
Ki Hoon Kim