| | | | |
| --- | --- | --- | --- |
| | The Words of the Kim Family | | |

Lady Dr. Kim's (Shin Ook Kim) Seung-Hwa
Sun Jo Hwang
November 18, 2004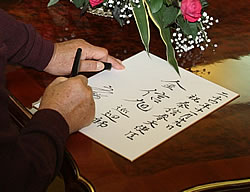 Information about our Elder member Lady Dr. Kim Shin Ook's Seung-Hwa
This information is to inform all members that our Elder member Kim Shin Ook, who joined at the early times of the church and throughout her life devoted all her heart and soul in attending True Parents family, has ascended to the Spirit World on November 16th, 2004.
1. Name: Kim Shin Ook (3 Single's Blessing)
2. Seung-Hwa
a. November 19th, 2004
b. Place: Kang-Nam Sam-Sung Hospital Rm 16

Dr. Hwang will officiate at a special prayer on November 18th at 10pm. We hope that many members will attend.
3. Won Jon
a. Time: November 19, 2004 Morning
b. Place: Il-San Christian Park Memorial
4. Family of the deceased;
a. Bang Hyo Won (91 Couples)
b. Bang Hyo Bon (6,000 couples) :
5. Brief Personal Record
* 1914. 4. 11. Birth
* 1937. 5. 15. Married
* 1956. 7. 27. Joined Unification Church
* 1960. 12. 11(Lunar) Helped at the birth of Ye Jin nim and also at the birth of Hyo Jin nim, Hae Jin nim and In Jin nim,
* 1961. 7. 40 Days Summer Witnessing
* 1971. American Missionary
* 1976. African Missionary


Download entire page and pages related to it in ZIP format


Table of Contents


Copyright Information


Tparents Home