| | | | |
| --- | --- | --- | --- |
| | Unification News for September 2002 | | |

Moldova: Love for Nature project
by Dorina Pendea and Florin Tsurcanu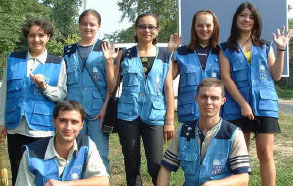 On Independence Day (August 27), in Chimishlya city, Moldova, we organized a project with young people from this city who just became of age (18 years old). To be of full age means to be responsible.
Even though the citizens celebrated this anniversary with a vacation, the young people took responsibility to adorn the city.
They painted the trees and sidewalks with lime near the Mihai Eminescu lyceum. Soon the poetís monument will be placed there. The lyceumís principal was impressed by this bold idea and appreciated the our activities. This project was based on the cooperative spirit existent between the schoolís administration and city hall.
The volunteers felt inspired because they could do something good for their native city. "Independence Day is a holiday for everyone," said one of the volunteers, Svetlana Gurin "We brought a ray of light to our city today. Cleanliness is most important. If itís clean around us, then weíll feel pure inside."
The young people appreciated that they could join the Service for Peace project and were very inspired from the talks given by the CARP president of Moldova, Mihai Calestru. They felt a strong push to create harmonious relations with all people and strive for unity, creating a family where peace, purity, trust and love abide.
Another project in cooperation with local NGOs and about 50 soldiers was called "Dniester, on your river bank." Children, young people and adults went out to clean up the river bank, collecting more than 30 cubic meters of garbage through their joint efforts.


Download entire page and pages related to it in ZIP format


Table of Contents


Information


Tparents Home