| | |
| --- | --- |
| | The Words of Sun Myung Moon from 1977 |
The International Wedding of 74 Couples
Sun Myung Moon
February 21, 1977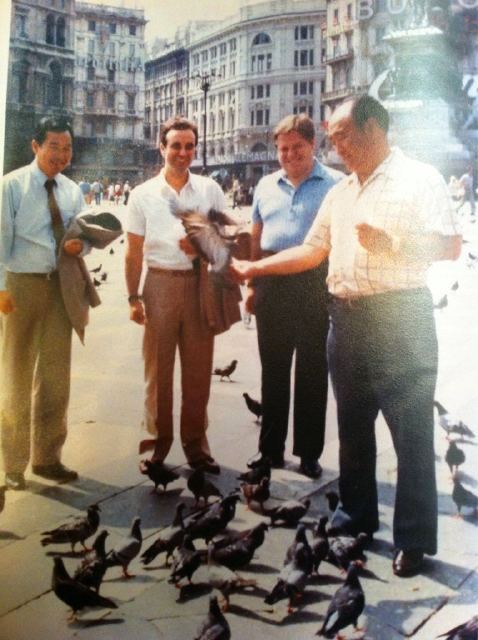 Sun Myung Moon, Sang Kil Han, and Franco Ravaglioli in Italy, circa 1975
Introduction by Bo Hi Pak
God created Adam and Eve to be the parents of mankind, and He blessed them saying: "Be fruitful and multiply, and fill the earth and subdue it; and have dominion over the fish of the sea and over the birds of the air, and over every living thing that moves upon the earth." God created man for the fulfillment of these three major blessings expressed in Genesis 1:28. The first blessing is the perfection of man. The second blessing is that of the divine marriage of perfect husband and wife to create the family. The third is the lordship over all creation.
If Adam and Eve had been totally obedient to God and had united with Him, they would have become the first temples of God through their individual perfection. It was God's plan then to bring perfected Adam and Eve into heavenly matrimony, and as husband and wife, they would have created the first family of man on earth. As they multiplied children, their posterity would have filled the earth, and they would have been given lordship over all the earth. That would have consummated the three blessings of God, and the joy of God would have been abundant throughout heaven and earth.
Through disobedience, however, Adam and Eve separated themselves from God and could not achieve perfection. Therefore God could not bless Adam and Eve in heavenly matrimony and human history started with a satanic lineage. It is truly astonishing to realize that even with having so many billions of people on earth since then, God has never had His own family. Not a single family was ever formed with the full blessing of God. It is truly heartwarming, though, to know that in the long 6,000 years of biblical history, God's total goal has been the restoration of mankind into His own family. He has been longing for the day of the first heavenly wedding ceremony.
God wanted to see this heavenly wedding during the time of Jesus Christ. Jesus came as the Messiah, the first begotten son, the first man on earth without sin. He came to earth as perfected Adam. He was supposed to be the first perfect bridegroom on earth. As the culminating point of his ministry, Jesus Christ should have been installed as the True Parent of mankind by restoring a heavenly bride and forming the first family of God on earth. The faithlessness of the people, however, did not allow this glorious day to come about in the time of Jesus Christ. Rather he was crucified on the cross. Ever since that time, mankind was destined to receive the second Messiah or the third Adam.
It is incredible and astonishing to realize today that we members of the Unification Church are living in another Messianic era. We are a privileged people who have known the True Parents of mankind. We are privileged people who are allowed to see God, not in a mirror dimly, but face to face. We are privileged people who have been experiencing the very heart of God.
Because of our knowledge of the True Parents, not because of our own merit, we are now entitled to be called sons and daughters of God. We are indeed a privileged people who have been summoned by God to build His kingdom on earth.
Today we see 74 chosen pairs of men and women who have been handpicked by God to be blessed into heavenly matrimony by the True Parents of mankind. This historical event which we are about to witness will unite the entire heaven and earth in these men and women, creating heavenly families which shall be admitted into the Kingdom of God on earth and in heaven.
Although our world and the media are quiet today, the billions of citizens in the spirit world know that today another important cornerstone of the Kingdom of God on earth is about to be laid here in America. The entire spirit world is enviously looking upon these privileged men and women from 11 different nations of the world.
We all humbly recognize that none of us in this room is worthy of possessing such extraordinary blessing. None of us even really knows the true significance of this moment. All we know is that we belong to the True Parents and by having absolute faith in them we shall achieve perfection. By faith alone are we qualified. By absolute obedience alone are we justified to be here. All we can do is pledge our total loyalty to God and the True Parents and ask them to rest assured that we shall not commit the same mistakes that Adam and Eve committed in the Garden of Eden. We shall pledge our lives to God and the True Parents so that they can use us as building blocks of the Kingdom of Heaven on earth.
As members of the Unification Church International from all over the world, we bring our heartfelt congratulations to you selected champions of our movement who are participating in today's honor and glory. We extend our heartfelt congratulations upon your blessed marriage. We pay our hearty respect and admiration to you who, through your long-standing loyalty and absolute devotion to the True Parents have won today's honor to be selected as blessed couples. We know that many of you have gone through untold tribulations and persecution. You have victoriously gone through severe tests of God in personal tragedies, and you have withstood the worst temptations. Today, you are here as victors of heaven.
We admire your courage and faith. We give our applause to your dauntless determination to follow the True Parents with such an absolute standard. You men and women who will stand in front of the True Parents for blessing today are shining examples of the Unification Church members throughout the world. You have been the pacemakers of our movement, and you have set a beautiful tradition to be followed. Yet, today is the real beginning for you. All heaven and earth will watch what you do after this blessing. We still have ground to cover to reach perfection. But I am sure you will all come out final and eternal victors.
I would like to end by quoting the words of Reverend Sun Myung Moon in his message on September 11, 1974:
"What is our purpose? To become true men. We will create the true husband and wife and become true parents to give birth to children who experience love among themselves and form a loving brotherhood. And those children and parents together will create one heavenly family. That family will expand into a true society. That true society will expand into a true nation. That true nation will expand into a true world.
God bless you all. Thank you.
Blessing Quarterly Spring 1977
On February 21, our True Parents officiated at the largest blessing ceremony ever held outside of Korea. Seventy-four couples were chosen from eleven different nations. The wedding ceremony took place at the World Mission Center in New York.
Many could feel that this blessing was very special because so many couples were older members and had waited so long for this time. We were all deeply grateful to be present, to share in this ceremony and to experience joy with our Heavenly Father and our True Parents upon receiving these couples.
Many of the participants came from overseas. The largest number from one nation was 99 from Japan. There were 27 from America. Other nations represented were Korea, Austria, Germany, Holland, France, Greece and England.
The wedding took place at 3 p.m. in the Terrace Ballroom. After all guests had gathered, Col. Pak opened the event by his address explaining the deep meaning of the ceremony. Twelve men and women attendants represented the 777 and 1800 couples. These couples formed an aisle for our True Parents and the wedding participants to walk through. Our True Parents entered and took their places as the officiators while the Go-World Brass Band and the New Hope Singers International accompanied them with "The Song of the Banquet," "Our Forefathers" and Schubert's "Marche Militaire."
The couples marched into the room, passing in front of our True Parents to receive their blessing and took their positions in four columns on the right and left facing Father and Mother.
Father then asked the wedding vows:
1. As the restored sons and daughters of God, can you pledge that you will keep the unchanging heavenly law, becoming the ideal ancestors of goodness, the true Adams and Eves, and that you will be responsible for any errors you make from now on?
2. As the eternal true husbands and wives, you will create not only the ideal family of God, inheriting His blessing, forever, but also you will establish the authority and dignity of Heaven and God's family. Do you pledge this?
3. As true parents, can you promise that you will raise your children as the obedient and loyal sons of goodness to be able to inherit the will of Heaven and to establish the law of Heaven?
4. As one of the central families of heaven, you will become the center of the universe and through the offspring of your home, not only the family of goodness, but also the society of goodness, the nation of goodness, and finally the world of goodness will be established.
Can you pledge this?
In response to each of Father's four questions, all the couples answered with a resounding "Ye!"
Then Father prayed:
Heavenly Father:
Today, February 21, 1977, we are thankful for this Blessing ceremony for the new eternal husbands and wives the seventy-four couples who stand before you. Father, please trust us, because we have been walking the path for the restoration of indemnity with many sorrows and sadness. In the Garden of Eden, the place of ignorance, our ancestors fell, causing the grief of Heaven, but now we pledge that we will never allow God to suffer anymore.
Because we have experienced how miserable the path of restoration is, we promise that we will make an eternal family as the true son and daughter where Father can dwell with us forever.
Not only this, we will connect the offspring of goodness on this earth to restore the sorrow of the world centering on the family, society, nation, world; and furthermore, as the true substitute of Adam and Eve's family, we will restore the spirit world as the angelic world.
We are so grateful that we begin the new true family to cast out the evil power. We are proud of becoming the children of Heavenly Father and True Parents to serve as our individual parents, our family parents, and furthermore, the parents of society; of the people, of the nation, of the world, and of Heaven and Earth. Now, under the blessing of True Parents, we receive the unique and eternal family from Father.
We pledge that we will become the true good ancestors forever from now on in front of Heavenly Father, and that we will make the central family which can have pride and prestige before Heaven and Earth as the Heavenly Family. Please give the blessing to the spirit world to be able to join in this place with their ancestors and their descendants as well. We know that besides God Himself, many religious leaders and many good spirits are looking at this place, because in this place there are the children from eleven countries. We ask your blessing to make this historical moment of sacred ceremony connecting directly to their ancestors, and to their descendants at this place.
Moreover, since the first Day of Heavenly Victory, Unification Church could fulfill the foundation of victory over the path of indemnity on the levels of individual, family, society, people, nation and world. This day was to unify the separated spiritual and physical world, between people and people, and among all the disconnected cultures. On this new historical basis I want to give blessing to the sorrowfully separated couples from the 777 and 1800 families.
Please give grace to your children all over the world. Father, accept us at this historical time, so that Heaven and Earth can be proud of this ceremony, the cultures of East and West can be exchanged and all the Eastern and Western spiritual people can cooperate with each other to make one unified family, unified society, unified nation and unified world. Father, let all the spiritual world stand in front of you, marching as one big family to defeat not only the evil, fallen world, but the angelic world as well.
Father, please accept this offering of seventy-four couples as eternal husbands and wives. We pledge that we will make the successful family as the center of the cosmos for the prestige of Heavenly Father, True Parents, and the pride of Heaven Family.
Father, thank you so much for your acceptance of the declaration of blessing to all the universe, which is the wish of Heaven and Earth, all creation and all people on this earth.
Today, I bless these seventy-four couples to be husband and wife eternally to each other, in the name of True Parents. Amen.
Following Father's prayer wedding rings were exchanged. Then Father pronounced the couples man and wife. Beautiful bouquets were then presented to our True Parents by a representative Western and a representative Eastern couple. Father closed the ceremony with three victorious cheers of Monsei.
Our True Parents then marched down the aisle past the attendants and the newly married couples followed. The Go-World Brass Band played the traditional wedding march, and the overture to "Die Meistersinger" by Wagner. The ceremony was an inspiration to everyone, for younger members who are looking forward to receiving the blessing and to those already blessed members who were reminded again of their own blessing ceremony.
The Terrace Ballroom was decorated in spring pastel colors; flowers and greens were everywhere. The brides all in white Korean wedding dresses and veils, held bouquets of twelve kinds of fragrant flowers. The grooms, strong and handsome, looked ready to take responsibility. Everyone could feel a deep joy and gratitude to them for all they had sacrificed for Heavenly Father.
As the room emptied, Col. Pak introduced visiting international Church dignitaries. He said, "We took special consideration in planning a noble, dignified, and colorful wedding. This is the first principal wedding held outside of Korea, and it will set the tradition for those to follow." He explained that this blessing had been made possible by the victories of 1976. "This is a really great day," he said, "one of the most beautiful that I have seen."
Then Father and Mother suddenly reappeared and Father motioned the couples to come back. He announced that he and Mother would pose for a picture with each couple individually. This is the first time since the 36 Couples blessing in Korea that Father has done this. We could feel that this was a very personal and precious gift from Father and Mother to the 74 Couples. True Parents sat as each couple stood behind them for their picture to be taken. Father's children formed a reception line and shook hands with each couple, giving their personal congratulations.
When the last picture had been taken and Father and Mother had departed, photographers appeared from every corner and took pictures of everyone. Couples posed with their national leaders, spiritual parents and close friends. To further bless the occasion, Hyo-Jin, Kook-Jin and Heung-Jin ran from couple to couple to be included in the picture taking. Everyone, participants and guests, could experience God's joy on this very special occasion. It is a day we will never forget.
That same evening, the wedding banquet was held in the Terrace Ballroom. As in any gathering where those involved do not know each other well, a shyness barrier has to be broken. Col. Pak, the perfect master of ceremonies, suggested that there be a contest between the grooms and brides to see which of the two could out stare the other. Blinking was not allowed. Then he announced a second game. Instead of staring at each other, they should try to make each other laugh. This was funny for everyone, especially the spectators. Col. Pak then announced that we should make Father laugh. The room filled with noise and laughter as each one tried to influence Father. Even Mother and the children joined in, but to no avail. Father refused to budge. But suddenly there was a glimmer and he broke his seriousness to please us all. The room filled with joy. It was victory for all.
The entertainment then turned to a more serious note. Several couples were called upon to sing and to give testimony to our True Parents and to share their feelings on this very special day. Each one expressed deep gratitude to Father and Mother for the gift of the precious blessing. Our True Parents sang together and Father invited In Jin to sing with him. This is the first time we had seen them sing together publicly. It was very wonderful. Father accompanied his daughter's singing with whistling. Hyo Jin inspired every one with his smooth, clear voice when he sang the popular song, "Country Roads."
The atmosphere was warm and intimate, the entertainment deep and inspiring. We could all agree that this was one of the most beautiful days we had ever experienced.