| | |
| --- | --- |
| | The Words of Sun Myung Moon from 1973 |
Selfishness Ruins Everything
Sun Myung Moon
October 20, 1973
Excerpt
God's Will and the World
God's Hope for Man
Washington, DC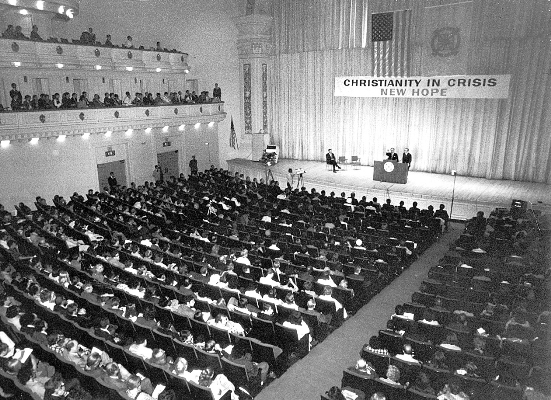 God's purpose is not the salvation of any particular man, church, or nation. God's purpose is to save the whole world. Therefore, the true church would give itself as a sacrifice for the benefit of the world. Yes, true Christians must be willing to sacrifice their own lives for the salvation of the world and all mankind. However, Christian teachings today are self centered. Christians are seeking their own personal salvation. Christians are crying out for "my salvation" and "my heaven.'' This is contrary to God's truth and contrary to God's ideal. We must steadfastly give, love, sacrifice, and live for the sake of others.
We must all work for the ideal way of life. I exist for my family, my family exists for our society, our society exists for our nation, our nation exists for the world, all the world exists for God, and God exists for you and me, for all mankind. In this great circle of give and take there is harmony, there is unity, and there is an eternal process of increasing prosperity. Furthermore, since in this circuit all existence will fulfill its purpose of creation, there is abundant and profound joy. This is the Kingdom of Heaven, in which feelings of happiness overflow.
In this world, selfishness ruins everything. Selfishness in the family causes disharmony, which then erupts into bitterness and strife. Everyone wants to be served instead of serving others. Wives tell their husbands what to do and then seek to be served. Husbands want to be served by their wives. Parents expect service from their children and the children take their parents for granted. This is demonstrated in our families, in our societies, and in our nations.
In this world today the nations are existing solely for their own national interests. They plot, connive, cheat, and lie. They destroy other nations for their own national benefit. Is there even one nation on earth which pledges to God, "God, you may use this nation as your sacrifice and as your altar, if that is the way you can save the world?" Tell me, where is such a nation? Where?
It is a recognized fact that when America demonstrated the spirit of service and sacrificial duty in the world, and went out of her way to help others in their need-when America gave lives, money, and a helping hand-she enjoyed a golden age. But now America has a selfish attitude. The domestic problems today are very difficult. America's situation is chaotic. Today there are greater divisions, more corruption, and graver problems choking this land.
I am not criticizing any people or nation. I am merely proclaiming the heavenly truth that all mankind is seeking.
I started the Unification Church. If this Unification Church exists solely for the benefit of the welfare of the Unification Church itself, then it is doomed to perish. I founded the Church so that I could give my life, my heart, and my soul for the advancement of the salvation of the world. Among this audience there are many members of the Unification Church. Their great desire, their only motivation is to serve others, to save this nation and the world.
When Jesus was crucified, Roman soldiers pierced him. And Jesus prayed for his enemies: "Father, forgive them; for they know not what they do." (Luke 23:34) Even at the moment of death on the cross, Jesus was so earnest in forgiving. His very last act was motivated by his love for his enemies. He was the supreme form of giving -- a paragon of love. The example of Jesus Christ is the absolute standard for all mankind. Just imagine an entire nation composed of Jesus-like men. What would you call it? The Kingdom of Heaven on earth-it could be nothing less.
Jesus Christ was lord over all life because of his unparalleled form of loving, giving, and sacrifice. He will remain the Lord forever. In the same way, no one in this universe surpasses the total giving and loving of God. So God is God forever. He reigns over all creation.
Look at the decline of Rome. The entire Roman Empire collapsed in front of an army with no weapons, the army of Jesus Christ. By what means did the Christians conquer Rome? They conquered by love, sacrifice, and total giving, up to the cost of their very lives. History is a witness that no empire can withstand the army of sacrificial love. And this history shall be repeated.
This present world is evoking the wrath of God. It truly deserves His uncompromising judgment. But God is love, and He is long-suffering. God is suppressing His anger because He wants to save us. He is giving us a chance to change. He is waiting.
I know that Western culture is characterized by individualism. However, selfish individualism is doomed. Sacrificial individualism will blossom. Individuality in itself is good. God gave each one of us a unique way to serve. But individualism without God can only build castles on the sands.