| | |
| --- | --- |
| | The Words of Sun Myung Moon from 1971 |
The 9th World Day Was Celebrated
Sun Myung Moon
May 25, 1971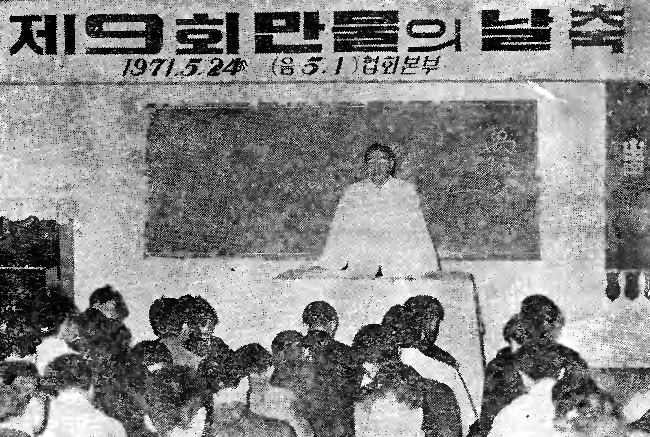 Master is speaking on World Day
Early morning, May 24th (May 1st in lunar calendar), at the 'Service Hall, Headquarters, Seoul, the celebration of the 9th World Day was held in the presence of over 300 members and all directors from all districts across the country.
Headquarters have received many congratulatory telegrams and messages from many Unification Churches all over the world. Prior to the public ceremony, the celebration was begun at 7:00 a.m. in the Hall, upstairs, in the presence of Parents and 70 blessed families who wore the white robes. At the official ceremony from 7:30 a.m. Master gave an address saying, "The true restoration of all things can be done when we are in the direct dominion of- God. When we restore the nation to God, we will supply each other's needs."
Owing to the balloting for national assemblymen on the very next day, May 25th, the annual congratulatory events were not scheduled, but at night all attendants were happy to enjoy the preview of the documentary film of the International Wedding of 777 Couples.