| | | | |
| --- | --- | --- | --- |
| | Sun Myung Moon's Speeches from 2004 | | |

Message From Dr. and Mrs. Sun Myung Moon
Chung Hwan Kwak for Sun Myung Moon
September 3, 2004
The Worldwide Community of the Interreligious and International Federation for World Peace, and The Interreligious and International Peace Council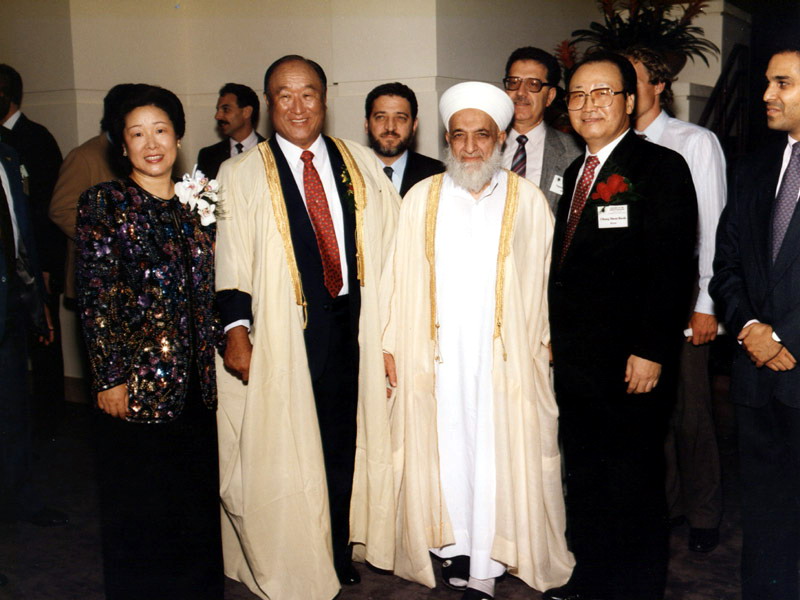 Beloved Family, Friends, and Students and Disciples of Sheikh Ahmed Kuftaro
We write to express our condolences for all who loved Sheikh Kuftaro, and who will feel loss, loneliness, and sadness as he passes to his eternal life.
Sheikh Kuftaro was a great champion for peace, and interreligious harmony and reconciliation. He championed these noble ideals in the face of towering challenges, hardship, and adversity.
Sheikh Kuftaro drew his strength, courage, and power to succeed through faithful devotion to his religious and spiritual traditions, through an embrace and sensitivity to the inner truth, wisdom and compassion concealed in these traditions, and through his personal relationship with Almighty God the author of these resplendent ways.
Because Sheikh Kuftaro reflected God's universal love for all people, not limited to only one type of believer, or just one race, Sheikh Kuftaro himself became beloved all over the world. He opened the eyes of those who would live and express religion in narrow, dry ways, and gave people courage to love with the Compassion drawn from God and revealed through His prophet (peace be upon him), a Compassion that does not deny or limit.
As True Parents whose mission it is to unite all people to God and to one another in True Love, True Life, and True Lineage, it was our great pleasure to share with His Eminence, many intimate and loving moments and missions with Sheikh Kuftaro, and to share the Blessing with his community.
As we reflect on his life and his passing to receive his reward for faithful devotion and sacrificial life, we pray that all Muslims and all believers in every religious tradition will emulate his example of living in truth, in compassion, and living without boundaries of separation, or pride. Like Sheikh Kuftaro's ideal in life, we urge all believers to extend the hand of love to brothers and sisters in every religion, in every land, and in every place.
Dr. and Mrs. Sun Myung Moon
Dr. and Mrs. Chung Hwan Kwak
World Leaders of the Interreligious and International Federation for World Peace
---
Sheikh Ahmed Kuftaro, Grand Mufti of Syria
Sheikh Ahmed Kuftaro, Grand Mufti of Syria from 1964 onwards, was a champion of interreligious dialogue and harmony, especially among the three major faiths of Abraham (Islam, Christianity, and Judaism). He pioneered this path in teaching and deed without wavering, in the face of opposition and persecution.
In 1989 His Eminence attended the Council for the World's Religions (CWR) Conference, Family and Law in Islam, in Istanbul, Turkey. During that conference Sheikh Kuftaro learned of the global and interreligious vision of Father Moon, CWR founder, and set out to learn more.
Meetings between Sheikh Kuftaro and Father Moon proved fruitful, and led to a period of intimate and close collaboration. Especially noteworthy from their work together is the Interreligious Leadership Seminar (IRLS), established in 1990. This program was developed to allow religions to learn from one another through intensive 40-day seminars of learning and immersion. The first IRLS, created by agreement between Father Moon and Sheikh Kuftaro, is a testimony to the seriousness of both men. Father Moon sponsored and hosted over 100 of the Sheikh's followers, but Sheikh Kuftaro did something surprising. Instead of sending young people as originally was requested, His Eminence sent the top leaders of his movement, effectively depleting his own leadership for an extended period of time! This, like so much else done by this great Mufti, he set the highest standard. This led to seminars for believers from 9 Muslim countries, as well as for a delegation from Israel also on a 40 day period of study and immersion. In this way hoping that believers could learn deeply about each other, and therefrom be better equipped to work effectively together.
Students from that first seminar continue to champion the Grand Mufti's life mission that all believers should live in true love and harmony.


Download entire page and pages related to it in ZIP format


Table of Contents


Information


Tparents Home