| | |
| --- | --- |
| | The Words of the Hyun Jin Moon |
Hyun Jin Moon Competes In Autumn Classic Horse Show at New Hope Farms
Anne Smart
September 9, 1990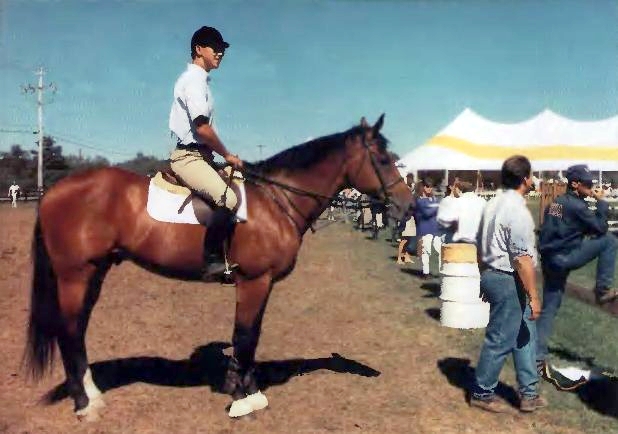 Hyun Jin Moon, shown mounted atop his horse Everest Forever, gave a solid outstanding performance against a formidable group of competitors in the Open Welcome Stake where he won second place
The second annual Autumn Classic Horse show at New Hope Farms in New York was held September 4 -- 9, drawing competitors from across the United States and around the world.
Among the 700 horses and 250 riders that took part were Olympians from several countries. From the United Sates were: Greg Best, double silver medalist from the 1988 Seoul Olympics who recently returned from the World Championships in Sweden; Joe Fargis, three-time Olympic medalist and member of the United States 1990 World Championship team; 1988 Olympic teammates Lisa Jacquin and Anne Kursinski, top trainer and member of the 1960 silver medal winning team at the Rome Olympics; George Morris and one of the America's most successful international riders ever: and veteran Olympian Frank Chapot. Of those riders considered the "top thirty" in the United States, twenty-seven competed at the Autumn Classic.
International noteworthy participants were: Great Britain's 1984 Olympic silver medalist Tim Grubb; Canada veteran Olympian and 1984 World Cup champion, Mario Deslauriers: France's national equestrian team veteran Henri Prudent; Mexico's Frederico Fernandez; and, most dear to our hearts, Korean Olympian Hyun Jin Moon.
During the six-day event, over 135 classes ranging from beginning to most advanced levels took place in four outdoor rings and in the indoor arena. Participants stayed in local hotels and campgrounds while their horses were sheltered in temporary stalls erected for the show. This year's show was again blessed by good weather, an impressive group of riders and horses, and the greatest blessing of all, the presence of the True Parents and members of the True Family at the highlight of the week-long competition, the $100,000 Han Corporation Grand Prix.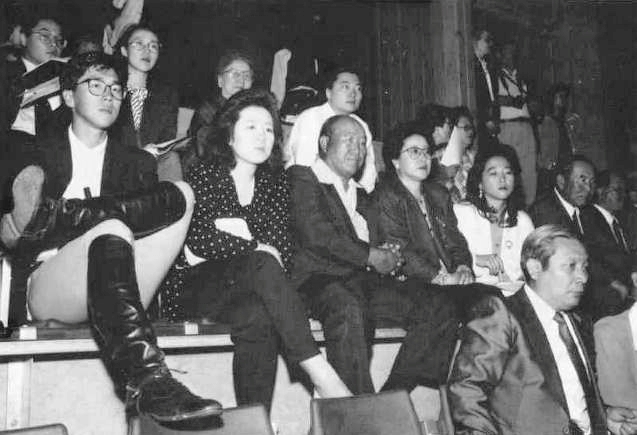 Hyun Jin Nim, Un Jin Nim, and In Jin Nim surround True Parents as they watch participants compete in the $100,000 Han Corporation Grand Prix
Honors Bestowed
During the Grand Prix opening ceremonies, True Parents were publicly acknowledged as the founders of New Hope Farms before a capacity crowd of three thousand that included other notable public figures as Congressman Benjamin Gilman and the local Town Mayor James Garvey. Veteran coach of the United States Equestrian Team, Bertalan DeNemethy, was specially honored for his lifetime contribution to the development and advancement of the sport of show jumping in this country.
The Grand Prix is the pinnacle of achievement at any horse show and draws the largest crowd of spectators. A rider and his mount have to be in top form to negotiate the fourteen jumps set at a height of five to six feet and arranged in a calculated formation designed to trip all but the most ardent of competitors. The course designer aims to eliminate all but ten to twenty percent from the first round of competition, who then return to challenge the best time. Of the 50 horses entered in the Autumn Classic Grand Prix, only five were not eliminated in the first round of this very difficult course. The winner, George Lindemann, not yet an Olympian, riding Threes and Sevens, returned to beat Olympic veteran Joe Fargis for first place.
The $100,000 Han Corporation Grand Prix offers one of the largest cash prizes awarded at a show jumping event in North America. The only other purse larger is one held at Spruce Meadows in Alberta, Canada that offers a $500,000 (Canadian currency) Grand Prix, which, unfortunately, is held at the same time as the Autumn Classic. More Canadian riders would come to the Autumn Classic if it weren't for this conflict of dates. Regardless, the very favor- able conditions at New Hope Farms are extremely attractive to riders, as evidenced by the support the show received, and most Americans prefer coming to the Autumn Classic rather than travelling north.
During the only other class in which the cream of the riders competed, the Open Welcome Stake, also the first event held in the spacious indoor arena, Hyun Jin Nim riding Everest Forever, gave a solid outstanding performance against this formidable group of competitors. He placed second, narrowly missing first place by only one second. First place was taken by Leslie Lenehan. He also beat his trainer, Beezie Patton, considered one of the top U.S. riders, who placed third.
Un Jin Nim, who had given birth a few months earlier to her daughter, had only recently resumed training and didn't compete in this year's Autumn Classic. However, both Un Jin Nim and Hyun Jin Nim will be honing their skill; and training their horses to be ready for the 1992 Olympics in Barcelona, Spain.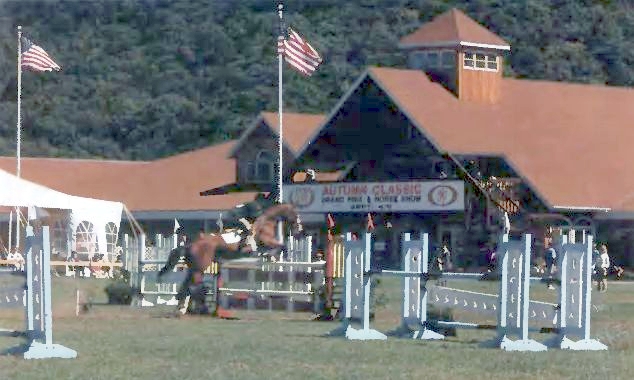 A rider and his mount negotiate one of the 14 jumps arranged in a formation that will trip all but the most ardent of competitors
Fostering Harmony
The New Hope Farms Arena was dedicated by True Parents September 3, 1989. However, the complex is still under construction with an 80-stall barn and underground shooting range underway. Originally, this project began on a much-reduced scale as a small training center for Olympic competition preparation, but has expanded to become one of the largest indoor arenas dedicated to equestrian sport, specifically show jumping, in the United States. Completion of present construction and future plans of an indoor swimming pool and gymnasium complex will enlarge New Hope Farms into an Olympic-level pentathlon training center.
True Parents' vision in building this impressive facility is to make a contribution through athletic competition that would help foster international cooperation. Equestrian sport encapsulates several ideals and is an excellent choice.
Equestrian sport is unique in several ways. It is the only sport where success depends on the harmonious unity of horse and rider: both have to be in peak condition and sensitive to each other. Unlike most sports where the attributes of youth and of strong, flexible bodies dominates, in equestrian sport, age, maturity, and experience contribute the more important edge. Perhaps the only sport where men and women compete truly as equals, equestrian sport has also historically involved rulers and royal families around the world. In this age as well, this high profile of competitor graces the international competition arena.
Tremendous interest and support has been shown by the top professionals in show jumping and other equestrian sports, such as dressage, polo, and pentathlon. Officials from around the world have praised the facility for its well-orchestrated design, impressive size and beautiful setting. As such, many see the New Hope Farms complex as an avenue to fulfill long-cherished goals in the advancement of equestrian sports.