| | |
| --- | --- |
| | The Words of the Hyun Jin Moon |
Interview by Preston (Hyun Jin) Moon with South Korean magazine Joong-Ang
September 8, 2010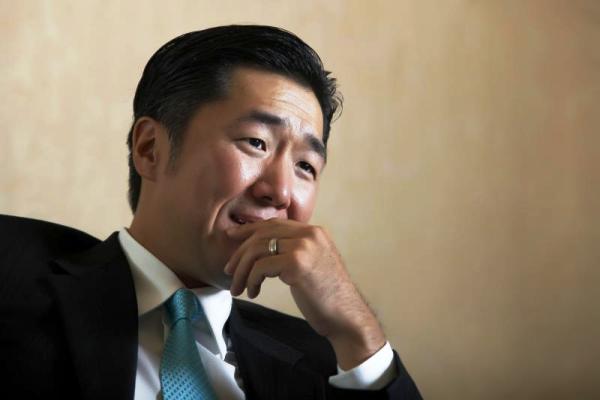 The First Interview with Dr. Hyun Jin Moon, Chairman of the UCI Group and eldest son of Rev. Sun Myung Moon, Founder of the Unification Church
Mi Sook Park
Joong-Ang Monthly
Photo by Chi Ho Chung
Disclaimer: This article is a direct English language translation from the original Korean language version of the article. It reflects verbatim the facts as set forth by the Korean publisher. UPI disclaims responsibility for any factual errors in the article, whether made by the author of the original Korean language version or from the English language translation.
There is a hot debate within the Unification Church regarding its generational transition. On June 5th the Unification Church garnered a lot of attention when it released a document written and signed by the Founder, Rev. Sun Myung Moon, stating that his 'seventh son is the successor'. The seventh son Hyung Jin, who lives in Korea, has become the actual heir, and the fourth son, Kook Jin, is leading the Tongil Group. But there is a son who is quietly walking his own course aside from the successorship structure. Although Dr. Hyun Jin Moon, the Chairman of the UCI Group [Unification Church International], received the attention of influential news media abroad, he has never done an interview and has remained veiled. He is currently the eldest living son of Rev. Sun Myung Moon (the eldest son Hyo Jin and second son Heung Jin have passed away), and this interview with Joong-Ang Monthly is his first encounter with a Korean media entity. The interview took place in Seattle over the span of 3 meetings.
Coverage includes: his difficult childhood in America; ocean fishing with his father Sun Myung Moon; his happy family with his wife, Jun Sook, a Juilliard School graduate pianist, and their 9 children; and stories of hunting bears and lions as he traveled through Alaska and Africa. He reveals the reason he is leading an inter-religious movement and working beyond the confines of the 'Unification Church'. As a son of Rev. Sun Myung Moon, he offers his insight into the Unification Church family and his father -- this is a story of their untold lives.
Interviewing for 4 days in Seattle, USA… Hyun Jin Moon reveals his memories, his life, and his dreams. He states, "The Unification Church is not a chaebol. To discuss the successorship structure is nothing but meaningless drama."
While fishing in Alaska during his childhood he fell in the water. He barely made it back by pulling on the fishing line, but his father continued fishing.
Supporting donations for The Washington Times from Japan were discontinued for a year leaving him with an unwarranted burden.
He has found that the mainstream religions around the world share up to 90% of values that are universally common.
He will engage in global activities that go beyond the scope of the Unification Church
When he visits Korea he regularly goes to Shi-gol Bab-sang, a traditional Korean restaurant. His children enjoy Korean drama series Life is beautiful and Definitely neighbors in America
Dr. Hyun Jin Moon, chairman of the UCI Group, was born in 1969 as the third son of Rev. Sun Myung Moon, Founder of the Unification Church. Currently, he is the chairman of the Global Peace Festival Foundation (GPFF) and the chairman of the UCI Group. The UPI News Agency and The Washington Times are under the UCI Group. Also included is the True World Group (TWG), an international seafood distribution and sales company. UCI also owns the JW Marriott Hotel in Korea, Central City, and Il Sung Construction; and it is developing over 600,000 hectares of land in Paraguay.
Dr. Hyun Jin Moon went to America following his father when he was 4 years old and has lived there ever since. He was a history major at Columbia University. After receiving his MBA from Harvard Business School, he went on to receive his Masters in Religious Education from the Unification Theological Seminary. He participated in the 1988 Seoul Olympics and the 1992 Barcelona Olympics as a member of the Korean national equestrian team. His hobby is hunting and camping in places like Alaska and Africa. He married Jun Sook Kwak in 1987 and has 9 children with her.
"I came with my father to America when I was four. Since then, the longest I stayed in Korea was for about a year, and I have lived most of my life in America. Although among my siblings we speak more comfortably in English, we always speak in Korean in front of my father. That is because ever since we were little young, our father taught us not to forget our Korean language."
"Rev. Moon's sons emerge from behind his shadow" (Rev. Moon: A Revival?)
This is the title of the cover story published in the Asian edition of Forbes Magazine. The article explains that Rev. Sun Myung Moon of the Unification Church, who celebrated his 90th birthday in February of this year, is thinking of appointing his 7th son Hyung Jin Moon and his 4th son Kook Jin Moon as his successors respectively in the areas of religion and business. As evidenced by the caricature of Rev. Sun Myung Moon's face on the cover of an influential international magazine such as Forbes Asia, the generational change in the Unification Church is attracting attention not only in Korea, but internationally.
There is one son who is walking somewhat apart from this superficial generational change structure. He is the chairman of the UCI Group in America; his name is Hyun Jin Moon, and he is Rev. Moon's 3rd son and actually, the eldest living son. Although he temporarily did some private business after finishing his studies, he has been receiving intense leadership education for over 10 years from Rev. Moon as he was appointed to and experienced various leadership positions within the Unification Movement.
Just two years ago he was appointed to be the co-chairman of the Universal Peace Federation (UPF), which can be considered one of the highest institutions within the Unification Movement. However, he has been pushed away from the successorship structure, and currently retains only the position of chairman of the UCI Group.. His current interest lies in creating a global peace movement -- an endeavor that is being carried on by the Global Peace Festival Foundation (GPFF). Because he spends most of his time traveling all over the world, focusing on non-profit activities, he only stays in his office in New York for about a week at a time in any given month.
Being Rev. Moon's eldest living son and being the owner of The Washington Times should have been enough to put him in the spotlight, but he has never responded to any interview requests until now and is seen in public mainly at peace events. Dr. Moon's office requested very strict discretion for this interview. He was especially considerate of the impact this article may have on the Unification Church and his father, Rev. Sun Myung Moon, after the article is published. Dr. Moon emphasized several times that his main reason for agreeing to do this interview was to inform the Korean people of the GPF activities.
Although we were concerned that the conversation might be only formal, he began to open his heart to us on the second day of the interview. Unexpectedly, he turned out to be very free and easygoing with a very refreshing style.
Perhaps because he has been living in America ever since he was 4 years old, he was not very fluent in Korean. Therefore, 95% of the interview was in English. Sometimes he would say a few things in Korean but since he was concerned that there might be some misunderstandings due to his awkward Korean, he wanted his official comments to be in English. He manages his English fluently with the eloquence and attractive force of an orator. He showed a consistent passion throughout the entire interview even though it was more than 9 hours, spanning over the three days we spent together.
Korean-American Dr. Moon and his native tongue
On the first day the interview took place in a conference room at a hotel near the Seattle airport. Dr. Moon arrived on time with 3 of his staff accompanying him. He seemed to be over 180cm in height and has a very sharp physique. Wearing a deep navy blue suit and sporting an emerald necktie, he seemed to be very elegant and refined. His face was nicely tanned by the sun and when I shook his hands they were big and firm. As soon as he sat down he greeted us in Korean. Although his Korean was not great, he had no problem in communicating.
"I am sorry to have made you come all the way here. I ask that you please be understanding of the point that I cannot give the interview in Korean and will have to speak in English. If I speak with my clumsy Korean, there could be misunderstandings. I apologize."
In order to break the ice I asked him about his native tongue.
Your Korean is better than expected.
"(Continues speaking in Korean) I followed my father to America… when I was four years old. Since then, the longest I stayed in Korea was for about a year, and I have lived most of my life in America. It was the same way for my siblings. Therefore, it is easier to speak in English. Amongst ourselves, we mostly speak in English, but with our father we always speak in Korean. That is because our father taught us from when we were young not to forget our Korean language. Our family lived in America but we never forget that we are Korean. My wife speaks better Korean than me… because she is more Korean than me."
The person that is "more Korean" than Dr. Moon is his wife, Mrs. Jun Sook Kwak. She is the daughter of Chung Hwan Kwak, the former president of Segye Times and the Tongil Group and currently the president of the Korean Professional Football League. Along with Bo Hi Pak and Sun Jo Hwang, Chung Hwan Kwak has been one of the closest to Rev. Sun Myung Moon, who accepted Chung Hwan Kwak's daughter as his daughter-in-law in 1987. An accomplished woman in her own right, she is a skilled concert pianist and graduate of the Julliard School of Music. After marrying Dr. Moon, Mrs. Moon focused on raising their children. Dr. Moon and Mrs. Moon currently have a total of 9 children, ranging from their eldest son, a college student in his twenties, to their youngest 2 year old child.
Mrs. Moon was present at a dinner in Seattle with Joong-Ang Monthly as a part of Dr. Moon's party. The Mrs. Moon we met impressed us as a loving wife as she gently offered a bite of her food to her husband. She spoke to the journalists very gently with a smile on her face. Because she moved to America during middle school, her Korean was more advanced than Dr. Moon.
"Our family has a tradition of sending our kids to Korea for around 2 years so that they will not forget Korean. In America I enjoy watching Korean dramas with my children. These days we are watching Life is Beautiful and Definitely Neighbors."
Even though he was born in America, Dr. Moon did not lose his taste for Korean food. Rather than being accustomed to bread and steak, he prefers rice, dwen-jang soup, kimchi etc. He explained that when he goes to Korea he often visits a traditional Korean restaurant called Shi-Gol Bab-Sang. That is why even though they have a helper at home, Mrs. Moon puts on her apron. She makes her own kimchi and dwen-jang soup for Dr. Moon.
Dr. Moon's father is a big influence on why he had so many children. Rev. Moon and Mrs. Hak Ja Han had 14 children of their own. Among them, their eldest sons Hyo Jin and Heung Jin and their sixth son Young Jin passed away. Their third son Hyun Jin, fourth son Kook Jin, and seventh son Hyung Jin are each respectively the UCI Group chairman, Tongil Group chairman, and president of the Family Federation for Unification and World Peace. The fifth son Kwon Jin is not involved in any business or religious activities, but is studying on his own in America.
Rev. Moon came to America in the early 1970s. In his autobiography As a Peace Loving Global Citizen published in the beginning of this year in Korea, Rev. Moon states,
"My life in America was not easy because of the negativity towards the notion of a Korean from Asia, who just barely made it out of war-savaged hunger, preaching to Americans, and because of the persecution against the Unification Church. My heart aches when I think of my children who were being so persecuted that it was even hard for them to go to school without security guards."
According to the book, the opposition from the Japanese Red Army, which was connected with international communist groups, was so severe that the training center where they used to stay in Boston was targeted, but fortunately, the Red Army terrorists were caught by an FBI team. The hardships of Rev. Moon were directly transferred onto his family. We carefully inquired about Hyun Jin Moon's childhood.
How were your childhood years in America?
"(Beginning with this question, he responded in English) Ever since I was very young, my family was at the center of excess attention simply for being 'Rev. Sun Myung Moon's family'. But all the persecution and challenges I faced throughout my life were neither regrettable nor tragic. Rather, they gave me the spirit to meet the challenges of my life."
Could you explain in more detail?
"When I came to America in 1973 there were not that many Asians in America. Plus, America was fighting the Vietnam War. This war did not finish till 1975. Of course American society was in chaos, and the student movement was fierce in America, similar to the strong student movement of the 1980s in Korea. You might be able to imagine how poorly positioned one would be as an Asian in such a situation."
"How my father fishes is not like a Norman Rockwell painting of fishing, where you go there just to enjoy it. He fought with the stormy and rough ocean like a commercial fisherman. Observing my father I learned of man's limitation and the grandeur of nature."
Wasn't it difficult just being from 'Rev. Moon's family'?
"As you might expect, it was not normal. There was always a tremendous bias against my family. But my family understood this point well and believed that we had to bear with it."
His response was not specific. Even while smiling brightly, whenever a topic regarding his family came up his facial expression would harden. It seemed like some sort of automatic self-defense sensor was activated. Living like a fish in a transparent fish tank, he had no choice but to grow up receiving everyone's attention as 'the son of Sun Myung Moon'. I realized we would need more time before he would open up more.
The Unification Church is a religion and is also an enterprise. Moreover, it is not just an ordinary business but a large scale international enterprise that is working on projects like the Korea-Japan undersea tunnel. In America, if you say the name 'Sun Myung Moon', it carries the meaning of a successful businessman before that of a religious leader. While thinking of ways to support his religious activities, Rev. Moon entered the American seafood industry by distributing tuna and had huge success. The True World Group (TWG) managed by Dr. Moon is one of America's largest seafood distribution companies and is a company that has developed on his father's foundation. In the 1970s, Rev. Moon owned companies in titanium, paint, airgun manufacture, ginseng tea, machinery, and other industries. During the interview Hyun Jin Moon said,
"My father is a religious person and a great businessman."
Because of this, Rev. Moon's children could live a financially abundant life. Having parents who were busy with religious ceremonies and business, the children had no choice but to be raised in the hands of nannies. Since he was young, Dr. Moon learned horse-riding and hunting, two hobbies of the elite class. In terms of education, he managed to go through a top-level course. Including Dr. Moon, 5 of Rev. Moon's children studied at Harvard University. Dr. Moon studied history at Columbia University and received an MBA from Harvard University. Later he received his Masters in Religious Education from the Unification Theological Seminary (UTS).
He has a good sense for sports. During his high school years, he was on the starting team in American football. He likes to watch movies, but he does not play golf. Dr. Moon has especially enjoyed nature and animals since childhood. He loved riding horses, and he participated in the 1988 Seoul Olympics and the 1992 Barcelona Olympics as a member of the Korean national equestrian team. Unfortunately, he did not win a medal.
When did you begin riding horses?
"I remember I began to ride a horse when I was around 6 years old. I was very young. Not only me but all my siblings also liked to ride horses. Horse-riding is a wonderful sport for learning leadership.
You can never control a horse. What you are doing is letting the horse be the horse, yet aligning his natural ability to the rider's will. The rider and the horse can become one only when there is mutual communication."
Do you teach your children how to ride?
"There were several times when I would bring not only my children but also other people to ride horses. I would purposely bring my eight year old daughter and have her ride the horses to show that first of all, it has nothing to do with physical strength. It has everything to do with presence. It has everything to do with aura; in other words, your internal strength. Yet, there are many cases where you will have big guys that are scared. The horse will know and it just will not listen to them. It has nothing to do with how big or strong you are."
Do you have any horse-related episodes?
"Two years ago in Paraguay, I did a cattle drive to the Chaco area with the second generation -- that means the young sons and daughters of the top families in Paraguay. These are the future leaders of Paraguay, but they had never visited these poor regions. I deliberately got rid of the good tents and nice food and also the showering facilities. We ate and slept with the same schedules as the cowboys called 'vaqueros' who run these cattle drives."
There must have been a lot of complaints.
"Some could not take the difficulties and called their parents complaining about how terrible the accommodations were. Their parents called me, complaining. But as time passed, they began to transform. About three days into the cattle drive, I gave my food and candy away to the women of a local village. Then they all got off their horses and started doing the same. The women who received food from us reciprocated by cooking two of the four chickens they were raising in their yard for us. Seeing these poor families give half the food they possessed moved all of us."
It seems there were great reverberations.
"It created a greater wave than any speech. During the Global Peace Leadership Conference that was held before the GPF, I shared what had happened in this village to all the leaders of Paraguay. I said to them, if this is the true spirit of Paraguay, then Paraguay will become a great nation. The peace movement that I am carrying out is this kind of work. I am glad to share that the GPF we will be hosting in 2010 is fully endorsed by the Paraguay government."
The Father Sun Myung Moon and the 'Nature' he Taught Us
Hyun Jin Moon finds deep inspiration in the Alaskan mountains or on the ocean. When he has a big event ahead or when he has to make an important decision in his life, he goes to the mountains to hunt or to the sea to fish and meditate.
"In Korea many have the misconception about the Unification Church as if it is a chaebol group, but that is a misunderstanding. To discuss the successorship structure is nothing but meaningless drama. There are much more important issues we need to worry about than this."
When did you develop the practice of going into nature?
"It came from my father. The kind of people that I grew up with were actually more blue collar than white collar. My father enjoyed challenging them in the fierce field of life. It is not like the legendary illustrator Norman Rockwell's picture of fishing, where you go there just to enjoy it. It is really kind of like commercial fishing. He often fought in the rough and violent ocean. Looking at that kind of Father, I learned the limitation of man and the grandeur of nature. Other kids used to go to football camp or ski camp or golf camp or do this or do that, but I went fishing. I do not think I lost anything."
Do you have any episodes you remember while fishing with your father?
"When I was a teenager, I remember fishing with my father one day on the cold Alaskan sea. I was in an accident. While my father was focused on fishing with other people at the stern of a small boat, I was fishing at the front of the boat and fell into the sea. The water temperature of the Alaskan sea is so cold that most people die from a heart attack after about 15 minutes in the water. But nobody noticed that I had fallen overboard! I tied the thick fishing line used for catching King Salmons around my arm and desperately moved toward the boat, barely surviving. At that time, my father continued fishing without batting an eye. I was shivering with cold but he kept me with him for the rest of the fishing trip and then we returned back to the harbor."
He was very strict in how he raised you.
"(Laughter) Such training from my father made me who I am today. My father wanted his children to become better than him and wanted them to grow through challenges."
Trained during his youth on the rough sea, today when Hyun Jin Moon goes to the Alaska mountains to hunt, he will stay there for one or two weeks. Sometimes the guide becomes exhausted and goes back early. In the deep mountains, after hitting the target, he skins the animal himself, carves the meat and puts it all into his backpack. Then with a heavy load, he gladly completes the tough journey back that could cover several miles.
Have you faced any danger while hunting?
"(Laughing) I have been confronted by bears many times. But, each time, I calmly evaded a crisis. You know the Alaskan bear is not the bandalgom (Asiatic black bear) of Jiri mountain, right? (laughter) When you lift your head up and see a bear, it is huge and menacing like an enormous building standing and facing you. What is interesting is that an animal can accurately sense whether you are trembling with fear or not. The animal kingdom is very vertical. Either you are a subordinate being or you are a superior being. There is no in-between. If you are defeated in spirit, you cannot subdue your counterpart. Knowing when to step back and when to approach is one deep truth that nature has taught me."
It is somewhat difficult to understand how someone who is working for world peace also enjoys hunting.
"(His face lit up) I am glad that you asked that question. You may be able to understand from a conservationist point of view, which is different from an environmentalist point of view. In any ecosystem, there is a finite amount of resources. People might be saddened when they see a bear kill a moose calf. But if the bear did not do that, then the moose population will grow to a point where the land cannot sustain their population and you will have disease, massive starvation, and the entire population could be decimated. So both the bear's carnivorous act and man's hunting, when done according to the rules, are actually playing a vital role in maintaining the stability of nature."
The Unification Movement as I Perceive It
What kind of man is your father, Rev. Sun Myung Moon, from your perspective?
"Other people might perceive my father as the founder of the Unification Movement. But, I do not perceive my father as such. I have observed my father's role and work closely. I believe that my father is a historical figure. He is more than the founder of a particular denomination. I think my father inspired all of humanity with a vision for this present age that allowed them to dream that a foundation for world peace can substantially be built."
Have you ever wanted to become like your father?
"When I was young, I told my father, "I want to be just like you." And he said, "You are a unique individual truth body". He meant that I should not just follow someone but I should find my own way. Father always respected the opinions of his children."
What kind of person was Rev. Sun Myung Moon -- the father, not Rev. Sun Myung Moon -- the religious leader?
"There may be a perception that my father is a person who gives orders and directions about everything. However, my father gave advice, allowing his children to find their own way. He taught ownership. When I went to college, I had to choose my major and I asked my father, 'What do you think I should major in?' He suggested, 'Why don't you think about 3 subjects such as history, philosophy and theology?' I chose history first and eventually studied theology. I do not have any regrets."
In June, the Asia edition of Forbes magazine ran a cover story on the sons of Rev. Moon, publishing an article that addressed the succession of Rev. Moon. In Korea also, people are very interested in the generational transition within the Unification Church. May I ask your thoughts about this?
"(After deep thought) As a reporter, you may be thinking about the succession from the perspective of a chaebol. But we are not chaebol. A religious movement is different from a chaebol. Chaebols or corporations are owned by shareholders, but religious organizations are not. They are all non-profit organizations, consisting of members who have joined. In Korea, many people have a misconception about the Unification Movement as if it is a chaebol group, but that is a misunderstanding. Therefore, I would like to say that talking about the succession is nothing more than meaningless drama. We have much more important things to worry about."
The Unification Church and the World Peace Movement
After trying to distance himself from talking about family matters up to that point, he became more animated the next day when asked about the Global Peace Festival (GPF) movement. Dr. Moon has led the GPF movement all around the world from 2008. Leaders and young people from all facets of society are taking part in GPF centered on its vision of "One Family Under God." GPF aims to tear down the barriers between nations, religions, and races and attempts to build a peace movement of a new dimension. He announced that he would hold regional level GPF events in the 4 nations of Nepal, Paraguay, Indonesia and Kenya in 2010. In Kenya, President Kibaki and Prime Minister Odinga took the lead to support this event. During the first half of this year, he has already met presidents and leaders in Africa, South America and Southeast Asia.
Before you created GPF, I understand that 10 years ago you created an international service organization, Service For Peace, which became its foundation.
"In 1998, when I was inaugurated as the vice-president of the Family Federation for World Peace, my father charged me with taking responsibility for creating a real youth movement. So it was from that point that I focused my energies on building that youth movement."
Back then, were all the youth that participated in the activities members of the Unification Church?
"No. Many young people participated in the international volunteer service work regardless of affiliation to the Unification Church. GPF and the service organization, Service For Peace, are all movements that go beyond the Unification Church."
As a son of Rev. Sun Myung Moon, he stressed numerous times that "we have to go beyond the constraints of the 'Unification Church'." It is something enticing and exciting to hear.
What do you mean by going beyond the religious constraints of the "Unification Church", which was founded by your father?
"The original name of what people call the 'Unification Church' was the 'Holy Spirit Association for the Unification of World Christianity' (HSA-UWC). I do not know where the name 'Unification Church' came from. Probably it was made by those slandering us to differentiate us from the Christian church. From my interviews with the early disciples of my father, I found that they had no notion of joining the 'Unification Church'. Not only in Korea but all around the world, people had joined a movement that they believed would bring about substantial change. I think we should continue to follow the will of my father, which was established in the early days. Yet as a movement grows and as it tries to legitimize itself it becomes more institutionalized. Those are just natural tensions that exist between your original purpose and the tension of trying to institutionalize itself. Now, the Unification Church is undergoing such painful tension."
Rev. Moon closed HSA-UWC that had continued for more than 40 years and established the Family Federation for World Peace and Unification (FFWPU) in 1994. Since 2000, he developed a global peace movement based on the Universal Peace Federation (UPF). However, except for Dr. Hyun Jin Moon, his siblings In Jin, Kook Jin, and Hyung Jin have closed FFWPU and are going back to the Unification Church.
According to an internal memorandum to the Unification Movement sent on August 10 entitled "Regarding the implementation of a consolidated image of the Unification Church", the title of Unification Church was changed from HSA-UWC to FFWPU, and now again, back to 'Unification Church'. They seem to be trying to consolidate the vague Unification Church into one. Although Dr. Moon avoided commenting on this issue, I could guess that he has a different position from his younger brothers. He insisted that it is not the time to bring everything into the 'Unification Church' box, but a time to break out of that box and embrace all humanity.
"It is because I see that 80% to 90% of the universal principles and values are common amongst all the great faiths: Christianity, Islam, Buddhism, Hinduism, etc. This is the reason we should come out of the 'Unification Church' box and create an interfaith movement. If the major faiths become one, there is nothing we cannot accomplish."
Do you mean you will break out of the Unification Church box?
"The Unification Movement which my father founded is the motivating factor of my life. The vision that my father instilled into me is like a seed which has now germinated in me as a man of 40. That seed was the vision of building One Family Under God. This is a universal vision for all humankind and not just for members of the Unification Church but for all of humanity. Because of this, we should be able to embrace those who are not of the Unification Church."
You intend to create an interfaith movement?
"I will not be constrained by the denominational institution of religion. It is because I see that 80% to 90% of the universal principles and values are common amongst all the great faiths -- Christianity, Islam, Buddhism, Hinduism, etc. The only difference is the dogmatic institutionalized traditions as well as the theological perceptions that make up only 10 to maybe 15 percent of the faith experience. Yet if you look at religion and religious leaders -- instead of focusing on this panoply of commonality and universal principles they focus on those little differences of that faith experience. The USA spent 1 trillion dollars for the war against terrorism. This is not only occurring between the USA and the Muslim world but in other places as well, for example within India it is Hindus against Muslims. Unifying the religions and religious leaders is a historical great task that must be accomplished."
Unifying the religions is something no one has been able to accomplish in human history. From where does your confidence come?
"It is spirituality. Spirituality is an inseparable part of humanity. Yet somehow in the modern era there is a move towards separating our spirituality from our rational tendencies. And the tendency is to regard reason as more important. I consider this a fundamental mistake. It is more serious in the West. But in developing nations in Asia, South America, Africa, and the Middle East, there is no sense of a separation of the spiritual and secular worlds.
I would like to emphasize once again that this is a peace initiative where we are tapping into the broad-based spiritual interfaith approach -- not a denominational or religious interfaith approach. Victor Hugo stated that, "More powerful than an invading army is an idea whose time has come." I believe that what I am doing now is the peace movement whose time has come. There is nothing impossible if you bring out the innate spirituality of people."
Washington Times and Media enterprise in the USA
He is also the owner of The Washington Times. The paper is at the point of having to consider selling or closing. This is because the Tongil Group cut off all funding to the paper from July of 2009 -- funding that had been continuously maintained for the last nearly thirty years. The monthly financial support of millions of dollars is no longer available. As a result, among the companies affiliated with UCI, The Washington Times incurred the most damage. The paper that had been cultivated by Rev. Moon had to undergo tremendous restructuring, including a reduction of its employees to close to ¼ of the original number. Under these circumstances, it has held out for one year but has now reached its limitation.
"For the past year, financial contributions have not been coming to support the Washington Times. This happened abruptly, to the surprise of everyone, and it happened in a way that was unexpected and put undue strain to UCI as an organization."
There is news that The Washington Times that was founded by your father in 1982 is facing financial difficulties.
"The newspaper industry in America, not only The Washington Times, is very difficult. The Washington Post has, every year for the last five years, been losing sales by twenty percent, in terms of their circulation. Historically, in America, print publication is usually a monopoly. In other words, if you are the number one paper, you will make money, if you are not, you will always lose money."
So, from the beginning, in terms of an economic model, the Washington Times did not have a sustainable model?
"That was a fact. My father was committed to educate America about the threat of Communism globally. So, it was one of the most instrumental media agencies in America that helped define and win the Cold War. There is no doubt about that. It has continued this far due to this mission."
After the large-scale restructuring last year, is there some plan you have regarding what to do?
"For the past year, financial contributions have not been coming to support the Washington Times. This happened abruptly, to the surprise of everyone. And it happened in a way that was unexpected and put undue strain on UCI as an organization. However, due to the tremendous efforts of people in my staff, as well as in the Washington Times, we have made every effort to keep this entity afloat within the UCI Group."
(Dr. Moon did not mention details on why the financial contributions were discontinued. He was reluctant to respond any further about The Washington Times. Even to hear the words, "The financial contributions have not been coming" from his mouth was beyond what I had expected to hear.)
Korea from the Eyes of a Global Leader in His 40s
I heard the Global Peace Leadership Conference (GPLC) will be held from Oct. 11 ~ 13 in Korea, and that it will be hosted by you, Dr. Moon.
"GPLC in Korea will launch the 2010 Regional GPFs that will be held in Nepal, Indonesia, Paraguay and Kenya. I have invited the president of Kenya to come to Korea for the event. One of the initiatives we started was the global peace community initiative where I would like to partner with the Korean government, because the Korean government has been trying to advocate their economic development to many third world developing countries in order to establish its global leadership. This will be a tremendous opportunity for Korea to show the best face of its leadership to the world."
A nation that urgently needs peace is North Korea. Will you initiate the peace movement in North Korea?
"Of course we are doing service programs in North Korea already. In Korea, Service For Peace is the only service-based organization that is allowed into North Korea. We are actually working very closely with the Korean Government as well as the top universities."
"China would also be very interested in Korea and the unification of North and South Korea. If Korea does not quickly build up its international diplomatic capacity, even its own national fate will be in the hands of others -- not Koreans."
Your father met with North Korea's Kim Il-sung. Do you have any plans to meet Kim Jung-il?
"(In a positive tone) I think such a time will come.
Currently Rev. Moon is promoting the creation of an Interfaith Council at the UN. How realistic is this?
"Yes. I think that was a great vision, and that it should be realized. Actually, the UN already made an initiative to have a council of some sort although it is not to the level of my father's expectation. (Laughter) I think, within your lifetime, you may see that happen."
It seems you know of some progress that is underway.
"I cannot open further information today. I am sorry."
There is the underwater tunnel project between Korea and Japan that Rev. Moon had initiated. It seems the world is interested in this project. How realistic do you see such a project?
"It should be recognized that my father was way ahead of his time. Let me say that it was my father who introduced the concept of that project thirty years ago. Although we have made investments in terms of an exploratory tunnel during the 1980s, the technology then was not feasible. In order to become a reality there has to be greater cooperation between Korea and Japan. It cannot be done solely by a private entity because you are talking about international jurisdiction. This is why GPF is so important for a nation such as Korea. In any nation I go I can request to the local government to move on these international projects. So eventually I am planning on having a regional GPF in Korea where I will be inviting leaders from probably China, North Korea, and Japan. Please give your attention to the October GPF in Korea."
As a young global leader of your 40s, you are traveling to many nations and meeting a number of leaders in those countries. How does the world evaluate the nation of Korea?
"The big concern I have when I look at Korea is that many young people are only consumed with domestic issues and domestic policy. China would also be very interested in Korea and the unification of North and South Korea. If Korea does not quickly build up its international diplomatic capacity, even its own national fate will be in the hands of others -- not Koreans."
In the evening of the last day of this interview, Dr. and Mrs. Hyun Jin Moon invited the Joong-Ang Monthly interview team for dinner. Although one of his staff made reservations at a quiet Korean restaurant, he changed the venue. It was a seafood restaurant surrounded by the unique atmosphere of Seattle. The place was very crowded and many things were disrupting our conversation. Although it was not the best place to continue the interview, he sincerely answered my additional questions, even using gestures as he did during the previous days. After the official interview he stated some words in his broken Korean over dinner.
"In Korea…I hope people do not regard me only as "just a son of Rev. Moon". Based on the foundation which my father set, I am working closely with the future leaders of the world. Have you imagined what Africa and South America will be like in 10 to 20 years?"
Our 3-day relay interview finished in this way. Dr. Moon spoke eloquently and persuasively like a public orator. He has spoken to a large audience in front of the US Capitol building in Washington DC, and when I mentioned that he reminds me of Obama, he laughed. When I asked "Do you have any thoughts about going into politics?" he shook his head. Rather than religion, he continually emphasized that "spirituality" has power over politics, economics, and culture, and he is aspiring to become a leader who can awaken this spirituality.
I could not ask too much about the struggle among his siblings or the generational transition within the Unification Church that people are deeply interested in because his reaction was very sensitive each time I brought up the topic. Currently, while his parents and brothers have all returned to Korea and are working there, I could only imagine how lonely a battle he is fighting in America.
---
Press Releases from UPI (a UCI owned business) to publicize this interview
SEATTLE, Sept. 8 (UPI) -- An abrupt cutoff of overseas funding and the general state of the American newspaper industry have caused The Washington Times severe financial difficulties, the chairman of the company that owns the newspaper said recently.
Preston Moon, the chairman of News World Communications, which owns both the Times and United Press International, spoke about the Times in a wide-ranging interview with the South Korean monthly magazine Joong-Ang.
Funding to the Times from the Tongil Group, a South Korean non-profit group founded by Sun Myung Moon and associated with the Unification Church, was halted in July 2009, Joong-Ang said. Preston Moon told the magazine the cut "happened abruptly, to the surprise of everyone."
"We made every effort to keep [the Times] afloat," he said, but that meant sharp cuts to keep the newspaper publishing.
News World agreed recently to sell the Times to a group of former executives of the newspaper for $1. The deal is in due diligence with a determination expected within a month.
News World was established by Unification Church founder the Rev. Sun Myung Moon, Preston's father, who launched the Times in 1982.
Preston Moon said his father established the paper "to educate America about the threat of communism globally."
"So, it was one of the most instrumental media agencies in America that helped define and win the Cold War," he told Joong-Ang.
He also spoke to the magazine about his international grassroots peace-building efforts through the Global Peace Festival Foundation that he began in 2008 and leads. GPFF promotes conflict resolution and stability through interfaith cooperation, initiatives for strengthening families and engaging young people in service projects.
GPFF's annual convention will be November in Nairobi, Kenya. Kenyan President Mwai Kibaki and Prime Minister Raila Odinga have taken the lead in supporting the event, Joong Ang reported.