| | |
| --- | --- |
| | The Words of the Hyun Jin Moon |
Report on Dr. Hyun Jin Moon's visit to Brazil and what happened during the Sunday service on May 30, 2010
In Dong Kang
June 5, 2010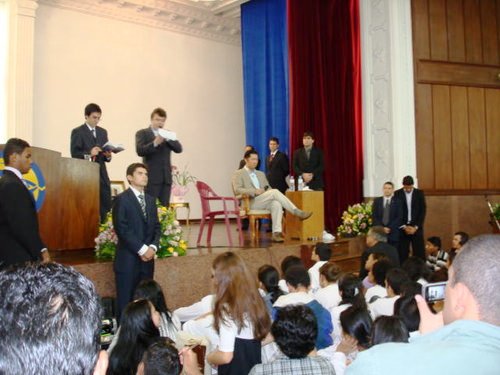 Thank you, God, True Parents and Hyun Jin Nim.
Thank you everyone for your hard work, all the staffs, young people, students, brothers and sisters. I feel so unworthy before reporting Hyun Jin Nim's victory on this very precious day when we could receive the member of the True Family. I will begin with giving you a brief overview of the event.
I am sending this quickly because we expect another challenge tomorrow. Please understand that this report may not be very well organized.
We prepared for this day with prayer thinking about every possible situation including the worst case scenario, so that the serious problems would not occur.
When the news arrived that the True Child is here, our Continental Director, Rev. Shin didn't welcome him but instead kept leading his service. It was very obvious to anybody that his intention was not one of the genuine spiritual leadership. We had already imagined that this kind of situation would happen.
Even though the airplane delayed for one hour, Hyun Jin Nim arrived at the Sao Paulo Headquarters Church on time (10:15 am) thanks to the quick procedures and Sunday morning light traffic. Hyun Jin Nim was welcomed by some 100 members including the major leaders, youth and students at the door. Then he went up to the small hall on the 5th floor, where he did kyung-bae to True Parents and he also received greeting from the members. For about 15 minutes he spoke especially for the students. It seems he wanted to continue speaking but because he knew that some 900 members had been waiting for him downstairs in the main chapel, he stopped and spent time to prepare his message in that room. He instructed me to lead the holy songs and prepare the spiritual atmosphere. (10:35 am)
When I arrived at the main chapel, so many members especially young members had already came out of their seats and made a double line toward the elevator on the second floor to prepare to receive Hyun Jin Nim at any moment. Rev. Shin still was giving a sermon and I overheard that he was saying, "It is the most solemn moment of the service. How can you leave your seat and do something else while the pastor is giving his sermon?" However, now the True Child is here! He is coming to give his message in the chapel. Rev. Shin later said, "Did you give me memo about his coming?" Now the students stood up and prepared the lines and waited for 30 minutes. Then Hyun Jin Nim came in…
Usually 200 members would come to the Sunday service. Today, however, there were 900 members at the service. It is so obvious that they came longing to attend the True Child and they have been waiting in lines toward the entrance of the chapel not being afraid of getting possible scolding from anyone.
I explained to the MC, President Carlos B… and major Brazil leaders that they should prepare holy songs and prepare the holy atmosphere because Hyun Jin Nim was about to come down, but they refused to do it, saying, "Let's wait a little while since Rev. Shin would finish his sermon soon." We waited for about 10 minutes and then we heard him saying, "Conclusion". We thought he finally was going to end his speech and now he would prepare to receive Hyun Jin Nim with his heart. However, 20 more minutes passed and his sermon still didn't finish. Already students, young people, members have been standing on the line for more than 30 minutes, and it now becomes more than 45 minutes after Hyun Jin Nim had arrived. It was now obvious that Rev. Shin wouldn't want to give up the podium until Hyun Jin Nim comes inside the chapel. Staffs spoke to each other about his motivation; maybe he prolongs his speech one hour, two hours so that people become tired.
One short tempered leader said microphone has to be disconnected/cut off; some said the members might chant loudly "Hyun Jin Nim, Hyun Jin Nim…" and disturb the sermon; but finally we decided we should report the situation to Hyun Jin Nim even though it is a very awful thing to report.
Now about 30 minutes passed since Hyun Jin Nim asked us to prepare by singing the holy songs. We didn't want to report this rude situation to Hyun Jin Nim. We felt sorry but we reported what was happening; "It seems we have to wait till Rev. Shin finishes his sermon. Rev. Shin is just focusing on his sermon instead of coming to attend Hyun Jin Nim." Then Hyun Jin Nim didn't look very happy but finally he decided to meet the members even if there's not enough prepared foundation there.
When Hyun Jin Nim arrived at the main chapel, all the members inside the chapel welcomed him with loud applause and clapping of their hands. Students chanted "Hyun Jin Nim, Hyun Jin Nim…" and displayed their burning spirit as if in the STF Assembly. When the situation became like this, it is very natural for the Continental Director or someone who is in charge of the service to show attendance to Hyun Jin Nim. However, instead of doing this, he showed a very rude attitude to Hyun Jin Nim as if to say, "Why do you act so abruptly like this? How can you insult the position of Continental Director appointed by True Parents by ignoring the service?" Thus, even after Hyun Jin Nim came on the stage, he stood there and wouldn't leave the position.
This was the point I had been most worried about. I never wanted anything rude to take place on the stage of the chapel. Therefore, I had trained the security guards very seriously. We had the three groups of the body guards.
Group 1: The church leader hired the professional bodyguards for Rev. Shin. Together with some ministers formed one group (8 people);
Group 2: Students (8 people);
Group 3: UCI called 3 martial artists as Hyun Jin Nim's bodyguards (3 people).
Thus, about 20 people worked together as the security team.
I was in charge of these 3 groups. I emphasized again and again that we shouldn't fight amongst our groups no matter what. The most important thing is the event to take place peacefully, and our mission is to stop whatever possible physical conflict or aggressive actions in the middle. I spoke to them this point again and again so we could recognize this one goal, guarding all of them: Hyun Jin Nim, Rev. Shin and the church leader who translates.
Even though Hyun Jin Nim started to speak, Rev. Shin wouldn't leave the stage with bad attitude. Hyun Jin Nim urged him to move out, but he wouldn't move. Then Hyun Jin Nim called me to come to the front and he asked me to lead the proper greeting to True Parents. With my lead, all the members did kyung-bae to True Parents and then did kyung-bae to Hyun Jin Nim as the representative of the True Family. Rev. Shin still wouldn't move.
The day before he confirmed that if the True Child moves up to the stage, who would dare to deny him? But now where is that attitude gone? Then, finally Hyun Jin Nim couldn't stand any longer and asked us to move him out. That moment there was a conflicting atmosphere between the bodyguards, and Rev. Shin was pushed about two steps on the stage, then he lied down on the stage.
Unbelievable scene took place. If he risked his life to prevent like this, it seems nobody could stop it. I strongly spoke to everybody that no one should carelessly hurt Rev. Shin. Security guards connected with me gave way for the professional security guards hired through the church leader to let them surround Rev. Shin. I think they also thought it shouldn't be this way. Nobody gave order but they decided to escort Rev. Shin out of the chapel trying to avoid the possibility of him getting hurt any further.
Of course Rev. Shin screamed at me and other leaders with a loud voice, trying to stop this, but the situation was no one could control this, and fortunately there was no physical conflict and it was not the security of our side who took him out but the security that the church leader hired escorted (half forcefully) him out.
Members seems to have been confused by watching the situation of their Continental Director screaming and shouting so emotionally getting escorted out, while the Continental Director is in charge of attending the True Children. However, because of Hyun Jin Nim's charisma, such confusion (such as: why did Continental Director not attend the True Child even when he came on the stage?) seems to have gone, and the atmosphere changed to welcome Hyun Jin Nim and his messages.
Hyun Jin Nim then lead the Hoon Dok Hae session for 3 hours and educated the members. He spoke that we must take responsibility as the owner of God's dream and vision. We must fulfill our responsibility to restore Brazil. Brothers and sisters could receive so much grace and inspiration through these messages and they could offer their pledge for the new beginning.
I truly want to repent about this ugly thing that happened in this precious occasion to attend the True Child. I was concerned how this happening might have caused much pain to the heart of our brothers and sisters in spite of the grace they had received. However, I was pretty much relieved after the session that I could feel the bright spirit of our brothers and sisters. They received so much grace and inspiration through Hyun Jin Nim's precious investment of having visited all the way to South America, and his charismatic, heartistic and passionate message.
Even though Hyun Jin Nim came here after long hours of trip, he didn't rest even for ten minutes after the event at the Headquarters Church, and immediately moved to the restaurant and spoke to 50 leaders. He demonstrated his personal love and care by personally approaching each person to help them make their own pledge to become the owner of God's will and his dream. After that he moved to the hotel and continued speaking to the leaders and investing his deep heart.
At 7:00 pm, he met VIPs by appointment, such as the 5 times elected congressman, Mr. M, and 2 directors in the area of the universities. He spoke a lot about GPF.
This is a brief overview of what happened. I spoke more about the wrong action taken by the Continental Director Rev. Shin than the content of the whole event and the messages. In fact, I don't seem to have so much memory of other things. Please understand this situation.
My conclusion is that this was a victorious gathering which was done by the unity of Hyun Jin Nim's love and sincere investment on members, and the members' longing heart to attend True Children.
Once again, I would like to convey to you my deep repentance and apology that I could not attend Hyun Jin Nim adequate enough, and I would like to pray that Hyun Jin Nim's remaining schedule of the South America Tour will bring ever more victory.
Thank you so much for your support of offering your prayer and sincere dedication.
Sincerely,
Indon
Rev. In Dong Kang