| | |
| --- | --- |
| | The Words of the Hyun Jin Moon |
Hyun Jin Nim in Asuncion Paraguay
Sang Pil Moon
June 1, 2010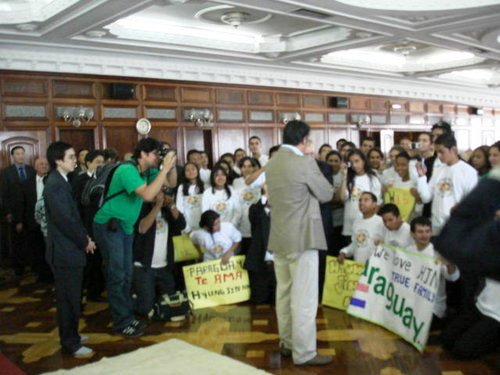 Photo from Sao Paulo, Brazil, May 30, 2010
This is Paraguay Moon SangPhil.
Hyun Jin Nim and his staff arrived at Paraguay Asuncion at 10:25 AM.
Immediate after arrival, they entered Exelcior Hotel. He gave speech to 40 some number of Asuncion members.
I heard that Hyun Jin Nim asked Rev. Ebaristo Paraguay HSA president that "Can I go to my father's house, or not?" Should I do tomorrow's Hoon Dok Hae at the hotel or at the church?" The president answered "We want to welcome you, but it seems that Korea headquarters' position is different".
I was told that there was no particular schedule in the evening. At 6 PM, Hyun Jin Nim invited young people who were connected through human education to the building that was used as old Victoria Company building, gave words and had dinner together.
Then, returned to the hotel and continued holding meetings with business related people.
Meanwhile at the church, at 5 PM, headquarters leaders and local church leaders got together and summarized church's position (of this meeting Hyun Jin Nim) centered on World Mission headquarters' position, and decided to begin 3-day special prayer course of our faith.
The most sensitive issue that is the next day's Hoon Dok Hae visit. The church will respect the World Mission headquarters' direction and will not permit Hyun Jin Nim's centered church Hoon Dok Hae. And, the church will send the position of Paraguay headquarters on this to all Latin countries' headquarters presidents.
However, if Hyun Jin Nim forces the visit despite the notification of our position, we decided to welcome them. However, we put few conditions based on the incident in Brazil.
First, entire control of Hoon Dok Hae is the church, and the church decides the material.
Second, only the person who can speak on the stage is Hyun Jin Nim.
Third, we don't allow to put up welcoming banner.
Fourth, without the church leaders' permission, Hyun Jin Nim's staff cannot make any separate movement.
We called and informed these condition to Victoria Paraguay president Thomas Field.
After receiving our notice, Thomas Field called the headquarters president and informed that Hyun Jin Nim's visit to headquarters and Hoon Dok Hae is canceled, and they decided to hold Hoon Dok Hae at the hotel.
This is brief report about today.
Be happy! Have a good day!
Sang-Pil Moon
5th floor, Moon-Joong Building
21-3, Phildong-3ga, Jung-gu
Seoul, Korea 100-273