| | |
| --- | --- |
| | The Words of the Hyun Jin Moon |
Continental Directors Report On Hyun Jin Moon's Activities In Brazil
Dong Mo Shin
May 30, 2010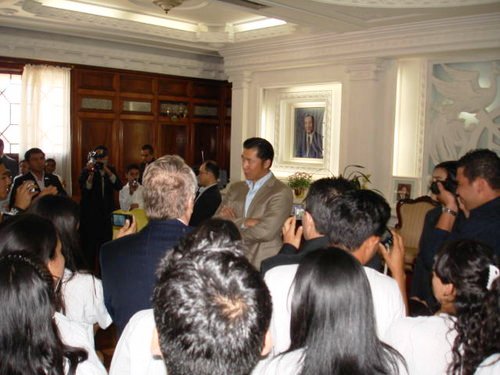 How are you?
Greetings from Sao Paulo in South America.
Today, on May 30, Hyun Jin Nim visited the Sao Paulo Headquarters Church. He had been preparing for this in secret from long ago. He arrived by plane at 8:15 am on the 30th. We were holding a service where I was giving a sermon, as on normal Sundays. Today was a special day because we were commemorating the publication of the Portuguese version of True Father's autobiography. My sermon was focused on this.
Hyun Jin Nim, who arrived at the airport, came straight to the headquarters.
But the young members under Missionary In Don Kang, Thomas Field, Gustavo Juliani of Tongil Mudo, and Maurisio and Sypriani, two Brazilian board members, went in front and took over the podium. Hyun Jin Nim approached the podium.
True Parents clearly asked Hyun Jin Nim to stop holding public events in March 2008 and to stop his public activities, so he should have waited for permission from True Parents in all these situations. I put this into a memo and stood strong with (church) President Simon and Vice President Carlos.
Yesterday, I spent all day trying to negotiate with the people in responsibility on their side but I could not. Since two days ago (when I returned from Paraguay), I tried to overcome this situation together with a lawyer from the Mission Foundation and church staff, but they did not agree to join negotiations.
Their slogan was simple: We will go to the sanctuary no matter what, since it is Hyun Jin Nim's order.
Especially the board members appointed by UCI [Unification Church International] continued to threaten the church president and urged him to obey their words, even calling the wife of the church president and threatening her on the phone. They have continually acted in such unfaithful and low ways.
In any case, Hyun Jin Nim violently took the microphone in the middle of service and tens of people (In Don Kang, Young Jun Kim, Thomas Field, Gustavo, etc) came up as his protection, and pulled me and my interpreter Simon offstage.
I didn't allow myself to be removed from the podium and in the end fell over. My shoe came off and I was dragged away. I could do nothing about this, since I was in no position to use violence to defend myself.
I was dragged out and received strict protection(?). A doctor came and gave me medicine for high blood pressure, but it was nothing. The wife of the church president passed out and was taken to the hospital but later recovered well.
Hyun Jin Nim continued to do things here, talked with leaders during lunch, and went to his hotel saying that he would come to the Headquarters Church the next morning to do Hoon Dok Hae.
The local members are praying and I am offering my report from the Headquarters Office. I am grateful to the people who contacted me in worry, especially those watching the simultaneous broadcast. Due to the situation, I am sending an immediate report.
Dong Mo Shin
Continental Director
South America