| | |
| --- | --- |
| | The Words of Hyo Jin Moon |
Hyo Jin Moon - Eldest Son of Rev. and Mrs. Sun Myung Moon - A Brief Biography
2008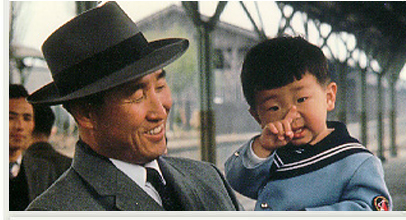 Hyo Jin Moon was born on December 3, 1962 (lunar calendar) as the first son of Rev. Dr. and Mrs. Sun Myung Moon. He died of a heart attack on March 17th, 2008 in his birth country of Korea.
Mr. Hyo Jin Moon will always be remembered as passionate musician and multimedia visionary who deeply loves God and humanity.
He is survived by his loving wife, Yeon Ah Choi. He and his wife have five children together. Hyo Jin Moon also has five children from a previous marriage.
He earned a master's degree from the Unification Theological Seminary which was founded by Rev. and Mrs. Moon.
He served as Chairman of the Board for Manhattan Center Studios, a state-of-the-art multimedia facility in New York City where he also has served as president. His vision and leadership created the outstanding professional standard at Manhattan Center Studios which serves many famous musicians and televised events. He is also the founder of MC Korea and MC Japan.
Mr. Hyo Jin Moon worked for 10 years (1985-94) as the first president of the World Collegiate Association for the Research of Principles (World CARP). During his presidency, one of the defining moments was the 4th World CARP Convention in Berlin. Hyo Jin Moon led 1,000 students on a memorable march to the Berlin Wall. As hundreds of outraged leftist students screamed, shouted and threw objects and paint bombs, the World CARP members gathered near Checkpoint Charlie where Hyo Jin Moon delivered a stirring speech, similar in spirit to one given by U.S. President Ronald Reagan "Come on Mr. Gorbachev," he said, "be the righteous man you claim to be and tear down this wall!"
Hyo Jin Moon was an inspirational musician, performer and producer. As vocalist and lead guitarist, he has produced over a dozen CD's and has created a catalog of more than 10,000 songs of his own composition. He continued to perform in live concert tours in Asia each spring up until his passing in 2008.
He leaves a strong legacy of having dedicated his public life to inspiring people of all ages and backgrounds to live passionately for the sake of others. His vision gave rise to media projects which contribute to create a positive influence on the culture especially for young people and families.