| | |
| --- | --- |
| | The Words of Hyo Jin Moon |
Hyo Jin Moon calls 10,000 CARP students to rally in Japan
Gaku Makise
July 22, 1990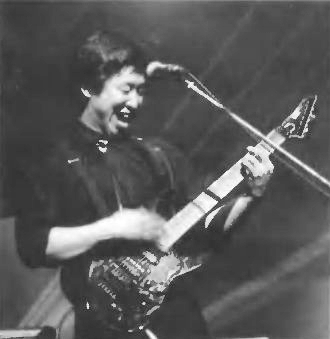 On the afternoon of July 22, 1990, ten thousand students from all over Japan rallied at the Makuhari Messe event hall in Chiba prefecture, which boasts the greatest convention facilities in the Orient.
The purpose of the rally was to encourage members to manifest a "true love human relief movement based on the spirit of living for others."
Hyo Jin Nim served as the keynote speaker. One hundred Soviet students, headed by Mr. Yuri Zaithev, president of the Soviet Union All Students' Council, also participated as special guests.
The rally was held under the Theme of "True Love and the Unified World -- Toward a Global Family" and amid slogans of "Rev. Sun Myung Moon is the True Parent of mankind" and "True Parents and the Unified World." The rally attracted much attention from the Japanese media and society, and was a preparatory rally for the "World Culture and Sports Festival" to be held in Seoul next year.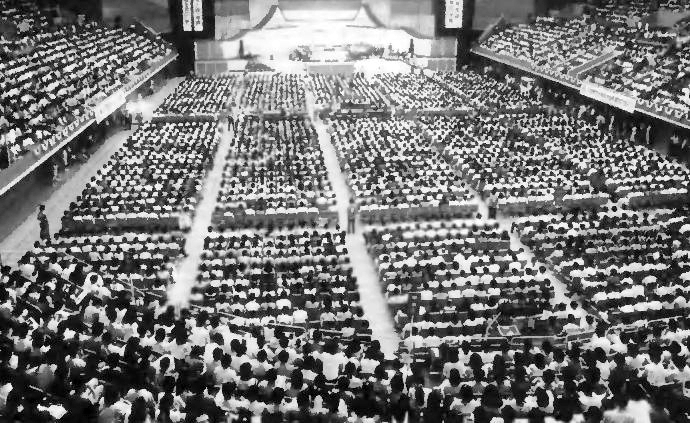 10,000 CARP students rally at the Makuhari Messe event hall in Chiba prefecture, Japan
Pro-Unification Movement students gathered from the entire nation at the hall displaying two huge banners. In addition to student representatives from Europe, Asia and the United States, 100 Soviet students who had visited Japan on July 21 to promote communication with CARP were invited.
At the opening ceremony, pop singer Yukari Morikawa and several energetic young dancers performed. Then came a multi-media presentation introducing the Unification Movement as it extends to every corner of the world.
After the opening declaration and entrance of the national and Unification Church flags, Church officials, guests and student representatives were seated on the stage. Mr. Hideo Oyamada, president of the executive committee of the rally and acting president of the Unification Church of Japan, made the following opening remarks:
When we look back on history, in spite of mankind's continual pursuit of peace, instead we find conflicts occurring repeatedly and tragedies due to ignorance and prejudice. We have gathered here today to pledge to liquidate the history of resentment, to become young patriots, and to realize the ideal world which God and mankind have been seeking.
Our existing value system cannot cope with the rapidly changing world. This reveals our limited human ability to resolve our problems.
To overcome these difficulties, we must return to the Existence which transcends human beings, or God, to understand the fundamental questions of why God created people and the universe.
The answer comes through the modern revelation of God given through Rev. Moon's life of hardships and his teachings.
I would like to refer to the new spiritual movement of "Global Village" and "Global Family' which CARP is promoting. Its purpose is to surpass the existing value system through Godism and Headwing thought and to form a global family. First, education promoting a new value system is needed. Second, there must be equalization of technology; that is, the transfer of mechanical and electronic technology from the advanced nations to the third world. Third, economic support must be sent to the Soviet and East European nations.
We Unification Church students have been commissioned to foster supra-racial and supra-national talents. This is God's very own way of life and it is Rev. Moon who exemplifies this life. He is the man who should well be called the "True Parent."
Mr. Hyo Jin Moon, president of World CARP, has come here on behalf of the True Parents and their family. We would like to share with you his profound thought and burning heart.
Next, there were speeches of encouragement by Makoto Yamazaki, chairman of the rally executive committee and director of the church's national student department; Iwaro Takahashi, professor of Tsukuba University; and Katsumi Ohtsuka, president of Japanese CARP.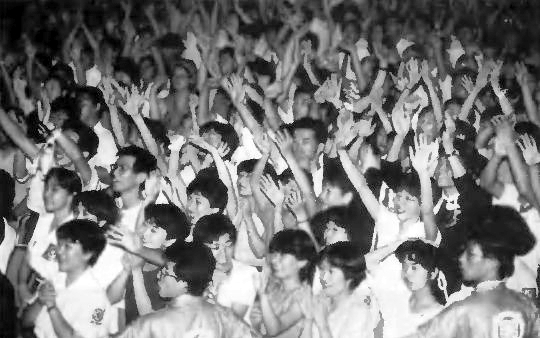 Hyo Jin Nim invests his whole heart and soul in a musical performance to the cheering students
Hyo Jin Nim gave a commemorative lecture, speaking intensely and passionately with profound love, enrapturing the whole audience. The main theme of his lecture was "To realize an ideal world depends on the practice of true love":
What do we need to behave centered on Rev. Moon's words of love? I think it begins by firmly establishing our view of principle according to God's true principle.
The reason God created mankind and the world is that He needed a being with whom and a foundation with which to practice true love. All of you have a mind to experience the joy of love, which should not be centered on yourself, but should return love by giving and taking, communicating and making oneness with each other.
If the origin of God's ideal is love, God would have wanted to belong to such a love. Please bear in mind that God's great ideal is to keep true love shining forever.
God made the responsibilities of Adam and Eve so important because He wanted to create this world with the realization of infinite true love. God can realize His ideal of love only through Adam and Eve. If God's ideal is eternal, even though this world has its limit, the eternal true love of God must be able to take root in the world. That is why God gave men the blessing: 'Be fruitful.' Through such a blessing the world of eternal true love of God will be realized. Man's responsibility is an indispensable condition to the completion of the purpose of creation. Therefore, after losing Adam and Eve God has been conducting the providence of restoration by continually setting up substitutes for Adam and Eve.
A revolution cannot be successful without its actions Based in a firm vision. Satan understands the Principle better than anyone else. Man-kind's perfection cannot be fulfilled automatically, but by autonomy, independence, and through each person accomplishing his and her responsibilities in the process of growth.
Satan, who knows this, has often selected a few groups to influence them with thought centered on Satan's ideal. Isn't it true, brothers and sisters, that most people are said to be lazy? Why is that so? It is because perfection is so difficult. God made it so that people's responsibility would not be easy. When He created the world, He invested all of himself. Moreover, He did not create at random. God's Heart is such that He wants to invest His whole energy for an ideal of love even if He has to sacrifice Himself. Human beings must realize this and behave like God through their process of growth.
The ideal world will come before too long. If you devote yourself based on True Parents' foundation and vision, I will sing here today with my whole effort even though I have a sore throat. I don't care if I fall down here. So, those who promise to do your best, please raise your hands and show me! Thank you very much.
In the second part of the rally, there was a splendid keyboard performance, a Wonhwa-do performance by the student department, and a door prize drawing.
At the finale, Hyo Jin Nim and his band gave a concert, which climaxed in total unity with the entire audience. The students responded with many calls for encores. The rally concluded in complete success. One of the Soviet student participants said, "What impressed me most was the speech by President Hyo Jin Moon, because he spoke a lot about peace and the ideal everyone wishes. It was really good to take part."
The media paid much attention to this rally, for only Unification Church students are seriously active nationwide, while the left-wing student movement has declined in Japan. Moreover, the participation of the Soviet students inspired television, newspaper, and magazine media to report the rally on a larger scale. The image is taking root more and more in Japan that only the Unification Church can teach young people the ideal to truly live for Asia and the world, transcending the national dimensions of Japan.