| | |
| --- | --- |
| | The Words of Hak Ja Han (Mrs. Sun Myung Moon) |
Remarks at The Acceptance Ceremony of the Degree of Doctor Honoris Causa awarded to the Reverend Sun Myung Moon
Hak Ja Han
November 15, 1984
The United Nations, New York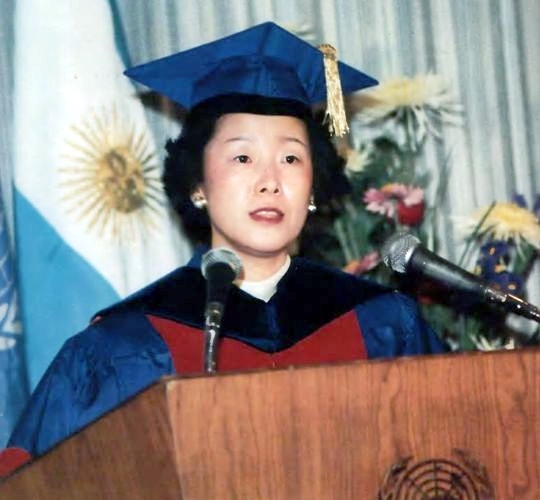 Ambassador Jose Maria Chaves, Dr. Nicolas Argentato, Honorable Deans of the Catholic University of La Plata, Distinguished Guests, Ladies and Gentlemen:
On behalf of my husband, Reverend Sun Myung Moon, it is a great honor for me to accept this Degree of Doctor Honoris Causa from the distinguished Catholic University of La Plata.
As the wife of Reverend Moon, I join with my children and the members of the Unification Movement throughout the world in saluting the courageous stand which you and your university are taking in recognizing and honoring my husband at this difficult time. It deeply touches my heart. I cannot truly express the profound appreciation which I feel on this occasion.
My husband is today in the United States federal prison in Danbury, Connecticut. He is in prison because he loves God rather than his own freedom. He is in prison because he loves humanity rather than his own comfort. He is in prison because he is a man of principle rather than a man of popularity. And he is in prison because he lives for history rather than for the present moment. When we look at history, we see that men of God and men of principle have often walked the path of suffering. My husband is following that tradition.
The Catholic University of La Plata has recognized the value of his life, his vision and his work, and that is why you are honoring him today. My heart is deeply grieved that he cannot be here to receive this honor in person, but it is more meaningful in history, after all, that you have honored him in this way during his confinement.
Today I came from Danbury prison where I spent the day with my husband. On my departure, he asked me to convey his very sincere gratitude for your most kind recognition of his work. Your action clearly testifies to the world that Reverend Moon is today working for the sake of humanity and not for himself. Furthermore, this honor shows that his suffering is not in vain, and that the people of the world appreciate his life-long dedication to the, cause of God and humanity.
My husband has visited your great country of Argentina, and he has seen the tremendous future which lies ahead for the Argentine people and nation. Your university is one of the finest in the Americas, and is upholding the tradition of a great teaching institution in accord with the 2,000-year heritage of the Roman Catholic Church. Your standard, particularly your stand on behalf of true freedom under God, has won his heart. My husband feels great joy to establish this special bond with the Catholic University of La Plata. He and I are looking forward to visiting your great university in the not too distant future.
God bless you. God bless the Catholic University of La Plata. Thank you very much.