| | |
| --- | --- |
| | The Words of Hak Ja Han (Mrs. Sun Myung Moon) |
Prayer at lunch following the Dedication Ceremony for Cheon Bok Gung
Hak Ja Han
February 21, 2010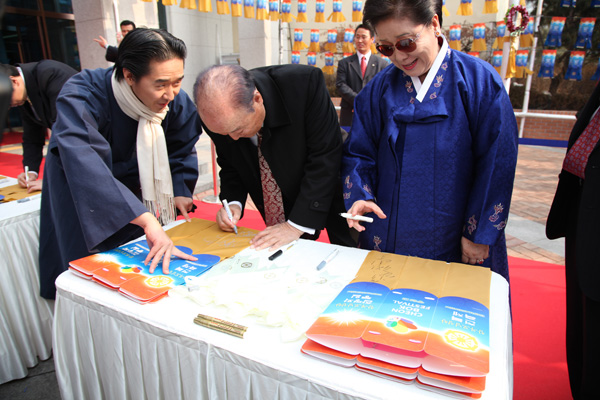 God's Day 2011
Prayer:
We are sincerely, sincerely grateful that You have permitted us to dedicate this holy temple in Yongsan Borough, Seoul, where we may attend You in a precious and exalted manner for the first time. We thank you that You have made this dedication ceremony so that this holy temple can shine brightly throughout the world as a place where our Jeong Seong and the hearts of all members can be gathered to form a foundation on which the entire country and the entire world, all humanity, will be able to recognize that the true owner is working His will substantially.
May all who come and go here feel the boundless yearning and love of the Father in Heaven every time they look upon this temple of Unificationism. May Your special blessing be upon all Your children who work here. May all the world see that You live and that You are carrying out Your work directly.
Thank You. Thank You that You have given us this day. Heaven has endured so much as it walked a difficult path, being badgered and driven, working in the dark and without recognition.
Now, a holy temple has been opened where we can boldly reveal You and attend You. Please give Your blessing so that Your blessing and grace may be revealed to the world. Thank You for all that has taken place today in this ceremony.
We now offer this luncheon on this day of Jeong Seong and ask that You partake of it first. We thank You and report to You in the name of the True Parents. Aju.