| | |
| --- | --- |
| | The Words of Yeon Jin (Kat) Moon (daughter of Sun Myung Moon and Hak Ja Han) |
A Warm Welcome for Yeon Jin
Joy Pople
February 27, 1981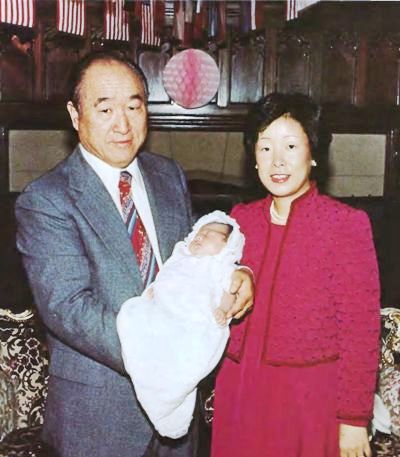 On February 27 our True Parents invited representative members to East Garden to celebrate 21 days after the birth of their twelfth child, Yeon Jin. This was in addition to the usual eight-day ceremony for blessed children.
I had the privilege of helping to represent the World Mission Department at this 21-day celebration -- the first time I had attended a ceremony at East Garden. I wanted to be the eyes and ears for those brothers and sisters who have never witnessed such a celebration. Words are so often inadequate, but perhaps the readers can capture some of the spirit of the occasion through this small report.
Before 7:00 a.m., representatives of New York area families gathered in the living room at East Garden, with members of the 36 blessed couples in front. At 7:00, Father, Mother and the children came downstairs and knelt on the floor in front of the bountiful offering table. Father prayed quietly. Then Father and Mother took their seats behind the offering table, and all the children bowed to them, including the second youngest child, who is still a bit unsteady on his feet! Afterwards, the children went forward and stood around the parents, while the rest of us bowed in greeting.
Father and Mother held the baby jointly, and Father offered a dedicatory prayer. Then Father gave the baby three spoonfuls of liquid: one of water, one of juice and another of water. With chopsticks, Father took Korean food from the offering table and put a piece in Mother's mouth, and then each of the children, beginning with the eldest. He also kissed the baby on its forehead and held it very tenderly. Each of the children chose something from the offering table (their preferences leaned to bags of candy bars). In addition to fruit and candy, the table included various oriental delicacies and a roast chicken, placed upright on a platter, complete with a paper crown on its bald head and a ribbon around its neck!
Throughout the ceremony, mother's face bore such an air of dignity and stateliness, although one could still catch glimpses of tiredness. The younger children were a bit restless at times, but our parents treated each child with care and affection.
Turning to the members gathered in the living room, Father got up and went around to the front of the offering table. Members lined up and Father personally gave each one a piece of fruit. Usually the children distribute the fruit, but Father seemed so happy to personally hand each person a piece of fruit.
One Japanese couple whose baby was celebrating its 100th day presented their child to Father, and he gave them many kinds of fruit from the table.
Afterwards, our parents, their children and a number of members sat down to breakfast, and Mother prayed, in a quiet but powerful voice. During the breakfast, Father said that the 21 days represent 21 years, and therefore this was a very special occasion. In a truly parental gesture, he invited the members to stay on at East Garden until lunch time. In actuality, they played yute until around 4:00 p.m.
One missionary sister, Merlinda Fournier, had just returned to the United States to join her husband, Lou, after six years. Father and Mother invited them to share breakfast with the family and recount some of their experiences. Later, Mother invited Merlinda to her room and gave her one of her dresses and some jewelry.
One of the conditions of our True Parents' 21-year course was to have 12 children, which was now fulfilled with the birth of Yeon Jin. Finally, our Mother can now take a rest!