| | |
| --- | --- |
| | The Words Ye Jin Moon (daughter of Sun Myung Moon and Hak Ja Han) |
Report on Ye Jin Nim's Blessing
Chung Hwan Kwak
May 16, 1981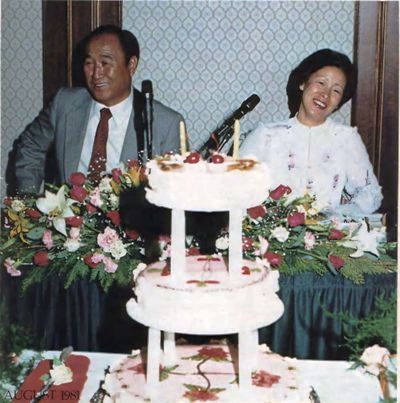 Ye Jin Nim's matching and Blessing came so suddenly. I was in America making plans for the upcoming Korean Evangelical Association workshop in Korea when Father called me unexpectedly and asked me to arrive a couple of days earlier. Knowing that Father planned to visit other countries after leaving Korea, I thought that he might have decided to leave earlier and needed some report from me before setting out. I had absolutely no idea he was planning to bless Ye Jin Nim. Then the next day he called me again and told me to bring Ye Jin Nim with me.
When I conveyed this message to Ye Jin Nim, she said her college schedule was really busy; we still had no idea of Father's plans. Father had set the date when she had to arrive, so she had no choice. The day before leaving for Korea, she took exams in four courses.
On the plane, we talked together about so many subjects, but she had no inkling of any matching. She had not prepared any dress for such an occasion. She had brought along only American-style clothes, thinking she was just coming to Korea for a visit.
On the morning of May 15 we arrived at Kimpo Airport and went directly to headquarters to offer our greetings to Father and Mother. Breakfast was delayed while Father listened to my report. Then Mother came down and said, "Father, we have no time." Actually, Father always decides the time schedule: previously, Mother never said this kind of thing. I had no idea of the events being planned, and therefore I gave a long report. After my report, we had breakfast. Then Father told Mother to explain things to Ye Jin Nim. "You will be matched and blessed at this time," Mother told her.
I don't know in detail how Mother guided Ye Jin Nim.
Father gave directions to headquarters to assemble all the 36 couples at the church, together with their oldest blessed son or daughter. Three representatives each of the 72, 124 and 430 couples were to gather there as well, at 11:00 that morning. Not quite two hours remained before the appointed time. The blessed children had already gone to school, so word had to be sent to them there.
We gathered at the Chung Pa Dong church, where our True Parents' holy matrimony took place, and where the 36 couple Blessing was held. Even the 36 couples had no idea of what would take place. Father had never told us before that we needed to have a True Blessed Couple.
Father began by explaining the providential meaning of Ye Jin Nim's matching and then questioned the blessed couples and their children. He also asked each of the 36 couples to nominate candidates for Ye Jin's spouse. Each person had to write down three names. I don't know who got how many points. Afterwards I asked the other 36 couples whether they thought their votes were effective. Father already had an idea. But I think Father wanted to test the 36 couples to see how close their ideas were to his.
Then he explained that he would match Ye Jin Nim that day. The atmosphere became serious, especially for the children there. They really had no idea of what would happen. He asked the blessed children if they could accept Father's choice in a matching.
Father then explained about the importance of True Children's father-in-law and mother-in-law. Father makes decisions not only considering the spouse, but also the family. Even among the 36 couples, there are differences in lifestyle.
Father turn to Ye Jin Nim and said, "I want to match you today; can you accept it?" She answered yes. "I will pick one brother and then you can discuss with him and decide," Father explained. Ye Jin Nim's reply was, "I do not need to discuss anything; you make the selection for me, and I will accept it."
This may sound simple, but really for Ye Jin Nim it was not so simple. There is quite a difference between her age and that of the other blessed children, and girls develop faster than boys in their understanding and knowledge. But the important thing is that she could accept everything, and that her acceptance was not just a casual yes, but offered with deep feeling and many tears. Many couples will receive a lot of benefit because of her attitude.
So Father picked out one brother, Mr. Jin Whi Hong, and offered the matching prayer.
I am so thankful for Ye Jin Nim. I know her, and even though she did not share her internal feelings at the time, I could imagine them. We should really give heartfelt thanks to True Parents and Ye Jin Nim.
Ye Jin Nim's husband is the son of Mr. and Mrs. Sung Phyo Hong; they are among the third group of the 36 blessed couples and part of my Blessing trinity. I know him well. Mr. Hong joined our church in 1957, and did various pioneer activities; he was a regional director and later director of the Seoul region. His main activities were church activities. When Il Hwa began, he took care of the ginseng business, because his educational background was pharmacy. He pioneered the ginseng business, developing the tea and everything. Also, because of some persecution of Il Hwa, he went to jail a couple of years ago.
The police testified that they really respected Mr. Hong. No matter what they did, still he maintained his dignity and took responsibility for everything. Sometimes when the Korean leaders would face some difficulties, they would write letters to Father and I would read them to him. But Mr. Hong never sent a letter to Father during his time of difficulties, he never tried to make excuses. Even after he was released from jail, Father never mentioned his name, and some leaders thought Father didn't like him, or maybe he failed. Once when I visited him in Korea, I suggested that he write to Father about his situation. But he told me he would not write to Father, and that he himself took full responsibility for the situation.
He told me, "Until Father asks me for details, I will never complain or give him excuses." He really set a good example, and I can deeply understand his heart. Even we as leaders often try to share our heart or give some excuse to True Parents. However, even though Satan causes difficulties, etc., we have to take responsibility. Until some indemnity period passed, Father never said anything to him. Internally, Father must have made this kind of plan. Nobody understood, but perhaps he had been planning this for a couple of years, but still he never showed any close feeling for him. So we should never make decisions based only on Father's external attitude.
Of course we 36 couples are not enough for True Parents, but I told Father, "Even though we are not enough, I recognize today that you need us. This is not only Mr. Hong's blessing, but the rejoicing of all 36 couples, because in this way we are offering one son."
Surely God must have been preparing Ye Jin Nim's husband for a long time; He must have focused a lot of attention on preparing someone for the True Daughter. When Jin Whi Nim was attending junior high school at the Little Angels School, he was president of the student body. He is a wonderful speaker and a very gentle and humble person. He is a wonderful example in every way. We are expecting him to come soon to America and hope to be able to greet him directly.
We want to offer Ye Jin Nim and her husband our most sincere congratulations, especially for having laid such a victorious foundation. We have so much to learn from their example.