| | |
| --- | --- |
| | The Words Un Jin Moon (daughter of Sun Myung Moon and Hak Ja Han) |
The Holy Wedding of Un Jin Moon and Jin Hun Park and the 36 Second Generation Couples
Robert M. Davis and Laura Reinig
April 11 and April 12, 1986
Seoul, Korea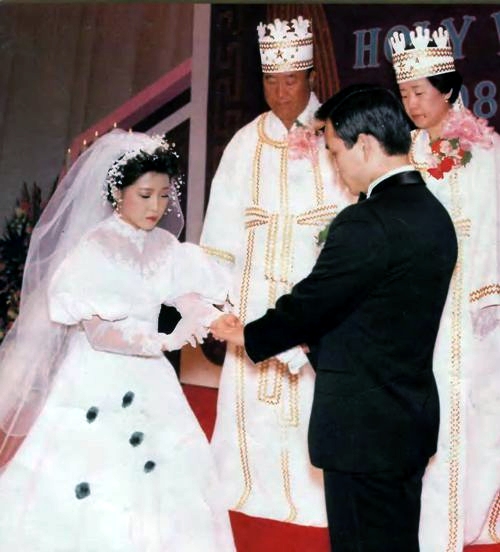 Un Jin Nim slips the wedding ring on the finger of her bridegroom Jin Hun Park at their Holy Wedding on April 11, 1986.
The Holy Wedding of Jin Hun Park and Un Jin Moon
On April 11, 1986, the Holy Wedding of Jin Hun Park, eldest son of the late Rev. Jong Goo ("Tiger") Park and Mrs. Keum Soon Choi, and Un Jin Moon, third daughter of the True Parents, was held in Seoul, Korea, at the Little Angels Performing Arts Center.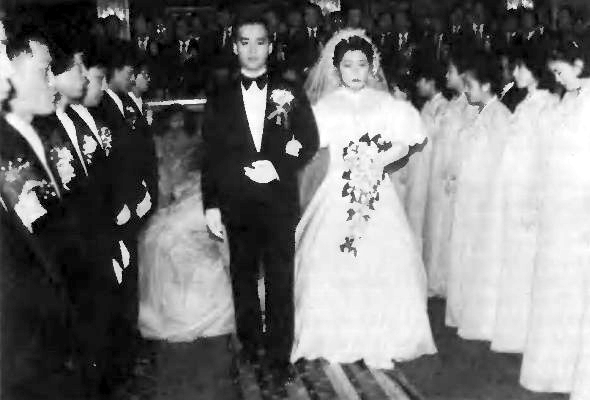 By 10 a.m. all the people in the audience -- halmonis who have prayed day and night in tears for this moment to take place, mothers and fathers anticipating their own blessed children's imminent wedding day, international guests from all over the world -- were seated, waiting in breathless silence for the ceremony to begin.
A long line of wedding attendants, the newly matched blessed children, came slowly down the long center aisle, the women in pink chimachoguris, the men in dark blue suits, and lined both sides of the aisle. True Parents were announced; they slowly and majestically came down the aisle wearing their ceremonial gowns with gold trim. At the stage, they mounted a crimson-carpeted platform. Father lighted two 7-candle candelabras on either side of the stage, while Mother stood quietly. Then True Parents took their seats.

The late Rev. Jong Goo ("Tiger") Park, the groom's father, who was for many years the president of CARP in America.
Dr. Bo Hi Pak announced the processional of the bride and groom. Un Jin Nim and Jin Hun Park entered arm in arm and began to walk slowly towards True Parents, to the strains of the traditional wedding march. Un Jin Nim, with a timeless beauty and a mature bearing so similar to Mother's, wore a long white wedding gown trimmed with lace, with a veil falling back to the floor behind her, about eight or ten feet long. Because the veil was so long, two bridesmaids constantly attended her, helping to straighten it during the whole procession. The groom walked beside her, straight and noble. The two were in perfect harmony of movement. Behind the bride and groom came Shin Bok Nim, Ye Jin Nim's oldest son, and Jeung Jin Nim, True Parents' youngest daughter, as a young groomsman and flower girl.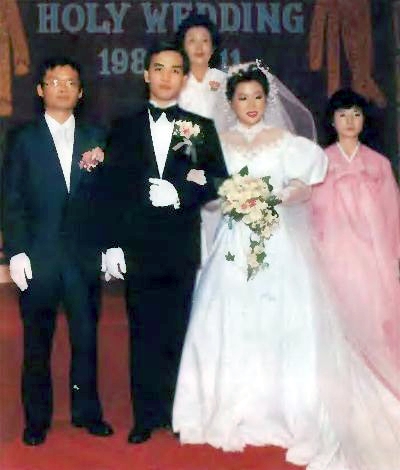 The groom and bride with the groom's family. Left to right: Jin Hyong Park, the groom's brother; Jin Hun Park; Mrs. Keum Soon Choi Park; Un Jin Nim; and Mi Soon Kim, Jin Hyong Park's new bride.
When the bride and groom reached the stage and were standing before True Parents, they bowed slowly and regally from the waist. Then they took another step up. Father recited the traditional wedding vows, and the bride and groom, in a very humble and serious manner, responded with "Year' Father and Mother placed their hands on the couples' heads, and Father prayed, in tears. The bride and groom exchanged rings, and then Father officially proclaimed the Blessing over the couple.
Rev. Won Pil Kim came to the stage and offered a congratulatory message to the couple. Kwang Yol Yoo recited a poem he had written to commemorate the occasion. Two of the newly- matched blessed children sang a beautiful Korean hymn. Then the bride and groom turned majestically to face the audience, their faces glowing. They bowed to officially greet the audience as husband and wife and then the auditorium rang with three victorious manseis.
The music of the traditional wedding recessional accompanied the radiant new couple back down the aisle. As they made their way, laughing, through the throng of guests who were throwing out colored streamers and pressing around them in happiness, they became almost completely enveloped by the paper streamers, like multicolored cocoons!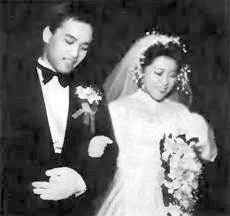 A radiant Jin Hun Nim and Un Jin Nim, just after they have been pronounced man and wife, return back down the aisle.
The whole wedding company, including all the related families, then came back up to the stage and official photographs were taken. The most 1 touching moment came when
Mother, who was standing behind Jin Hun Nim, reached over and wiped his brow with a tissue and smoothed his hair in true motherly fashion. Jin Hun Nim looked so happy and grateful to be her new son-in-law.
The spirit throughout the ceremony was very, very warm. True Parents looked especially happy. This wedding was something that obviously pleased Father and Mother very much. They both broke out in big smiles at the end, and especially at the picture-taking. And the new bride and groom were radiant. The taking of wedding pictures is traditionally a solemn occasion in Korea, but, although the bride and groom started out being serious, they began to smile. Soon there was no effort made even on the part of Un Jin Nim to keep a straight face. She couldn't help laughing. It may have been because of Un Jin Nim's own personality, or because the way had already been paved in the previous weddings of Father's children; but there was definitely a very light and free feeling at this wedding. Un Jin Nim and her new husband were close with each other, sharing little bits of information and comments and responding warmly to one another in a very touching manner.
Korean Wedding Ceremony
After the picture-taking, the True Family and some of the elder Korean members left for Han Nam Dong, where a traditional Korean wedding ceremony was held. The new couple and True Parents re-dressed in traditional Korean wedding clothes. At the ceremony the bride and groom bowed to True Parents, then bowed to each other. Then the Korean tradition of throwing out a special dried fruit called tae chu to the bride and groom took place. The more fruit the bride catches, the larger her lineage is supposed to be. Father and Mother both threw the tae chu towards the bride and groom. Un Jin Nim held out part of her Korean outfit, which covered both her hands and arms, and used it almost like a basket to catch the fruit. This was a very joyous occasion for all the people in the room. Everyone was laughing and cheering the couple on.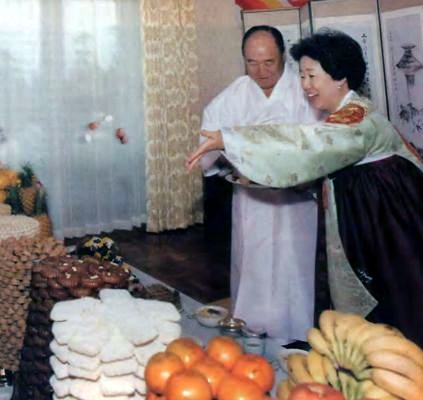 Mother throws out a special dried fruit, tae chu, towards the newlyweds, symbolizing the fruits of their lineage.
There was an exchange of bows between the new couple and the representatives of the older True Family couples that were there -- Jin Whi Nim and Hyo Jin Nim. Then there was an exchange of bows with the younger children, represented by Jeung Jin Nim. Everyone stayed for a celebration luncheon banquet. Un Jin Nim had changed into a beautiful brocade chimachoguri of mist green and pink with a crimson bow. The couple was presented a cake so high they could hardly blow out the candles on it. At the head table Un Jin Nim spoke freely and easily with her husband on one side and with Father on the other, smiling and laughing. The whole family seemed to be bubbling over with an inner joy. Jeung Jin Nim also sat at the head table like a perfect little lady, keeping Jin Whi Nim company.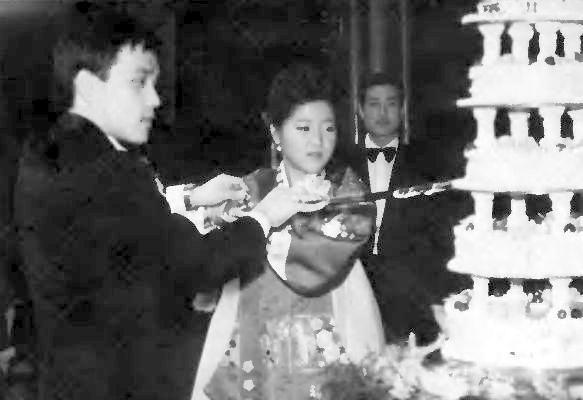 At the evening entertainment. Jin Hun Nim and Un Jin Nim cut their wedding cake.
Banquet and Entertainment
After that, preparations were begun for a banquet and entertainment that evening in honor of the new bride and groom at the Little Angels Performing Arts Center. This was a very large affair catered by the Lotte Hotel.
Dr. Pak was the emcee for the evening. There were singers, Japanese dancers, and a performance by the Korean Folk Ballet. President and Mrs. Mose Durst came up and sang a Korean song. Rev. Chung Hwan Kwak also sang in honor of the new groom and bride. For the occasion, Father was dressed very formally -- in black tie. Father and Mother sat in their balcony seats watching everything proudly.

At the evening entertainment. Un Jin Nim shares words of gratitude.
Un Jin Nim and Jin Hun Nim came on stage. Un Jin Nim spoke a few words to express her gratitude. Obviously overwhelmed, she stumbled over her sentences, laughing at herself. Jin Hun Nim humbly and sincerely expressed his gratitude to Father and Mother. Then he turned to Un Jin Nim, and appeared to be thanking her, too. This embarrassed her, and the whole audience broke up in laughter.
Jin Hun Nim produced a page of song lyrics, and the couple began to sing. The new bride had not gotten very far into the song when she was completely overcome with tears. Her husband courageously continued singing, but Un Jin Nim could only hold her hand over her face and attempt to wipe the tears away. It was impossible to stop them from coming.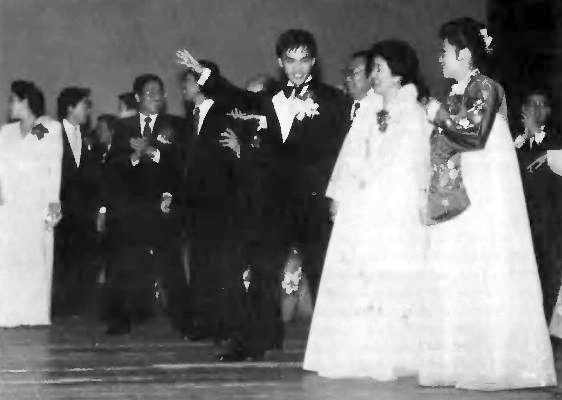 At the evening entertainment. The True Family and friends gather on the stage in a grand finale.
Then True Parents descended to the stage. They were both presented with huge flower leis. Another celebration cake was brought in. Father and Mother lit the candles, blew them out, and cut the cake. Then, while the new couple and the other blessed True Children stood like faithful, loyal children at the side of the stage, Father and Mother began to sing in their inimitable way. Mother bravely sang the melody while Father went off into transcendent dimensions of sound.
Soon the singing evolved into dancing. The True Family made a circle which swirled around Father. Some of the older members came up on stage and started to dance along, weaving in and out of the circle. The audience was on its feet, cheering and clapping. The dancing went on and on to endless variations of "Arirong." Finally, everyone on stage formed a line and led the whole house in three thundering manseis.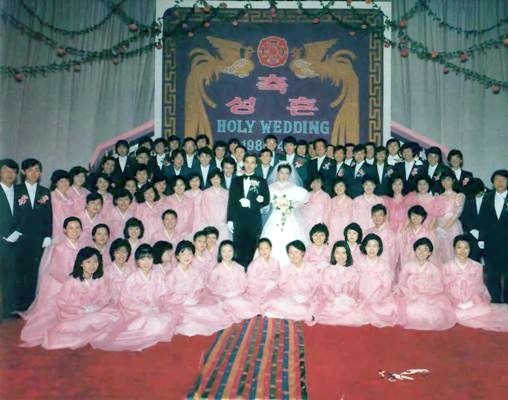 Jin Hun Nim and Un Jin Nim surrounded by their wedding attendants, the 36 newly matched couples.
Holy Wedding of the 36 Couples
The next day -- Saturday, April 12 -- was the Holy Wedding of the 36 Couples of the second generation. At the seven a.m. rehearsal, the couples ran through the steps of the ceremony; they filed in together and went up onto the stage, as they would do later. After the rehearsal all the couples went downstairs to a meeting room, where the official engagement took place.
Because the new generation has come from couples who have participated in the Holy Wine Ceremony, the second generation does not have to receive the holy wine. Father addressed the couples for a little over an hour. During Father's speech, In Jin Nim, Jin Sung Nim, Hoon Sook Nim, and Jin Whi Nim stood at the side and listened intently to Father; and of course Mother was also present throughout. At the end of the speech True Parents picked a representative couple and prayed with their hands on the couples' heads to confer the engagement.
After that, the brides put the finishing touches on their identical wedding gowns and adjusted their elbow-length veils, and the couples lined up in the proper order.
The wedding ceremony started at 10 a.m. Previously blessed couples lined both sides of the aisle. First True Parents slowly entered, and again, Father lit both candelabras. Before the couples came in, a prayer was offered.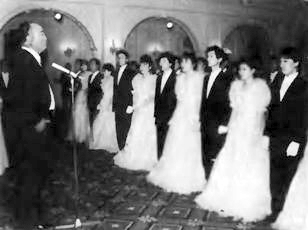 Father gives his engagement address.
Then the couples proceeded down the aisle arm in arm, and as each couple reached the stage they bowed from the waist, stepped up in front of the True Parents, bowed again and moved in complete precision to their positions on the stage. It was like a beautiful and solemn slow-motion ballet. All the couples stood facing the True Parents. Attendants brought bowls of holy water, and each groom dipped his hand in the water. Then Father and Mother sprinkled the whole group with holy water. Father recited the four wedding vows and received a collective "Yea" in response. Two couples representing all of them stood before True Parents, who placed their hands on the couple's heads. Father prayed and there was an exchange of rings. Father then proclaimed the Blessing over the couples.
Dr. Bo Hi Pak came up to speak words of congratulation, and Kwang Yol Yoo read another poem especially for them. One of the couples presented flowers and a very large gold- plated trophy to the True Parents. At that point, all the brides and grooms turned in complete unison to face the audience. They came back down the aisle amid soaring streamers, applause, and shouts of joy, followed by a very happy Father and Mother.
Then they all reassembled on the stage and each couple had an official picture taken with True Parents. This was a very special opportunity that their own parents had not had. Individual couples did not have their pictures taken with True Parents until some of the small ceremonies in America after 1975. The husbands stood on one side of the stage while the wives stood on the other, and couple by couple they walked toward each other and stood on opposite …
After the picture-taking, there was an exodus to Han Nam Dong again, where a traditional Korean offering table was set up, with an Oriental screen and a banner announcing the Holy Wedding of the 36 Couples. Each bride and groom dressed in traditional Korean clothes for official pictures. It was a moment of utter joy for the couples' parents, who had sacrificed and shed tears and blood for this day for many, many years. Families found they were now related to each other in many different ways, and they spent the rest of the afternoon getting to know more about each other.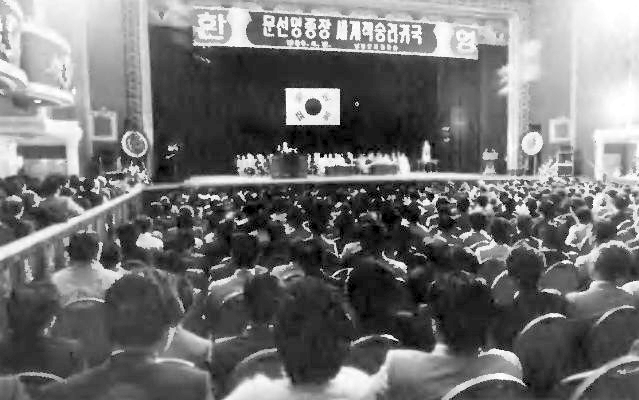 Father delivers his address at the Moon clan meeting on April 12.
Meeting of the Moon Clan
From three to six p.m. the same day, at the Little Angels School, Father and Mother had another meeting to attend -- a meeting of the Moon family clan. This is not a church organization, but an association of the whole tribe of Moons wherever they are in Korea. The Moon tribe originated in the southern part of Korea. They commemorate one particular ancestor, who was the first to bring cotton seeds in from China. As a result, Korea could start to grow cotton. Actually Korea is a very important textile nation, so they can be very proud that their ancestor was part of this. There were probably three thousand guests in the Little Angels auditorium that afternoon. It was standing room only.
When the guests arrived, they each received a color brochure about the Moon family association and the origins of the Moon clan. The front page of this brochure showed a formal portrait of Father and Mother that was recently taken in America. Father's position at this meeting was as special speaker and host.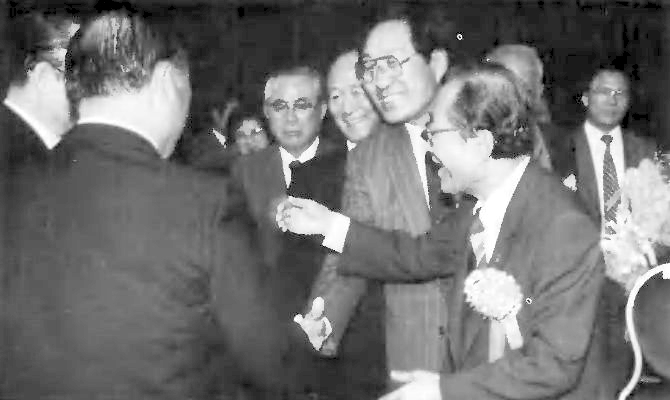 Father shakes hands with Moon clan VIPs.
During the first hour or so, several VIPs with the Moon name were introduced to come up and speak. When True Parents came in, Mother had on a soft pink Western-style suit and a beautiful corsage. Dr. Bo Hi Pak introduced Father by telling the audience about Father's activities around the world and showing them enlarged photographs of Father's achievements. There was lots of applause. Dr. Pak testified about Father's position of importance for Korea and for the world. Then he told everybody how Unification members all around the world are called Moonies. "Doesn't that inspire you, and doesn't that make you want to become Moonies?" he asked. He added that even though he wasn't born with the Moon name, since his son and daughter married into Father's family, he wanted to be adopted as a Moon family member also. This kind of humor kept them very amused.
When Father came to the podium, he started out by saying that although Dr. Pak's name might be only Pak, they certainly should consider his request because he was one of the most flamboyant speakers they would ever see. Then Father began his speech. First he told jokes relating to the Moon family, and to their background, and about his relationship to his name. Then he gave a very serious and straightforward message. Because he wasn't saddled with a translator, Father could express himself fully. He walked all over the stage to emphasize points as he liked. This is something that people listening to Father's non-translated speeches are very fortunate to experience -- having the direct influence of what Father is saying by his actions and enunciation as well as the content.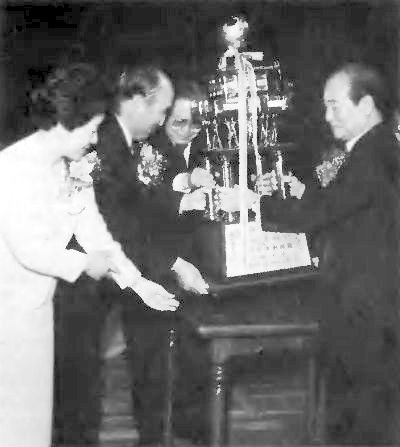 True Parents receive a trophy from representatives of the Moon tribe in honor of their worldwide activities.
There were quite a few people who seemed to be responding enthusiastically throughout his speech. At the end, it seemed that he was trying to elicit a response from the audience -- a promise to unite with Rev. Moon and his movement. This was said partly in jest and partly in earnest. As Father finished, the president of the Moon association came out to congratulate him on his speech. Father brought him forward and seemed to be asking him if he would like to be a Moonie. A couple of other Moon clan members came forward, trying to give a bit of moral support to their leader about what Father was asking. Everyone got a big laugh out of this. Then flowers were offered to True Parents, and a very large trophy was given to them -- so large, in fact, that it couldn't be brought up to them.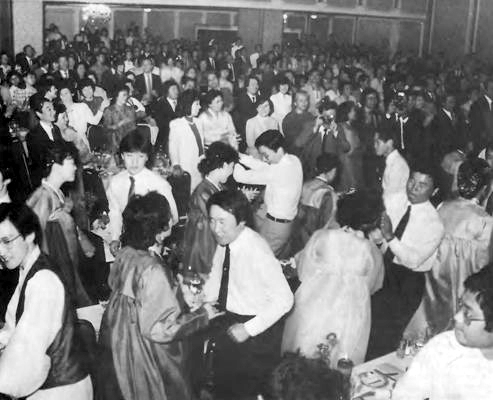 At the evening banquet. Father gives the new couples permission to dance.
Reception Banquet for the 36 Couples
That night at 7:00 p.m. there was a reception for the 36 new couples at the Lotte Crystal ballroom. Throughout the banquet, each couple came forward to True Parents' head table with their physical families on either side of them, bowed, and offered their greetings and thanks to True Parents. Then they turned and bowed to the general audience. Because of the number of people involved, this took place through almost the whole dinner.
The entertainment was backed up by the band that had played at the banquet for Un Jin Nim and Jin Hun Nim the night before. There were professional singers as well as performances by some very talented newly married couples. Eventually the members of the True Family were asked to sing. In Jin Nim sang two songs, Jin Whi Nim sang one very fast-moving popular song complete with a lot of arm and body movements; and then he sang a more serious song. Un Jin Nim was invited up and she sang "Edelweis" True Parents came forward and sang "Um Maya" together. Mother sang a couple of solos which were backed up by the band. Father asked not to be backed up with the band, because his creativity makes it impossible for a musician to follow him.
Then Father told the couples that it was now permissible for them to dance, but he said they had to have a heavenly point of view in their relationship to dancing. "Since you haven't danced together before, you can dance together for the first time now" he said. The band played for several minutes and all the couples started to dance. Some of them danced very shyly, embarrassed to be put on the spot. Some of them danced with wild abandon, and one young man even jumped so hard the stage shook.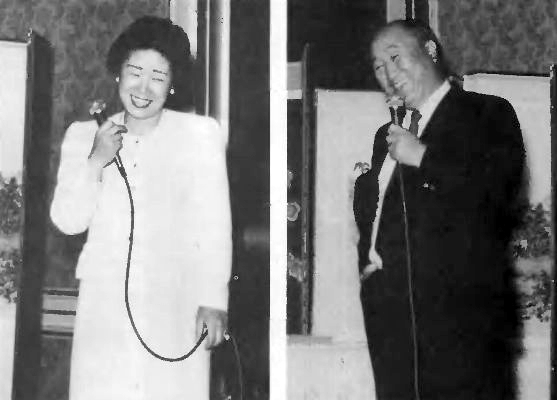 At the evening banquet Mother and Father each offer a solo.
Then Father told them that they needed to break the ice with a first kiss. The band started to play some romantic, soft music to aid in the occasion. Father spoke to them about kissing and then announced that, on the count of three, they could try their first kiss. So he said "Hana, doul, set" [one, two, three], but many of the young ladies were embarrassed; they turned their heads at the last moment so they only got a peck on the ear. Some missed altogether!
Father, seeing this, thought he needed to provide some more ice-breaking for them, so he asked Rev. Kwak and his wife to come forward and show everyone an example kiss. Rev. Kwak was very enthusiastic about supporting Father's desire, but his wife was very surprised and embarrassed; so when Rev. Kwak put his arms around her to kiss her, she kept her hands in front of her face. He kept saying, "We have a job to do," and finally he was able to give her a very short kiss.
Then Father asked Tiger Choi and his wife to come up as the next representative couple. Mrs. Choi was also embarrassed to be called on, but Rev. Choi took his wife by the hand and brought her up onto the stage. They embraced in a very warm and long kiss, and as the band played they began dancing while kissing, and everybody cheered.
Everybody was enjoying it, especially Rev. and Mrs. Choi. Then Father asked the new couples to stand up and try their kisses again. Still some brides averted their heads and were too embarrassed, but many couples finally did succeed. After the dancing there were three manseis led by President Kuboki of Japan.
One of the new grooms shared later that he felt Father encouraged the kissing because he wanted to see the new couples become close right away, so there would be no room for difficulties or doubts to arise between them. They started their married life that very night without any separation period.
These new couples are now on a different level from their parents. From the womb they have grown up as Adam and Eve should have, remaining pure and faithful to their parents and to the Principle. Now they are going out into the world to become the embodiment of God's love, so long hidden from the world. God's deep heart, bitterly wounded at the fall of his first precious son and daughter, can now finally and substantially begin to heal.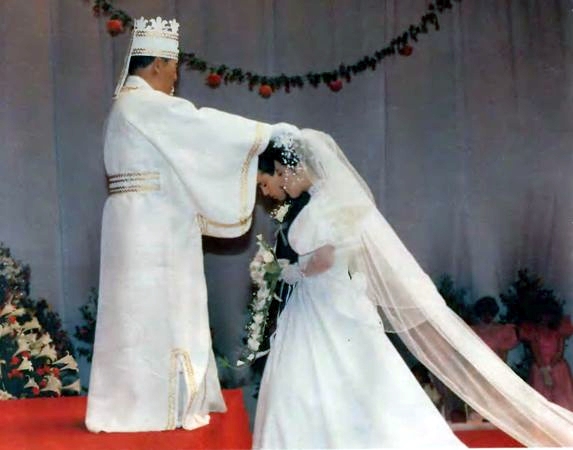 Facts About The Bride And Groom
Groom: Jin Hun Park
Born: April 18, 1963 (April 18 by lunar calendar)
1975: Graduated from Chung Woon Primary School, Seoul
July 4, 1977: Came to America
June 1978: Graduated from Valley School
June 1982: Graduated from Dunn High School
Sept. 1982: Entered Columbia University 1986: Currently a senior in the Economics Department at Columbia University
Parents: Rev. Jong Goo Park (deceased), Mrs. Keum Soon Choi;
Eldest son of nine children
Hobbies: Reading books, sports
Bride: Un Jin Moon
Born: December 24, 1967 (November 23 by lunar calendar)
Dec. 23, 1973: Came to America
January 1974: Transferred to Hackley Primary School
June 1978: Graduated from Hackley Primary School
June 1981: Graduated from Hackley Junior High School
June 1985: Graduated from Hackley High School
Sept. 1985: Entered Mount Holyoke College
Parents: Rev. Sun Myung Moon, Mrs. Hak Ja Han;
Third daughter of thirteen children Hobbies: Fine arts, horseback riding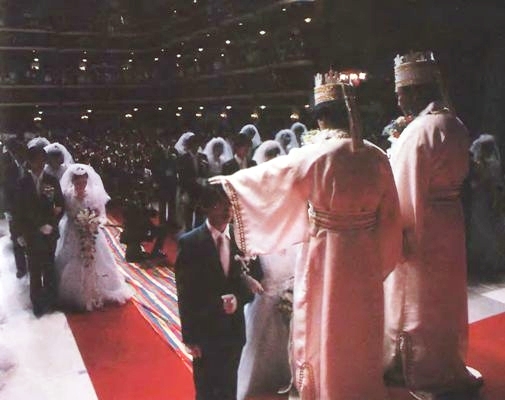 Recitation And Response Of The Wedding Vows of the 36 Couples
Do you, as matured men and women of goodness who have fulfilled God's will of creation, promise to establish an eternal husband-and-wife relationship in front of God and True Parents?
Yes!
Do you promise to become true husbands and wives, to raise your sons and daughters according to the will of God, and to educate them so that they can become the leaders that God, humankind, and the whole Unification family need?
Yes!
Do you promise to inherit the tradition of the Unification family centered on True Parents and to bequeath a proud tradition to the descendants of the Unification family and to humankind?
Yes!
Do you promise to inherit the will of God and True Parents centered on the ideal of creation, to love all human beings in the world as God and True Parents do, and to form ideal families that are the basic units for building the Kingdom of Heaven on earth and the Kingdom of Heaven in the spiritual world?
Yes!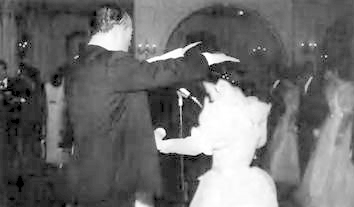 Engagement Benediction For The 36 Couples
Engagement Benediction For The 36 Couples
Sun Myung Moon
Beloved Heavenly Father!
Today, on April 12, 1986, please bless this place where I perform the engagement ceremony of 36 couples, who are the second generation of the blessed family and who will be creating new families. I selected these 36 couples as good men and women to make representative families in Your kingdom. They are now making a promise to become man and wife. I hope and pray that they can be accepted by You forever. I pray that Your love and Your divine protection will always be with these couples who are now beginning their new course of life.
I pray all this in the name of True Parents.
Amen! Amen! Amen!
I now proclaim these 36 couples engaged. Amen!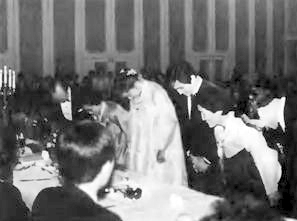 At the evening banquet The newly connected families of Dr. Bo Hi Pak and Rev. Young Whi Kim bow before the True Family.
Roster Of Bridegrooms And Brides
| | | | | |
| --- | --- | --- | --- | --- |
| Order | Parents' Blessing | Name of Groom | Parents' Blessing | Name of Bride |
| 1 | 36 | Jin Young Lee | 36 | Hoon Sook Lee |
| 2 | 36 | Jin Seung Eu | 36 | Yoon Sook Kim |
| 3 | 36 | Jin Suk Hong | 36 | Yang Sook Lee |
| 4 | 36 | Jin Woo Chung | 36 | Joong Sook Hong |
| 5 | 36 | Jin Ho Moon | 36 | Un Sook Kim |
| 6 | 36 | Jin Kwon Lee | 36 | Jong Sook Moon |
| 7 | 36 | Jin Eung Han | 36 | Eung Sook Chung |
| 8 | 72 | Young Mo Lee | 72 | Hye Man Han |
| 9 | 72 | Young Kwon Eu | 124 | Mi Dam Chung |
| 10 | 72 | Young Je Kim | 72 | Hye Joong Eu |
| 11 | 72 | Young Bum Kim | 72 | Hye Shim Moon |
| 12 | 36 | Jin Sun Ahn | 124 | Mi Jin Lee |
| 13 | 36 | Jin Hwa Chung | 72 | Hye Un Lee |
| 14 | 124 | Kyung Oh Lee | 124 | Mi Lan Kim |
| 15 | 124 | Kyung Jun Yoon | 36 | Moon Sook Choi |
| 16 | 36 | Jin Gun Kim | 36 | Yun Sook Pak |
| 17 | 72 | Young Joon Kim | 36 | Shin Sook Kwak |
| 18 | 124 | Kyung Suk Eu | 72 | Hye Lan Aum |
| 19 | 72 | Young Chool Yoon | 72 | Mi Ho Chae |
| 20 | 72 | Young Hwan Chi | 72 | Hye Yoon Woo |
| 21 | 124 | Kyung In Suh | 36 | Ye Sook Lee |
| 22 | 72 | Young Ho Han | 36 | Min Sook Ahn |
| 23 | 124 | Kyung Ho Baek | 72 | Hye Soon Song |
| 24 | 124 | Kyung Hyo Kim | 72 | Hye Sun Kim |
| 25 | 124 | Kyung Sup Lee | 36 | Hyang Sook Lee |
| 26 | 36 | Jin Bok Lee | 36 | Sung Sook Kwak |
| 27 | 36 | Jin Hyong Park | 124 | Mi Soon Kim |
| 28 | 124 | Kyung Hee Kim | 72 | Hye Min Rah |
| 29 | 124 | Kyung Eui Eu | 72 | Hye Young Kim |
| 30 | 124 | Kyung Joon Lee | 72 | Mi Yang Lee |
| 31 | 124 | Kyung Mo Kim | 36 | Kun Sook Chung |
| 32 | 72 | Young Sun Kim | 124 | Mi Sang Lee |
| 33 | 124 | Kyung Doo Aum | 124 | Mi Joong Ock |
| 34 | 72 | Young Soo Lee | 124 | Mi Suh Kim |
| 35 | 124 | Kyung Chul Eu | 124 | Mi Hyun Chung |
| 36 | 72 | Young Bo Lee | 124 | Mi Sun Nam |