| | |
| --- | --- |
| | The Words of Sun Myung Moon For 1990 |
True Parents Korean Four-City Speaking Tour
Sun Myung Moon
July 6, 1990

Father and Mother are introduced to the audience at Taejon.
In June and July True Parents conducted a speaking tour in four major Korean cities over a period of 21 days: in Kwangju on June 26, in Pusan on June 27, in Taejon on June 28, and in Seoul on June 29 and July 6. The audiences were composed of graduates from the Korean Divine Principle Conferences in America: professors, high school principals, journalists, retired military leaders, civic leaders, religious leaders, and student leaders. Over 4,300 people attended the speeches.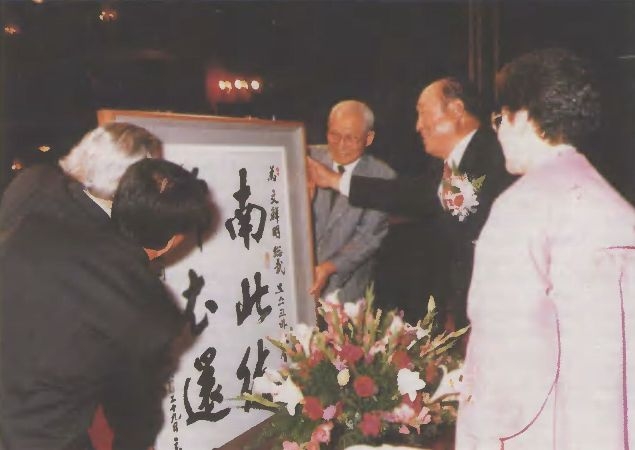 True Parents are presented with a beautiful calligraphy at the Seoul speech.
True Father addressed these professors and leaders as he might if speaking to members at Chongpa-dong Church in Seoul or Belvedere in New York. An intimate atmosphere was created as he walked among the audience, having give and take with individuals. The theme of the speeches was the three aspects of a true person: "becoming a true parent, becoming a true teacher, and becoming a true owner." Father asked the audiences to witness to their families and others based on these three points.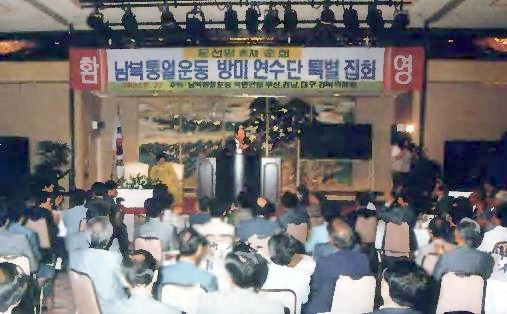 Enthusiastic listeners in Pusan receive Father's speech.
Over 200 major businessmen attended the July 6th talk in Seoul at the International Convention Center at the Segye Ilbo. Although their expectation was that Father would speak on business or politics, he spoke about absolute true love and living for others. I he audience listened raptly. He reminded business leaders that, although economic relations with the Soviet Union could be viewed as a financial opportunity, the underlying motive must be of loving service, investing to help the Soviet people. After Father's speech, Dr. Bo Hi Pak presented a slide show on True Parents' recent victorious meeting with President Gorbachev in Moscow.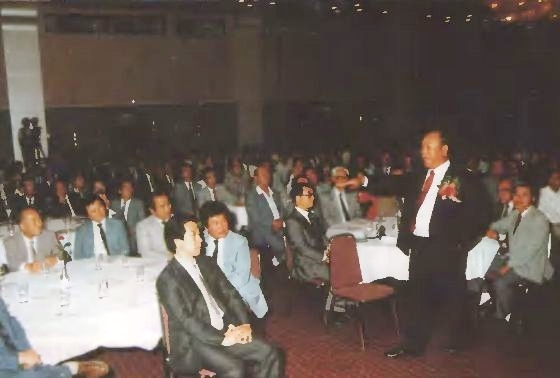 Father has give and take with the audience in Taejon.
Later, on July 11, Father called Korean leaders together to begin a major 40-day mobilization in Korea. He emphasized grassroots ideological education in preparation for the Unification of North and South Korea. Korean church members' focus should be to explain the meaning of True Parents and why True Parents have appeared in Korea. Father encouraged the Korean members to go forward and openly declare Father's position to all people.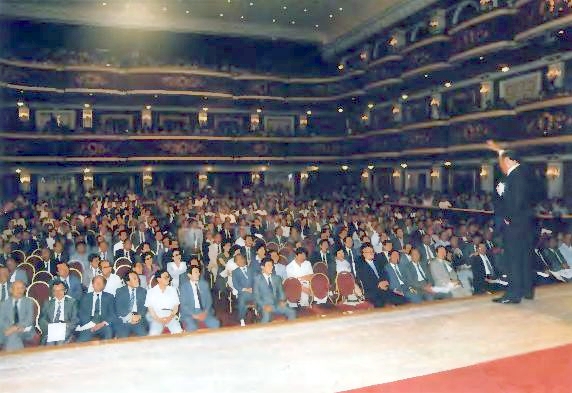 Father speaks to the Seoul audience at the Little Angels' Auditorium.
To date, almost a million Korean people have attended three days of Divine Principle lectures and many feel that Father is the one who can bring about the unification of North and South Korea.