| | |
| --- | --- |
| | The Words of Sun Myung Moon from 1989 |
Opening New Hope Farms
Sun Myung Moon
September 3, 1989
Excerpts

Father mounts a steed at the Opening Ceremony for New Hope Farms
I am very proud to present this equestrian center to the world. In the future, riders, judges and audiences will come and be amazed at the magnitude of this facility. Equestrian competitions in the Olympic Games are very special because only noblemen have participated in this sport in the past. But now, through New Hope Farms, it can be available to a much larger group of people.
I'd like to characterize equestrian competitions: Unlike other competitions, where only men and women compete, in equestrian sports there must be cooperation between man and creation. Horses are very clever animals. In an obstacle course it is not just the rider, but horses that are making judgment decisions -- of height, distance, energy required. If the horse fails or if there is no cooperation between rider and horse, there is instant disaster. If the horse misses a step, the rider is thrown off and can be severely injured. So the rider must be brave as well and hang onto the horse even in a precarious situation.
Our champions, Un Jin Nim and Hyun Jin Nim, will be engaging vigorously in this sport in preparation for the next Olympics. They must receive inspiration from God, and always begin with a prayer for God's protection.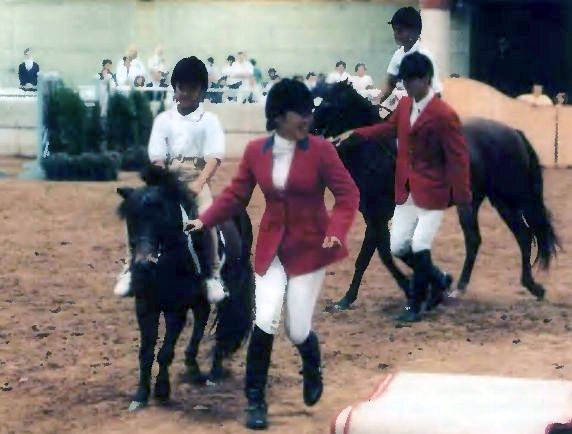 Un Jin Nim and Hyun Jin Nim lead Jeung Jin Nim, Hyung Jin Nim and their horses around the arena.
Not only the rider and horse, but the coach is a big factor in gaining victory. These three form a trinity. Only through their unity can victory come. A champion should not always need to be pushed by the coach, but should be sensitive to him and even acting ahead of his instructions.
It takes four years to prepare for the Olympics but the actual competition takes a matter of minutes. This is such a serious commitment, almost as impossible as shooting at the moon, so you need to invest all your heart and mind.
The countryside here is beautiful, perfect for this training center. Its name, Deer Park, is actually very appropriate. Horses jump very well, but deer jump even better. So the horses being trained here must catch up to the deer. This will be the birthplace of many future champion horses. Deer Park should be a champion horse production center, not only for equestrian jumping but for racing.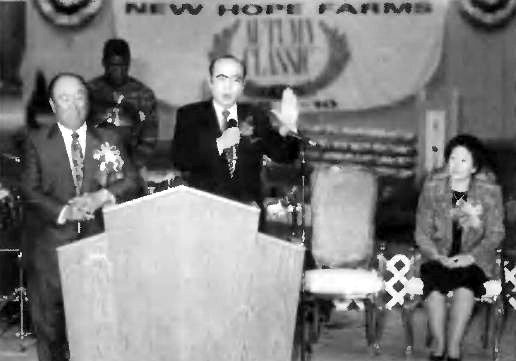 Its indoor ring is the only one of its kind in the world. It is very special because it is so large with no beams in the middle. Originally the engineers said it couldn't be done, but they finally produced a special advanced technology. The weather affects outdoor games a lot in this northeastern part of America. Most riders must go south if they wish to continue training in the winter. Now they don't need to go south anymore -- they will come here and be so grateful for Father's contribution to equestrian sports.
Equestrian sports have been the domain of the West, so people will be shocked that a Korean man, Rev. Moon, built this. This is the largest indoor ring on the East Coast of the United States -- it therefore must be the largest in all of the world.
Although you are a little too late to participate in horse jumping, your children can come here to compete, so please support this facility.
I am giving this testimony to Deer Park so that you will join with me to thank God for this great gift to True Family and the Unification Church. We must celebrate tonight with a deep sense of gratitude.
---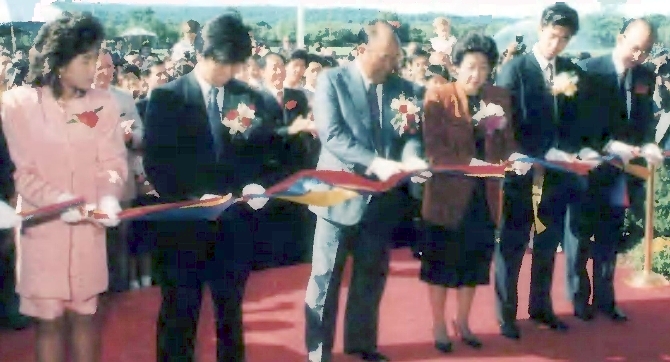 True Parents cut the ribbon at the Opening Ceremony for New Hope Farms. From left to right: Rev. Chung Hwan Kwak, Un Jin Nim, Hyo Jin Nim, Father, Mother, Hyun Jin Nim, and Dr. Bo Hi Pak.
New Hope Farms Opening Ceremony
Mary Trifault
On the clear sunny afternoon of September 3rd we arrived at Deer Park for the opening ceremony of True Parents' new equestrian center, New Hope Farms. A surprise greeted our eyes as we drove through a countryside road on the outskirts of the town of Port Jervis, New York, and rounded a small hill. There, fitting harmoniously into the creation, were several large, beautifully designed buildings surrounded by outdoor training rings and immaculate grounds. As we learned later, New Hope Farms is located on 80 acres of land in the foothills of the Poconos and is a very unique year- round competition facility. Even the horse stables were spotless with every harness and saddle perfectly in their places.
Soon True Parents and the True Children arrived to pray and cut the ribbon at the steps of the main indoor center. After sanctifying the facility with Holy Salt, True Parents entered the main competition arena, followed by 600 family members. Father delivered a dedication speech which enabled us to connect to the heavenly meaning of this equestrian center.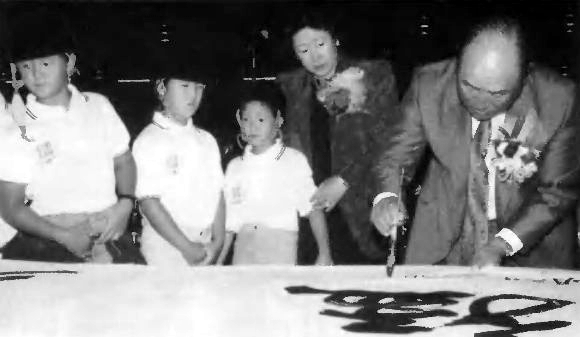 True Father drawing the calligraphy "Courage and Greatness".
In Dr. Bo Hi Pak's congratulatory remarks, he expressed how thrilling it was to be at one of the finest equestrian centers of the world, but the first one to be completely offered for God's purpose and ownership. He said that "equestrian lumping is a true love sport that combines the human and animal worlds; through this center Father is establishing an absolute heavenly standard and morality in the sports world."
Mr. Peter Kim, the President of New Hope Farms, gave a brief history of the equestrian center, explaining that it can provide a winter training center for Un Jin Nim and Hyun Jin Nim. He added that since it is on the border of three states, New York, New Jersey, and Pennsylvania, it will be able to attract riders who normally have to stop training in winter, or who go south to train, which is very costly.
Mr. Kim informed us that the site, Deer Park, was originally located and purchased by Il Hwa while Father was in Danbury. In 1985, True Parents visited it for the first time, and Mother especially loved this area with its mountains and valleys. Construction on the horse farm soon began, starting with two residential houses, and then adding the barn, two indoor rings, five fenced paddocks and an outside grass ring. Since there is a large underground lake at Deer Park, plenty of water is available for the 500-1000 horses that come to an equestrian show. Even the extremely important composition of the indoor ring dirt footing, a clay/sand mix, was exactly the kind of soil already there. Finally, the main structure is very special because of its spacious dimensions. The engineers constructing it were required to employ previously unused technology to build the ceiling. Because 12 feet of the main arena's 48 foot height is underground, it needs no heating or air conditioning.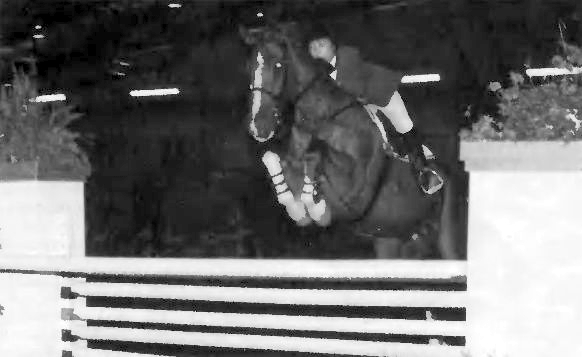 Un Jin Nim and her steed vault over a fence.
During the construction, there was some negativity toward our church, but by holding a pre-open house for the local residents, many of their hearts were won.
The New Hope Farms' first showjumping event, the Autumn Classic, September 6-10, offered a $100,000 Grand Prix. It drew many of the world's best showjumping riders. Offering a state-of-the-art showjumping competition facility, this event should thrust New Hope Farms into the center of attention in the equestrian sports world.
Mr. Peter Kim was also the Master of Ceremonies for the evening banquet, entertainment, and the jumping events. After the elegant banquet prepared by the East Garden staff, we all returned to the bleachers to see several beautiful performances by the Washington, DC and New York Performing Arts Departments. Perhaps the most humorous part of the entertainment came as Mr. Kuboki joined the stage with the East Garden dance ensemble.
Finally, the moment we were all waiting for. Mr. Kim invited Un Jin Nim, Hyun Jin Nim, and their trainer, Mr. Paul Haunert, out into the ring. He gave some background information about horse jumping for the enlightenment of the inexperienced audience. After a brief warm-up, Un Jin Nim, Hyun Jin Nim, and Mr. Haunert each rode the 8-jump course, giving beautiful no-fault performances. They made it look so effortless and graceful that Mr. Kim reminded us of the thousands of hours of practice and sweat and emotional investment to get to that perfection level of rider/horse performance.

For the jumping finale, Un Jin Nim and Hyun Jin Nim rode two rounds of timed showjumping. Competing for time as well as performance was a much more difficult exercise. A very tense audience breathed sighs of relief and admiration as True Children completed the jumps.
Moving from the breathtaking to the adorable, next the younger True Children came out on various sized "ponies," depending on the age of the child.
After putting the horses through different paces, the children proceeded to "jump" over poles several inches from the ground.
Just as it seemed that the evening was over and we had already experienced overflowing love, Mr. Kim announced that True Parents were going to draw calligraphy on the stage in the ring, and that everyone could come down and gather around True Parents. The calligraphy was "Courage and Greatness," for Father said this is what characterizes champions. Finally, Father and Mother walked off the stage toward the horses, and Father mounted a steed. With obvious delight and a big smile on his face, he rode the horse across the ring, accompanied by Hyun Jin Nim and Un Jin Nim. (The horse must have felt delighted, too.) Mr. Kim informed us that as a child Father had great desire to ride horses, but none being available, rode the farm cows.
We all felt so privileged to be at such a beautiful and intimate opening ceremony with the True Family. Father again invite, us and our children, the second generation, to participate in the developing ideal world with his own family -- this time in the realm of equestrian sports.