| | |
| --- | --- |
| | The Words of Sun Myung Moon from 1988 |
Sun Myung Moon Awarded Doctorate in Humane Letters
Dennis Orme
May 15, 1988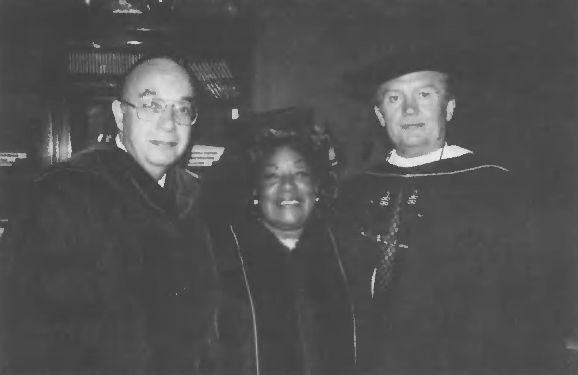 Dr. Mose Durst, Dr. Lucinda Johnson-Malone, and Rev. Dennis Orme after Father is awarded the degree of Doctor of Humane Letters from Washington Saturday College on May 15.
On May 15, 1988, in a special convocation ceremony held in the sanctuary of the Unification Church of Washington DC, True Father was awarded the degree of Doctor of Humane Letters by Washington Saturday College. The degree was received in absentia by Rev. Dennis Orme, pastor of the Unification Church of Washington DC.
The distinguished interracial gathering was attended by scholars from many parts of the world, Unification Church leaders, ICC alumni, and many other guests who had come to honor both Father and Washington Saturday College.
In awarding the degree, Dr. Lucinda Johnson-Malone, the president of Washington Saturday College and an ICC alumni, described Father as a man who has fought all his life against racial prejudice and for the unity of all people with each other and with God. She spoke movingly of her visit to Korea and her deep appreciation for Father's work in bringing together clergy representing all aspects of Christianity. She said only Rev. Moon, with his outstanding vision, could have done such a thing. In tears she expressed the depth of her love for such men who break down barriers and likened Rev. Moon's work to the work of Dr. Martin Luther King, Jr.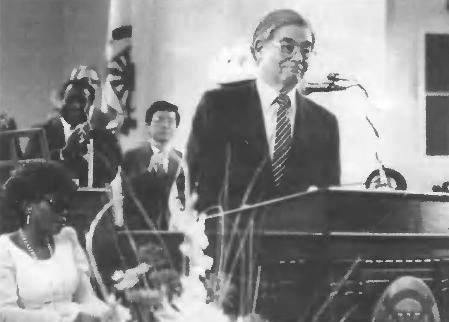 Dr. Richard Rubenstein gives a congratulatory message at the convocation held at the Unification Church sanctuary in Washington DC.
Dr. Richard L. Rubenstein, president of the Washington Institute for Public Policy, spoke in his congratulatory remarks about his many years of personal experience witnessing the work of Rev. Moon -- a man whose tremendous breadth and depth of understanding did not stop him from being intimately involved with others. Father had even helped him change to wearing a more attractive style of eyeglasses! He spoke about the great number of organizations Rev. Moon has founded to unite religious scholars and scientists all over the world, and he described the incredible power of Rev. Moon's prayer, which could humble even a room full of distinguished academics. He said Rev. Moon appreciated the efforts of the Saturday College to better the lives of those who could not afford an education. Dr. Rubenstein congratulated the president and the college board for having the wisdom and courage to award Rev. Moon the degree of Doctor of Humane Letters.
Dr. Mose Durst, in his message, recognized the common bond of service and sacrificial endeavor shared by the Washington Saturday College and Rev. Moon in helping the disadvantaged receive an education. The Washington Saturday College, whose staff and faculty are all volunteers, makes use of existing college campuses in the Washington DC area on Saturdays in order to serve underprivileged young people and adults. It has become a model for similar college programs in other parts of the country.
In receiving the degree on Father's behalf, Rev. Orme mentioned that he was but a small shadow of Rev. Moon and that no one could adequately replace or stand in for him. He went on to say that in establishing the Unification Church, Rev. Moon leaves behind a majestic and priceless legacy -- a profound understanding of the Holy Scriptures, whose principles he has taught and fought for all his life. Rev. Orme thanked the president and everyone present for the great honor bestowed on Rev. Dr. Sun Myung Moon.