| | |
| --- | --- |
| | The Words of Sun Myung Moon from 1988 |
Prayer at Shin Gil Nim's 40-Day Celebration
Sun Myung Moon
March 23, 1988
East Garden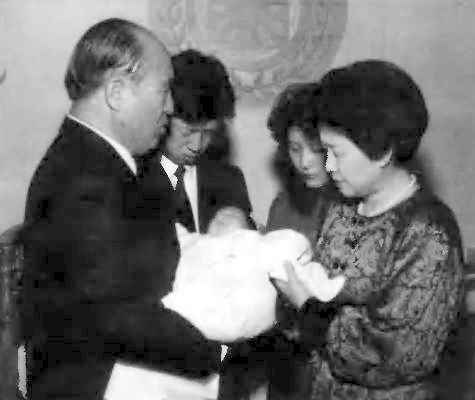 Loving Father!
It is now 8 o'clock in the morning on March 23, 1988. Today is a most significant day. Heaven and earth are watching and blessing this place today -- the fortieth day after the birth of Father's grandson Shin Gil, marking the establishment of the third generation of True Parents' family.
Father, I thank You for Your wondrous love, in having led Hyo Jin's family to this blessed point through many difficulties. Father, I thank You so much for leading and guiding and taking care of True Parents' family, allowing them to inherit the tradition for a new era on the earth.
Thank You, Father, for Shin Gil's birth in this year of 1988. This year marks the end of 43 years of my public life, years of persecution which had to be endured because the Korean government and Christianity didn't unite with me 43 years ago. These 43 years represent the restoration and indemnification of the 430 years of the Israelites' suffering in Egypt and the entire 4,000 years of Christian history. Furthermore, You have remembered the sacrifices of all the good ancestors, especially the Moon clan, and through this birth this clan can now be established as the representatives of the Korean nation.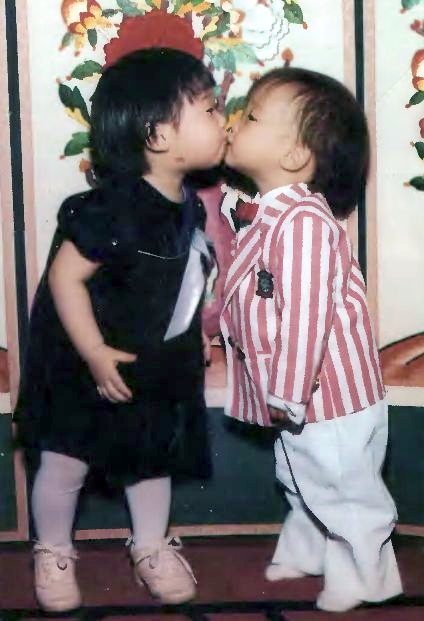 Kissing cousins Shin Young Nim (Hyo Jin Nim's second daughter) and Shin Myung Nim (In Jin Nim's son).
I truly thank You for letting us celebrate this fortieth day in this month of March. We should not have had to wait so long for this day. But when heaven's nation is finally connected with the world, based on the nation's providing a victorious foundation and dissolving Heavenly Father's sad history, Satan's power can be expelled from the earth. This period has been a time of great persecution and difficulty for the Unification Church. But this year You blessed our family and our nation so that we can restore the new Israelites' rightful position on the earth. A new direction has been given to the free world, and now the Soviet Union and its satellite states have lost their position; they are now suffering through severe trials and becoming confused.
Father, please lead us and guide us so that all Unification Church members, the nation of Korea, the new Israelites, and all Christianity can be united into one centering on heaven. Guide us so that we can build the victorious Kingdom of Heaven for You. Thank you, Father, for this opportunity to march forward to victory in Korea in April to unite the South and North. We are grateful that, because of Shin Gil's birth, the ideal four position foundation through three generations of Heavenly Father's family can be established, bringing peace and victory over this suffering period.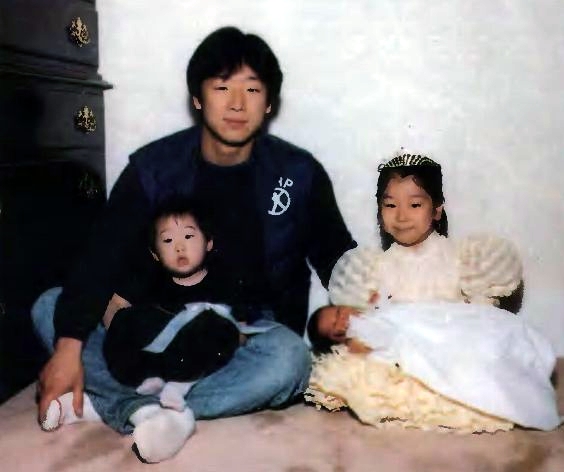 Hyo Jin Nim with Shin Young Nim (on his lap), Shin Jeung Nim (his eldest daughter), and his baby son Shin Gil Nim.
Father, through the birth of Shin Gil, please allow the four historical nations -- Adam's nation, Eve's nation, Abel's nation, and Cain's nation--to unite into one, centering on Korea and America, and restore heaven's country.
I declare now, in True Parents' name, that the foundation Heavenly Father has built, the foundation I have built, and all the blessings of the Unification Church will be united together with this newborn baby, to advance our progress toward the new world. Please allow both the physical world and the spiritual world to receive the blessing of this birth so that the unity of heaven and earth can be established.
On this 40-day celebration, please accept this day as the restoration of the lost number 4 in the history of human life, and completely liquidate the indemnity centered on the numbers 40 and 400.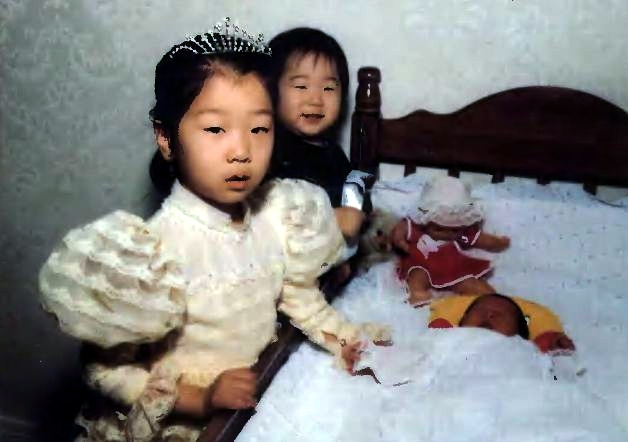 Shin Gil Nim gets lots of attention from his sisters Shin Jeung Nim and Shin Young Nim.
Please allow this baby to start the new history of heaven and earth carrying a banner of victory that the entire world can follow and obey.
Please bless the faithful Unification Church members, the faithful Koreans who believe in True Parents and Heavenly Father, and the free world with the fortune of this baby's name, so that upon this foundation the entire world can prosper.
All Your disciples from each country in the world are here together to celebrate this ceremony. Please bind all their hearts together and accept this as symbolic of all countries being bound together. Thank You so much for this day. Please let us free the spirit world, Korean Christianity, the Moon clan, and all Unification Church members so that they can all celebrate this memorable day for heaven and earth together.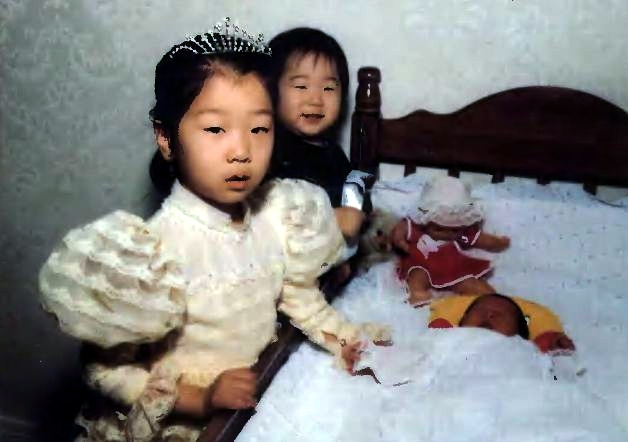 Shin Gil Nim gets lots of attention from his sisters Shin Jeung Nim and Shin Young Nim.
Please let this baby's parents do everything in their power to raise and take care of this baby with a good heart for the sake of the Unification Church and the entire world.
Please let us remember that, at this moment, heaven and earth and all the sages and patriots of the past are watching. I declare and pledge that from this day we will march forward toward a new historical era of a totally united universe.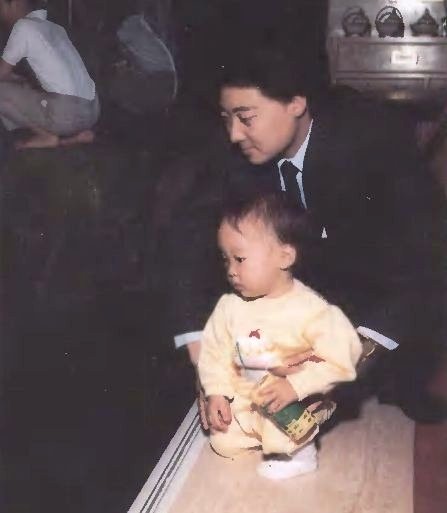 Bottom right: Jin Sung Nim in a quiet moment with his son Shin Myung Nim.
Please allow eternal fortune to be with this baby.
I bless and declare this in True Parents' Name.
Amen.
The emotion with which Father prayed is difficult to adequately convey in a translation.