| | |
| --- | --- |
| | The Words of Sun Myung Moon from 1987 |
Midnight Prayer God's Day 1987
Sun Myung Moon
January 1, 1987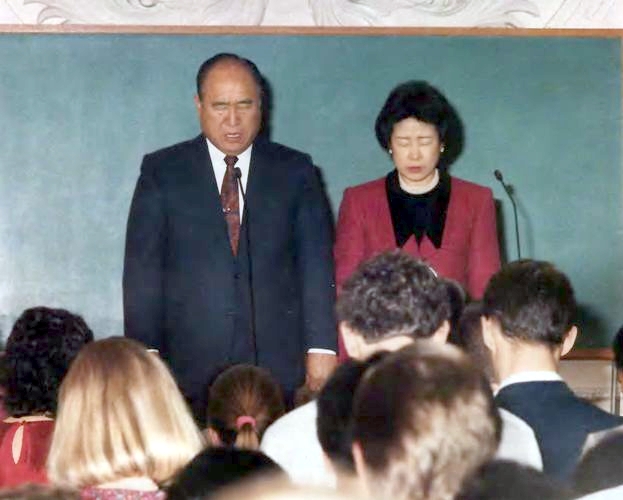 Beloved Father,
The year 1986 has just passed. It is now the first day of January, 1987. Please allow us new happiness in this New Year and allow all 365 days to bring You glory. Please remove all ordeals and tribulations over the months of January, February, March, April, May, June, July, August, September, October, November, and December. Please guide us and allow all that You have planned to be fulfilled.
Father, You have been patient throughout the long and tedious course of history. We know that if the first human ancestors had not fallen and had fulfilled their responsibility, they would have realized a unified earthly heaven and a spiritual heaven centered on love. Heaven would have been realized in the realm of dominion over the result in the Principle and in the realm of direct dominion. At this moment we are reminded of the sorrowful heart of our Father, who has come through such a long, long, rugged course of bloody history, all because of one day's failure that caused our ancestors to lose the reciprocal standard. Even through the work of all our ancestors of every age, we have not been able to indemnify all the wrongs of the past that were brought about by the disbelief of the first human ancestors.
You erected Judaism for the purpose of indemnifying this failure. Then you erected Christianity and entrusted it with the way of indemnity in order to prepare for this age. But, not fully knowing Your will, the people neglected their responsibility and could not fully do their mission. Please, once again, we ask Your forgiveness.
We know well your circumstances, Father -- how you looked for many individuals, families, clans, peoples, and nations around the world in order to entrust them with all the tasks that Judaism and Christianity could not fulfill. But today, children of filial piety are pledging their loyalty in truly attending You, Father. As we think about the seriousness of Your mission in resolving the history of resentment, we piously thank You, Father, who have let us raise the banner of unification.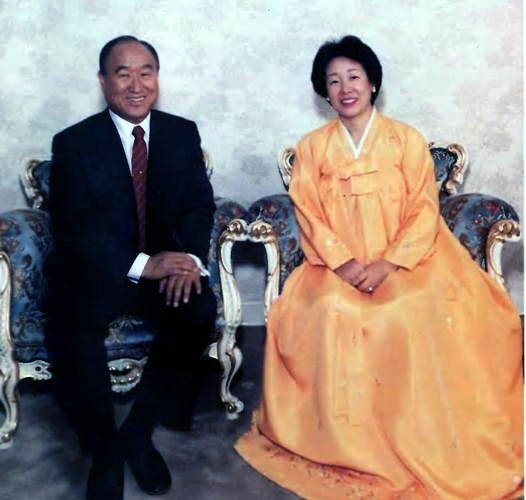 As we stand before Your wonderful providential will, we thank You again, Father, for choosing the Korean people among the many peoples and nations, for erecting the Unification Church, and for installing the True Parents. Your will should have been realized on this planet under a victorious unified realm centering on the Christian culture, but since Christianity and the Christian nations did not fully accomplish their responsibility, Your foothold was lost. You sent Your children to the earth to walk the path again, to indemnify 4,000 years of history in 40 years. You watched them overcome the hill of death and always guided them in every way. Thinking again of Your effort, Father, and of Your great love in protecting the Unification people who have been faithfully doing their mission of pioneering, we truly cannot help but give thanks before You.
How hard You have worked to open the path that was blocked by the unfinished indemnification of our individual, family, tribal, national, and global responsibilities! The power of Satan blocked this, mobilized the world, persecuted us, and struggled to drive us into the valley of death. Knowing this, we now again praise Your wonderful guidance and effort in patiently helping us overcome all our difficulties.
We cannot forget the year 1984, when a great liquidation of this debt, centering on Danbury, could be accomplished, allowing us to go beyond the age of national tribulation and the age of global tribulation. We who know this thank You for letting us raise the banner of victory in the fulfillment of the course of indemnity centering on the years 1985 and 1986. And we thank You for letting us create a foundation upon which American Christianity could welcome us and unite with the Unification Church in this historical moment of unity between Cain and Abel.
Now, in this place, please raise a new banner, Father. We eagerly hope that You will constantly remind us that the year 1987 is the time when we must spread Unificationism around the world and fully exert all the influence we have in every field. We know You are looking after all the world's Unification people who are longing to be here, especially the family members in Europe whose hearts are always focused on Korea, Japan, and America. Through Your heavenly grace You have allowed them to welcome in the year 1987 together with us here. We eagerly hope You will allow them to pledge to do their best and to go forward with a strong, brave, and fighting spirit.
We eagerly ask You to evenly distribute Your compassionate love and blessings to the whole world, and we are hoping to receive it in this New Year.
Please allow us to pledge to do our absolute best for the unification of the fatherland, which is our slogan for this year. We know that in order to achieve such unification, we have to begin a love campaign, through offering sacrifices on an individual, family, tribal, national, and global level. Thus we eagerly want You to allow us to become Unification workers who can take responsibility for this and do more than just pledge it.
Now, at the start of this year, we will make a new beginning. We hope that the light of blessing and Your love and protection will forever be with us.
I pray all this, at the start of this New Year, in the name of True Parents.
Amen, Amen, Amen.