| | |
| --- | --- |
| | The Words of Sun Myung Moon from 1986 |
Engagement of Hyun Jin Moon and Jun Sook Kwak
Sun Myung Moon, Peter Kim, Chung Hwan Kwak and Laura Reinig
December 24, 1986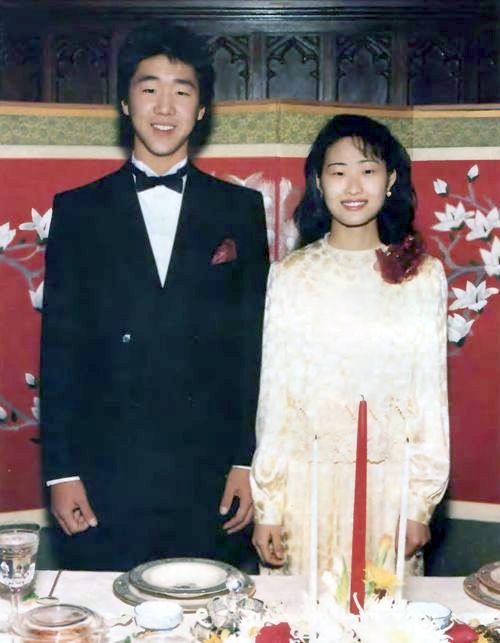 Hyun Jin Nim and Jun Sook Nim
Nobody suspected what would happen that day. Over 200 members and leaders, including 40 foreign missionaries and the older blessed children, were invited to come to East Garden on December 24 to celebrate Un Jin Nim's birthday and to have "a Christmas party
A Christmas tree was gaily flickering, and the living room was jammed. At 7:30 a.m. the True Family entered, and there was a short celebration of Un Jin Nim's birthday in the dining room, with a birthday kiss and a cake. Then a totally unexpected event took place. Many people didn't see what was happening, but we heard Father begin to speak, with Dr. Pak translating.
The first three years after Father's 40-year period of wilderness-1986, 1987, and 1988 -- are very crucial.
The year 1987 will be the central year. In order to prepare for this most significant year, Father would like to announce to you a great dispensation unfolding centering on True Parents' family -- the engagement of Hyun Jin Nim to the daughter of Rev. Kwak, Jun Sook Kwak.
Hyun Jin Nim is the third son of our True Parents, a significant number. In the True Parents' family, when three sons and three daughters are blessed, a core of eight members of the heavenly family is created. The eight members of Noah's family established a dispensational pattern. In Noah's time, upon the foundation of eight members, the flood judgment could come; that kind of powerful intervention from God was possible. Likewise today, the most incredible heavenly intervention is now made possible by this event.
Through this engagement, many providential numbers are fulfilled. With the three sons and the three daughters and the True Parents in the center, there are seven families. The True Parents uniting with the three son's families makes the number four. With the three daughters' families it again makes four. Thus in this combination, all the providential numbers are fulfilled -- three, four, seven, and eight.
By having this ceremony in the year 1986, an incredible providential foundation is established. Because these dispensational numbers are being fulfilled at this time, whatever persecution remains in the year 1987 will be entirely warded off. The satanic world will come to a turning point. Communism will be faced with an incredible setback and disorder in the year 1987.
Father prayed to seal the engagement and True Parents offered gifts to the new couple.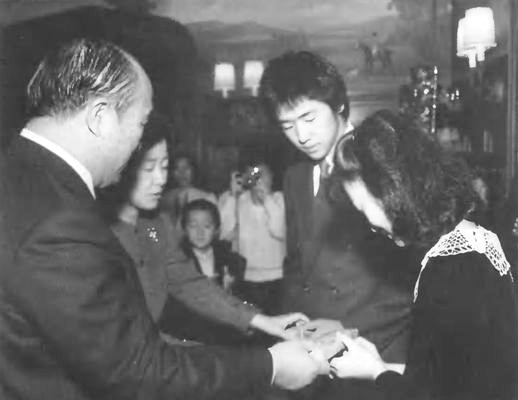 Above: True Parents offer gifts to the new couple upon their engagement.
A Jubilant Atmosphere
The atmosphere in the room was jubilant as everyone broke up for breakfast. Jun Sook Nim, though looking a little overwhelmed at this sudden event, reflected purity and filial piety as she sat next to her new fiance at the dining table. Hyun Jin Nim also looked dazed but happy. After breakfast, as everyone gathered around Father and Mother in the living room, Jun Sook Nim took her place shyly but quite naturally among her new family, drawn in especially by the embracing love of In Jin Nim and Un Jin Nim.
Father addressed his short speech mainly to the foreign missionaries who were present, emphasizing the vital importance of learning Korean. "If you don't learn Korean while here on earth, when you are lifted up into the spirit world your ancestors will accuse you, saying, 'You had such a golden opportunity. How come you didn't take the time to learn?'" Father described in a humorous way how difficult it was for him to learn English at such a late age. "So you have no excuse not to learn Korean while you are young!"
Mother reminded Father of the several bags of gifts beside them. They were watches for the missionaries to honor their outstanding work in the field.
'A watch is a very special kind of gadget," Father said. "It never stops at night; it goes on and on. All the missionaries are like a watch -- they never stop. In order to restore the world they have to be moving 24 hours a day. For this reason, I am giving each of you a watch."
The missionaries bowed before Father and received their gifts. Father said to wear them every day and keep them in their family as precious heirlooms.
Hyo Jin Nim offered a deeply heartfelt song, which started off a whole morning of entertainment. The True Children stood up and sang together "Sarang Hae." As their love poured into the room, many members' eyes were wet with tears.
Hyun Jin Nim said he was too nervous, but he managed to sing "Love Me Tender" in a romantic voice, glancing down at his new fiancée. Looking as serene as a porcelain doll, Jun Sook Nim sang a soulful Korean song.
Kwon Jin Nim presented some funny songs he learned in school, and the youngest True Children performed on their violins. Jeung Jin Nim, just four years old, bowed in a dignified way and played her piece with all the demeanor of a professional. The fact that the notes weren't coming out right didn't ruffle her one bit.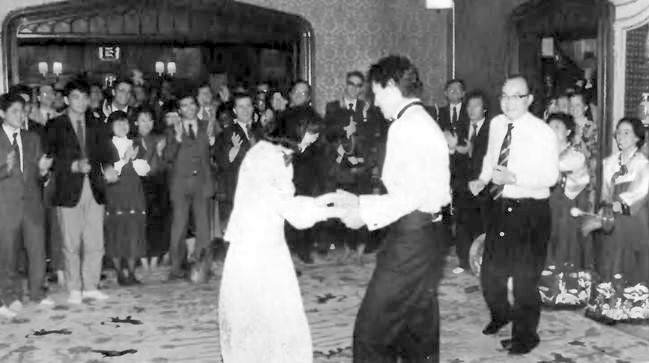 Hyun Jin Nim takes his new fiancée out on the dance floor.
Many other leaders and members sang or played their instruments, and last was a song from Father, of course. That was just the morning!
Evening Festivities By that evening, the living room was transformed. Long tables set with sparkling silver and crystal filled all the available space. The new couple was given the place of honor at the center of the head table. Hyun Jin Nim was dressed in black tie, looking tall and handsome with a big smile on his face. Jun Sook Nim looked beautiful, combining a character of restraint with womanly charm.
Father prayed to bless the celebration banquet commemorating the joining together of the new couple. A flower presentation was made by Larry and Teresa Evola. Larry had served in Danbury during Father's time there, and Dr. Pak announced that Larry and Teresa had just completed their first 21-day workshop. Teresa offered words of congratulations and good wishes to the new couple.
Two Russian artists presented violin pieces, and Anne Pickard from the Performing Arts Department sang a song composed by her husband Kevin Pickard, "Morning of an Age',' followed by a beautiful rendition of "O Danny Boy."
Mr. Peter Kim, who takes responsibility for the True Children at East Garden, shared his thoughts about the new bridegroom-to-be. As he was describing Hyun Jin Nim's courage and skill in handling horses, Father reached out and brushed Hyun Jin Nim's cheek with pride.
Everybody wanted to also hear about Jun Sook Nim. Her sister Shin Sook was asked to give testimony, but she found it difficult to speak, so Father called on Rev. Kwak to say a few words. Rev. Kwak was filled with emotion as he talked about his daughter -- her sacrificial serving lifestyle, her hard work at school, and her desire to always be close to the True Family.
To celebrate the joy of the occasion, Father asked for volunteers to sing. Songs in all languages were heard, until at one point the tables were whisked away, and costumed Japanese and Korean dancers and drummers came out. The dancing began! The most uninhibited Korean leaders started dancing first, then Mr. Kamiyama and Dr. Durst began to dance together, drawing screams of delight from the audience. Dr. Pak got everybody he could to join in, finally calling for every person in the room to get up and take part.
The True Children, led by Hyo Jin Nim, joined hands in a circle dance.
Then Dr. Pak encouraged the new couple to dance together by themselves. Hyun Jin Nim got inspired and started right in, but Jun Sook Nim was a little embarrassed.
Big sister In Jin Nim sang two songs after that, and then rah over and tightly embraced her brother Hyun Jin Nim, saying softly, "Congratulations Un Jin Nim was asked to sing, but she was overcome with emotion and needed her husband Jin Hun Nim to help her with the song. It was moving to see the deep bond of love between them.
Just as the evening was drawing to a close, Hoon Sook Nim entered, made two full bows to True Parents, and congratulated the new couple. Dr. Pak explained that she had just arrived from Korea, where she had been performing in eight sold-out performances of "The Nutcracker" with the Universal Ballet Company, which had received an overwhelmingly positive response in the Asian cultural world.
Close to midnight the celebration was over. It was a Christmas Eve to remember. Not only did the engagement mark a new level in the True Family's foundation; but for everyone there it was an experience of another burst of God's love, inspiration, and hope.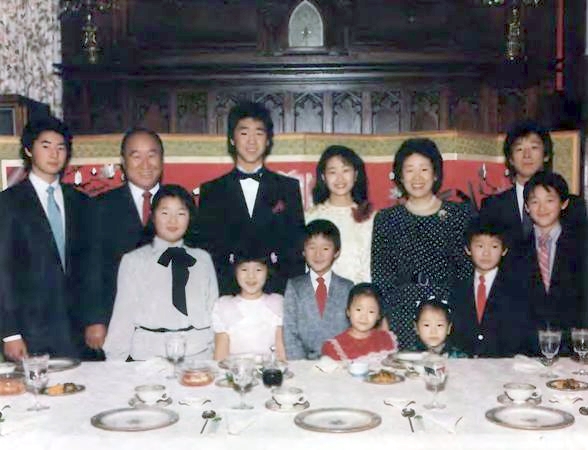 The True Family. Back row, left to right: Kook Jin Nim, Father, Hyun Jin Nim, Jun Sook Nim, Mother, Hyo Jin; Front row: Sun Jin Nim, Yeon Jin Nim, Hyung Jin Nim, Jeung Jin Nim, Shin Jeung Nim, Young Jin Nim, Kwon Jin Nim.
Father's Benediction of the Engagement of Hyun Jin Nim and Jun Sook Nim December 24, 1986
Beloved Father,
Today is December 24, 1986 (lunar date, November 23). Today the entire world is celebrating Christmas Eve.
On this memorable day, when all mankind is celebrating, I proclaim the engagement of Your beloved son Hyun Jin and Your beloved daughter Jun Sook in the promise of eternal relationship as a couple before Heaven.
At this time, as this happy event is taking place in the family of True Parents, heaven and earth are attentively watching, and so are all the heavenly soldiers and all the saints and sages who attend God at His throne. I truly thank You for being able to conduct this engagement ceremony of the third son Hyun Jin. This has been accomplished upon the foundation of the victorious realm of Cain and Abel that You have always desired, upon the future foundation of oneness among all the descendants of the saints and sages and all the peoples of the earth, and upon the foundation of oneness between the Unification Church centered upon Heung Jin and Christianity centered upon Jesus.
Now these two young children are about to undergo a new course as a couple with a covenant before Heaven. Even though they will face difficulties, please bless them so that they can establish a new, honorable family within the Unification Family. Let their hearts depend on You and believe in You as they persistently pioneer the way.
I sincerely pray that You will allow them to establish a family that can inherit Your blessings along with joy and happiness in the coming future world.
I request that You raise this third son, as he grows and reaches the age of understanding, to be able to know on his own what is right and to offer everything to Heaven. Throughout his entire life let him depend on You and be able to establish a family of integrity that can deserve Your blessings.
As Your children from all over the world are gathered here to congratulate this couple and celebrate this day, I ask that You make this day memorable in Your heart and that You consider this place where we are gathered as holy.
At this time, I dedicate this engagement ceremony and this hour of promise, in which these two children are now related as an eternal couple before Father and True Parents. Please accept this. I ask that Your eternal love and blessings be with them.
I thank You for accepting this ceremony. I pray again that this family can be deserving of honor in the world upon the victory of the eternal Father.
I dedicate this prayer in the name of True Parents. Amen. Amen. Amen.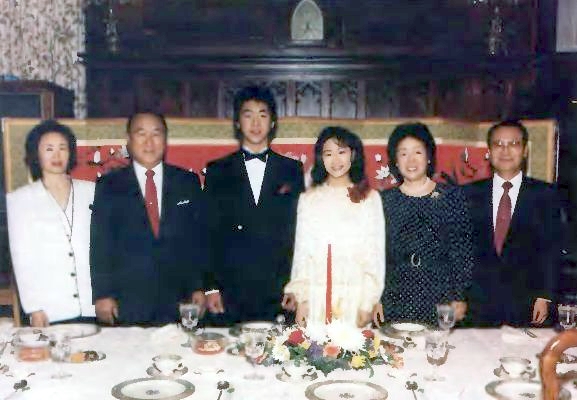 The new couple with their parents.
Father's Prayer at the Evening Banquet
Heavenly Father,
We know that today -- December 24, 1986 -- is the time when the whole world is joyously celebrating Christmas Eve. May that joy expand here in full glory.
On this evening, our family is gathered together with Your children from countries all over the world in order to celebrate Hyun Jin's engagement. We want to dedicate this day in congratulations before You, Father. Please take direct dominion over us this night.
Heaven and earth, please be seated here together. Please be with us throughout this entire celebration and please allow this day to be a memorial day on which we can raise the banner of victory for being able to participate in this age of glory.
Please allow Hyun Jin's couple, as future husband and wife, to become the True Family's representatives who can proudly be shown to Father's country and Father's world. Let them become a true couple who can be loved as our third son's family, who can maintain their dignity, and whom You, Father, will always cherish.
I eagerly hope and want You to allow this couple, even though they have experienced difficulties in their lives, to become one in mind, to attend Heaven, and to become a representative family in erecting the proper laws according to the tradition that True Parents have set down.
Father, please joyfully receive this happy day, and please reach out Your hands in the same benediction toward all Unification people who would like to know, but do not yet know, of this day.
I eagerly ask and want You to fill their environment with many blessings of all kinds.
I eagerly ask and want You to willingly receive this celebration banquet tonight. Please let this be a day You can be proud of in our church and in our world.
We hope that victory and glory will be with this couple for a long, long time.
I pray in the name of True Parents.
Amen.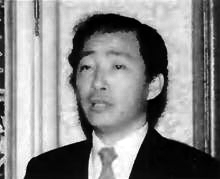 Peter Kim
Testimony about Hyun Jin Nim by Peter Kim
I have been serving the True Parents' family for the last 16 years, and I have countless memories about Hyun Jin Nim. Tonight I want to share just two important aspects about him.
One is his incredible talent in equestrian sports. Hyun Jin Nim has become quite a star in this field. He is known as the Oriental Rambo because of his outstanding courage. Even professional trainers and coaches who keep a close watch and are involved with everything going on in this sport have been saying that they haven't seen anyone like Hyun Jin Nim. He started riding horses just three years ago, and he is better than anyone else his age or with his experience. In American equestrian history, nobody with only three years of riding experience ever competed at the American Grand Prix horse show, but Hyun Jin Nim did.
Let me explain briefly why I can say he has a tremendous amount of courage. Hyun Jin Nim has been competing in the jumping class, and there is tremendous risk involved. When you and your horse go over an obstacle you are about 10 feet off the ground. You feel like you're jumping down from the top of a building. And in order to clear the fences, a horse has to be moving at about 15 or 20 miles an hour. The rider has to be completely united with every movement and every breath of the horse.
Ability to Overcome Fear
Think about the feeling of fear that always with a rider. There is not just one obstacle but 14 or 15 per course. Hyun Jin Nim has always shown incredible ability to overcome fear. Professional people immediately recognize this. Because of his courage they automatically called him Rambo; he himself did not ask to be called that. Wherever he competes, people say, "Here comes Rambo." Even the speaker announces: "Next is Rambo"
There is an Olympic-class horse named Out of This World, known to be very strong, restless, and tough to handle. Even seasoned riders who have tried that horse have given up on it. Hyun Jin Nim's coach recognized his talent and gave him a chance to try the horse. When Hyun Jin Nim got on, the horse sensed his spirit and could feel that the man riding him was not afraid. Hyun Jin Nim was the only person who could bring that horse under control. He is still a young rider, but because of his skill, he is the one who will be riding Out of This World in the Olympics in 1988.
There's one more aspect of Hyun Jin Nim's character that I would like to share with you. In the wintertime, most equestrian competition is held in Florida, so last year in the middle of February, Hyun Jin Nim and I went down there for a horse show.
On the day of the competition we got up at six o'clock, and before we went to the ring we decided to get some breakfast at Burger King. When I was about to sit down, I noticed Hyun Jin Nim speaking to a woman about 50 or 60 years old, an employee of Burger King, who was mopping the floor.
She looked tired and bent over. Hyun Jin Nim hadn't been able to ignore her. His heart just went out to her. He was reaching for the mop and saying, "Please, let me take the mop and I'll mop the floor." He just couldn't bear to see her do such heavy work.
At first the lady thought he was joking, but then she realized that he was serious. So she said, "Young man, I know you have your own schedule to follow, so please go eat. This is my job. I'll be all right. I really appreciate and thank you for your concern, but I'll take care of this and you just go on and do what you have to do." And there were tears in her eyes.
When I saw this scene I didn't dare interrupt. I didn't say anything. I just sat in the chair, watching in tears. Here was another aspect of Hyun Jin Nim -- his incredible concern for others. His heart is so deep that nobody can measure the depth of it.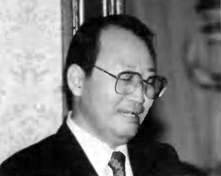 Chung Hwan Kwak
Rev. Kwak Speaks About The Engagement of His Daughter Jun Soak
Compiled from tapes of two occasions then Rev. Kwak shared his thoughts about the engagement.
Jun Sook was born on January 23, 1968 (lunar date, December 24). During her whole life I never had any worries about her. She never once gave me any cause to be concerned about her health, her grades, her lifestyle, or her relationships with our family or with others. She was always a charming girl and a bright student, and she worked hard in everything she undertook. When my wife started our family prayer meetings, she adopted a strong life of prayer. I was never worried about her faith.
Jun Sook has an intellectual character, and her emotions are very well balanced. Her special talents lie in the area of music; she studies piano at the University of Michigan. When she began studying there, her teachers were astonished at her talent and praised her natural sensitivity to music.
One of the most important things about her is that she has a close relationship with the True Children. The younger True Children often come over to our house to see her, and on her own initiative she visits East Garden on weekends and during vacations and plays together with the children. Because of her serving attitude, she relates harmoniously with everyone.
A Prophetic Dream
When my wife was pregnant with Jun Sook, she had a dream in which she saw her daughter, at a very young age, living in the same room with True Parents. My wife felt she would be closely linked with the True Family somehow. And a few years ago, several spiritually open people told me that Jun Sook would join the True Family. But I decided not to think too much about this. I just tried to keep an accepting heart and mind for whatever was to happen.
I learned about the engagement only 20 minutes before Father announced it. I was with True Parents all during the engagement banquet, but it was impossible for me to express my gratitude to Father in one word or sentence, so I remained silent. I couldn't just say "thank you" as if this engagement were an honor bestowed on me for doing something special.
I feel that God Himself raised my daughter, and that He used the atmosphere of our family temporarily to nurture her for this great mission. Therefore, this engagement doesn't affect me personally or bring any particular glory to me. My position always remains the same. Don't think that I now have any special relationship with True Parents. All we should do is just give honor to Father.
I was only a country boy when I joined the church, and when I compared myself with the standard of the Principle, I was ashamed. Later on I was so happy to have been blessed by the True Parents that I felt I didn't deserve any more happiness and fortune than I already had. I felt that the blessings I had received were already enough. I never expected more.
Our life, our Blessing, everything we have, is directly related with True Parents' victorious foundation. Until the True Family is settled firmly and safely on the earth, we cannot be preoccupied with settling down ourselves and stabilizing our own families. We should always remember the True Parents and the True Children, especially Heung Jin Nim, in our daily prayers, praying that their foundation can be continually strengthened.