| | |
| --- | --- |
| | The Words of Sun Myung Moon from 1983 |
Prayer on True Parents' Birthday 1983
Sun Myung Moon
February 18, 1983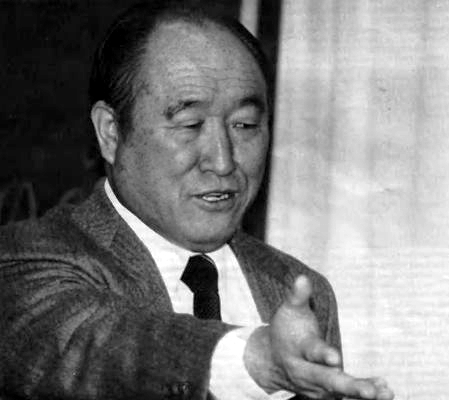 True Parents' Birthday 1983 marked the beginning of the year 7 of the Kingdom Of Heaven On Earth
Dear loving Father,
Today is February 18th according to the solar calendar, and January 6th according to the lunar calendar. It is the 63rd birthday of Your son and the 40th birthday of Your daughter.
I thank You very much for Your grace in protecting me in safety on earth, and in leading me on the path of victory centered upon Your will. Please bless the new year of 1983, and allow this year to be a time of opportunity in which we can leap toward a new dimension of determination, and devote our lives anew for the triumphant establishment of the Kingdom of Heaven.
Throughout this day, please have mercy upon the numerous spirits in spirit world, and upon all of humanity on earth. Please let this be a special day of grace in which even the spirits in hell in the spirit world can benefit. Please allow this day to be the day of liquidating all of our past sins, and of pioneering the new path of truth. Bless this day to be the day of unification of heaven and earth, a day for all parents and children, societies, nations, and the world itself to build an altar of unity.
I humbly offer this ceremony to You. I plead to be able to lead everything according to Your desire, so that all the Unification family members in spirit world, and the uncountable spirits fighting against Satan, centered upon Jesus, may also start a new day, today.
I praise You, Father, who have gone over innumerable roads of suffering and grief with us, and pioneered the course of obstacles in tolerance, despite all kinds of tribulation. I also thank You from the bottom of my heart, in the name of True Parents, for Your concern for us; You are always watching us in Your grace, protecting us, and wishing us to be loyal to the mission of restoration, whether we are joyful, lonely or sad. Father himself tries to endure all the grief of the long, long days of the past; still, however, I cannot help feeling deep pain for You when I reflect upon the old days, which are woven with so many aching stories.
This earth is darkened with death; all lives are lost in chaos. In such a time and generation, You have chosen us to be the True Parents, Your flag of hope. And centered upon True Parents' family, You have been persevering through Your tragic suffering and course of tears for many decades, in order for the Unification Church to succeed in the midst of persecution. I again deeply thank You for all these.
Since You persevered in pioneering so persistently, today the Unification Church has finally appeared in the worldwide level, attracting vigorous attention. It is so famous that there is no place that the name of True Parents has not reached. Yet, I am aware that that holy name does not maintain Your authority and is confronting the same course, under the shadow, which many have gone in the past.
Human beings are asleep, but they are about to start a new day with brilliant sunlight dawning in their hearts. They can look forward to the heavenly Blessing of becoming able to recognize the new way, even in the midst of confusion in direction, value and environment. Please have mercy upon them, and ring Your new bell. After such severe battle in this America, we are waiting for March 1st to be the day of victory, when the entire army is ready to march forward. And, dear Heavenly Father, please let this day hold the chance to bring victory for Your will through our transcendence of race and nationality, and through the unity of all ancestors and religious leaders in the spirit world.
I know that all individuals, families, tribes, races, nations, and the world itself, hold deep grudges, which must be resolved in heart. Please take this chance and help them to indemnify their grudges while they are on earth. For this, let all spirits visit this world through their foundation of goodness, and be united with them. Let the angelic world liquidate their impure past history, and let Adam and Eve, who were not faithful to Heaven, liquidate their own sins. Thus, let this occasion be the transitional point whereby True Parents, this earth, and the angelic world can be united and serve You all together.
Let the countless spirits who have been looking forward to this day, all ancestors, and especially Israelite spirits who have taken responsibility for the whole, be dedicated for the sake of Heaven to stimulate their respective denominations. I wish and pray sincerely that there may be a historical turning point in which the world can be driven into one unified world, whose mind and body are geared toward God's one will.
Mother has just turned forty. She has walked countless paths of suffering. Now let this earth be full of the bright sunlight of Your blessing for eternity. On this day of celebration, let Your joyous will be revealed before all heaven and earth, and Your wish fulfilled. Let it be a day of transition in which True Parents' will can be praised as a bright hope.
Please bless all Unification Church members who are praying for this day throughout the world. Guide those who could not attend this celebration so that they can be proud of being Your sons and daughters, and responsible to the spirit world by working hard on earth. Let them march forward as heavenly victors who can be worthy to be complimented by God.
Please bless this year to be truly a new one, one which can bring a resolution to the broken hearts of the True Parents on earth, and the grudges of all the tribes, churches, nations, and entire world. Let them march toward the victory of Heaven.
I pray all this in the name of True Parents.