| | |
| --- | --- |
| | The Words of Sun Myung Moon from 1982 |
Message to the Brides and Grooms
Sun Myung Moon
July 1, 1982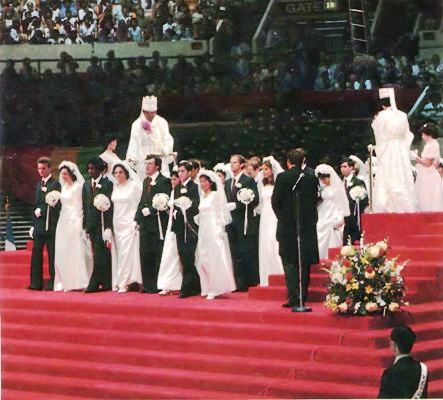 This message, along with the "Greetings to the Parents and Families of the Brides and Bridegrooms," was printed in the program given to the approximately 7,000 relatives, friends and other members who attended the holy wedding ceremony of 2,075 couples from more than 70 countries on July 1, 1982, at Madison Square Garden.
The establishment of happy, righteous families as the source of life, love and joy has been the goal of God and man throughout history. To realize that ideal, each of you has dedicated months and years of preparation, often under very difficult circumstances. We can all be justly proud to meet here together on this day, to add another great building block to the kingdom of heaven on earth.
Until today, the eyes of the world have been upon our church; after today, the eyes of the world will be upon you and your families. Remember three things above all in your life together:
1. The Eternal Union Of Husband And Wife
Your marriage is not merely "until death do us part," but for all time eternal. Each spouse is a great key to ever expanding and deepening our understanding of the infinite God. In your marriage, God's love is consummated and together you are able to receive His total love.
2. The Tradition Of Family Love
After seeking ideal marriages it is your responsibility to educate your children with a commitment to moral excellence. Before you can freely invest your love and energy in other dimensions, you must by all means fulfill your responsibilities as a loving parent.
3. The Ideal World
Heaven is a world of heart, where all may trust and unite with one another in love. But there will be no true heaven for anyone while people are still in want, in need, or in pain -- physically or spiritually. You must all accept your responsibility to work as world citizens so that the legacy you leave your children and grandchildren will be the harmonized world of God's love.
God bless you in all that you undertake, and may He give you the vision and strength you need to realize His kingdom on earth. That is the task facing us all.
Signed:
Sun Myung Moon