| | |
| --- | --- |
| | The Words of the Sun Myung Moon from 2012 |
Football Great Pele Sends Condolence for Rev. Sun Myung Moon
September 8, 2012
UPF International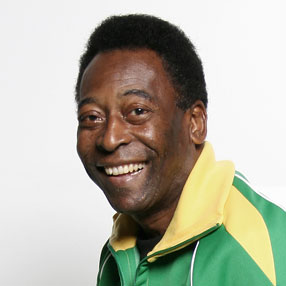 Chung Pyung, Korea -- Pele, the soccer hero of Brazil, sent the following condolence for the passing of Rev. Sun Myung Moon, attracting the attention of many:
"I am deeply sorry to hear about the passing of Rev. Moon. After meeting three former popes and former presidents of various nations including President Nelson Mandela, I had an opportunity to meet with Rev. Sun Myung Moon and the peace movement in Korea. He said to me that, since football is the largest organization in the world and a very important means of propagating the message of peace, I hold a great responsibility. I hope that, just as Rev. Moon had endeavored to bring about peace, his cooperators and his followers will continue to work for peace."
Other visitors who came to pay their respects included National Assemblyman Yu Seong-yeob, Chairman Gang Dong-seok of the Yeosu Expo Committee, former US Representative Kim Chang-joon, Chief Kim Gi-dong of Gwangjin-gu office in Seoul, President Ji Chang-hoon of Korean Air, CEO Kim Heung-shik of Korea Airport Service, President Seo Jong-dae of Korea Housing Finance Corporation, President Hong Il-shik of Open Cyber University, President Jeong Mong-gyu of Korea Professional Football League, former Environment Minister Gwak Gyeol-ho, Vice Chairman Lee Cheol-gi of the National Conference of the Elder Statesmen, former Gangwon Province Governor Park Gyeong-won, and President Roh Cheon-hee of Jeongju-gun Association, as well as public entertainers including Kim Sang-soon, Hyeon Seok, Shim Yang-hong, Uhm Yu-shin, Bae Il-jip, Yoon Yang-ha, Park Gwang-nam, Moon Hee-won, Jang Gye-hyeon and Oh Gyeong-ah.