| | | | |
| --- | --- | --- | --- |
| | Sun Myung Moon's Speeches From 2006 | | |

Father's Words On June 4
Sun Myung Moon
June 4, 2006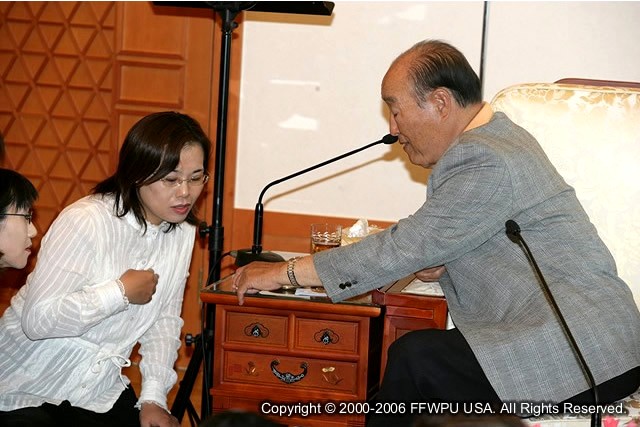 Today is June 4, and we are going to live a very providential period, worldwide, between June 6 and June 13. There will be many activities in Chung Pyung for 8 days from delegates around the world, but I cannot participate, because I have another schedule, which I shall explain to you.
What matters is our internal attitude as a couple and as a family during these 8 days.
This period of 8 days will settle and decide so many things for the world, for our nations, for our families, for our selves. Right now, we cannot grasp everything, but it is a period of time during which thousands of years will be condensed. And for us, all our life, and the lives of our ancestors.
From this viewpoint, we cannot but be so grateful for the Blessing of our ancestors. Here in Korea, so many Blessed couples have dutifully Blessed their ancestors until 119, including grand fathers and mothers. And so many families have given the donation for the original palace.
As I just said, very critical will be the time period between June 6 (holy wine) and June 13 (coronation). These 8 days will tremendously change everything. This period of time is situated in the middle of the 120-city tour, a complex providential period of the 6th year of Cheon Il Guk.
Therefore, the central idea of the motto this week will be Time, the providential time where we live now. We know that something truly great is going to happen, but we may be afraid that we shall just be spectators, having nothing to do with it. We must overcome this attitude of indifference, if we feel it. Also, we should not feel crushed, but try as much as possible to be proud. If this is difficult, we need to pray and tell God our desire and determination. After going through indemnity, our desire should gradually become stronger.
In the first of the 3 speeches, Father often refers to time:
"We are at a point of decision" (beginning of the speech),
"It is the miracle of miracles that we happen to live at the time of the True Parents and breathe the same air" (middle);
"I leave you with a choice" (the end).
Here in Korea, almost every day, our central figures tell us: there are three incredible graces or miracles in human history:
The Blessing of our True Parents (1960)
The coronation of God (2001)
The entrance of the palace (2006)
It is a very "critical time", where all things have to change drastically.
The Bible talks about the Last Days. When this time comes, we feel a great mixture of feelings:
Hope of course, expectation, many wishes coming from our deepest heart (Abel type feelings). We may hope sincerely that from now on, we can do much better for God in every field.
Apprehension, anxiety, regret (Cain type feelings). We may feel that what we did so far is so ridiculous and we have nothing to offer. Instead of Blessing, we may feel only judgment.
Therefore, the point is "what kind of heart and determination we should have at this time of transition". If we ignore our Cain type feelings, and only rejoice, it is unrealistic. But if we are overwhelmed by Cain type feelings, we are completely crushed and we lose our heart and determination that we need. Everybody here in Korea is very serious. The Blessed families here are truly working very hard, very seriously, but we also feel their great hope. Recently, because of the special grace of Dae Mo Nim, the attendance at ancestors Blessing every month was really important.
The point is how to gradually and honestly overcome the heavy feelings we may have on the occasion of the holy wine ceremony. Maybe in the past, we drank the wine several times as a kind of ritual, without paying so much attention. This time, we should make our best efforts. It also means that we should forget ourselves.
If we think only of ourselves, we are already dead and without courage. As we approach the critical time, some members feel things like,
"I am getting old, so old".
"I have no more power, no more energy, I am so tired".
"I cannot see any future, any hope".
Quite many members feel the same, many are becoming sick now, or are having accidents, financial problems, and family problems and so on.
What makes us feel this way is of course not our original mind. Our original mind is actually rejoicing and eagerly anticipating this time with great impatience, just like God. For God and the absolutely good spirits, this is only a time of rejoicing. But for the fallen nature, it is a harsh time.
Our fallen nature, which was dominating our lives, our habits, our thoughts, is afraid. The problem of love is connected here. Even if much our life was based on fallen nature, we were searching for some joy, and we experienced some form of love, a mixture of true love and false love as husband and wife, as parents and children. Even after receiving the Blessing, our biography was far from being heavenly. But we cannot just throw away everything in the dustbin and start anew without any memory. The past is clinging to us. We need to thoroughly check all our past. When people attend the workshops in Chung Pyung, they can repent and clean their hearts.
We should believe that this is the time of greatest Blessing and God is so impatient. Even if we struggle with our own lives so far, we should overcome this feeling, and gradually change our culture. Instead of thinking, "I know that a glorious time is coming, but it is probably not for me, because I am not ready", we should think, "Until now, it was still so difficult for everyone to harvest any fruit. Even True Parents had to endure many failures, and no one could comfort them. But now, a great time of transition is coming, I really believe it, and I am so impatient to finally embody true love, I know that now it will become possible. I am so glad that finally, I am able to change myself, thanks to the grace of God."


Download entire page and pages related to it in ZIP format


Table of Contents


Information


Tparents Home