| | |
| --- | --- |
| | The Words of Kwon Jin Moon (son of Sun Myung Moon and Hak Ja Han) |
Kwon Jin Nim and Hwa Yun Nim in Kenya
Simon Kingori
November 5, 2012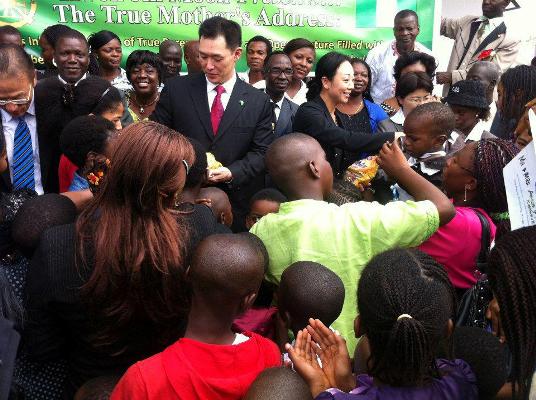 (Sorry I could not get better photo for Kenyan members)
Report of Kwon Jin Nim and Hwa Yun Nim in Kenya
The Kwon Jin Nim's couple and their entourage arrived in Kenya from Nigeria in the early morning of 22nd October franked by the Continental Director Dr. Otsuka and a number of people in their entourage.
The National leader and other members were already waiting and received them at the Jomo Kenyatta International Airport VIP lounge as the immigration formalities were being done. At the airport the National leader couple presented them with a beautiful bouquet of flowers and after the formalities they were driven to the Africa HQ guest house where other members were waiting to receive them. After the greetings, Dr. Otsuka led everyone to doing Kyongbe and Kyongnei and they settled down for the night since they were so exhausted after a long trip from Nigeria.
The same morning at 10.30 breakfasts was served after which the entourage visited the Giraffe center which is a key tourist destination and also the Safari walk to see the wild animals.
The members came from Kenya, Uganda, Tanzania, Rwanda, Zambia and Burundi and some of them had traveled for 3 days by road to come and attend the Kwon Jin Nim Rally. Many members had not met a member of the True Family and were very desperate to meet Kwon Jin Nim and Listen to his speech. The Rally was scheduled for 3.00 at the Peace House and many members and some Ambassadors for Peace had already come by 1.00 p.m.
Kwon Jin Nim was well received at The Africa Regional office where there was his reception, they both signed the VIP visitors book and had some refreshments before proceeding to the main Hall for the Rally.
The program consisted of the pre-program which was entertainment from the youth group. After the entrance of the Kwon Jin Nim's couple, the program started with Kyongbe and Kyongnei led by Dr. Katsumi Otsuka. The MC was Rev. Mwalagho Kililo and there was flower presentation followed by the welcoming cake.
After this the MC led everyone in singing the Holy song, followed by opening prayers which were given by Rev. Gimeyi Moses the National Leader of Uganda and thereafter a welcoming remarks by Rev. Emmanuel Tanui the National Leader of Kenya. The performance was given by the Second generation in immediately after this, there was an introduction of the Kwon Jin Nim couple which was done by the Continental Director Dr Katsumi Otsuka.
Kwon Jin Nim read the True Mother's speech "Let us inherit the Realm of True Parent's victory and open a Future Filled with Hope "with lots of passion and really moved the member's heart. Everyone felt the presence of Our True Parent's presence both externally and spiritually because apart from being a True Child, Kwon Jin Nim resembles our True Father in many ways and also was because he was able to portray the heart of our True Parents through the speech.
After the speech, Kwon Jin Nim he addressed the members. He was composed and gave very encouraging words to our members. He stated that it was his first Tour in Africa and was asked by True Mother's to represent her in Nigeria, Kenya and DR Congo and that he was happy to be in Africa.
He stressed that we should emulate our True Parents, if we know the Truth we should speak it, live with it even though others may not understand us well, we should stand by it and never give up. He said "I am not interested with your wealth, with what you have, I only care about what you become, It's not what you say but how you say it, it's not what you have but how you use it". He also talked about humility and gave an example of the Rice plant, how it grows in very difficult circumstances and upon maturity, it becomes a primary source of Food and especially in Asia and also in Maturity It has the bowing posture.
He also stressed that we should prepare for the Foundation by working hard in our Tribal Messiah ship mission and making results, and that we need to be creative and innovative, think about and consider each other's situation and work to solve situations with Love.
The event ended with a gift presentation from the Kenya and Ugandan church representatives followed by a group photo with all the participants.
After this he held a session of issuing small gifts to the second generation who were present.
After the Rally Kwon Jin Nim and his entourage were invited to a Japanese-Korean restaurant where they were also joined by the National Leaders of Kenya, Uganda, Burundi, Rwanda, Zambia, South Sudan and Somali and also the Regional and National staff.
As we were waiting for the orders to be brought he asked the MC Rev. Kililo to invite a few people to give their reflections on the Rally and a number of them said how grateful they were for True Mother to send Kwon Jin Nim to Africa and especially after our True Father's Universal Seonghwa, they felt that in his speech he had truly represented our True Mother well with a lot of heart.
Kwon Jin Nim gave a testimony of his own life and how he has been working in areas of the Arts and also Farming where he has been very successful. He talked of planning to organize some seminars where members can attend and learning many skills on how to develop the providence in Africa. He encouraged everyone to work hard in whatever we chose to do and get positive results. He also promised to invest a lot of his energy and resources in Africa in the near Future.
He also presented the Kenya National Leader Rev. Tanui the seed money that True Mother had given him bring to Africa and stressed that this money should be put for good use in the development of the providence in Kenya.
The evening atmosphere was a very happy one and each person felt very renewed by Kwon Jin Nim's visit and we all had a new determination to work hard in advancing God's providence in Africa.
Next day on the 23rd October early morning they travelled to DR Congo for the 3rd and final event in Africa.