| | |
| --- | --- |
| | The Words of the Ji Yea Park Moon (wife of Kook Jin Moon) |
Let's Not Loose This Opportunity
Ji Yea Park Moon
November 2009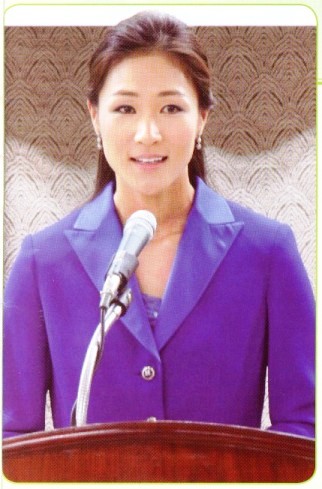 Ji-yea nim spoke at a meeting to launch a new witnessing team made up of the wives of members working in the Tongil Group. She encouraged the sisters by relating some interesting stories that had inspired her.
Greetings, everyone.
I In this day and age, I think it is absolutely necessary to launch a women's witnessing program for the businesses. The time has finally come. I'm sure you too will come to realize that as you listen and see and feel today.
In 2006, within only a year, the foundation first recorded a profit, which even now is being maintained. For the first time, this year, the church [in Korea] can finally financially manage on its own. The number of members has increased, as has the amount given in offerings. There has been a revival in the church, leading members to devote themselves sincerely to the task, and our large new church, the growth stage Cheon Bok Gung, will stand tall before the world. As I mention all these successes, I find new hope, for which I am truly delighted and grateful.
These results were not just stumbled upon, but were brought about through transparent and genuine interaction among people, and through the hearts of those working for God and the world. So they are more radiant, and I feel very proud of them. I believe the world also sees how they shine. I will share two of my own experiences with you to illustrate what I mean.
There was a meeting of Miss Koreas, one in which all the Miss Koreas, from the first ever to those chosen last year, could attend. That being the case, sometimes there is a generation gap between the participants. I went to the meeting and met a woman in her sixties. Presumably she was one of the early Miss Koreas. She was sitting alone, and I sat opposite her. We talked about this and that, and I told her I have five children. She said in surprise, "You really have five children already."
Actually, among the Miss Koreas I'm quite well known for being a mother of five. She was surprised. She asked me how old my youngest was. It was summer at the time and our youngest child was about seven months old. When I told her, she said, "Your baby must be really cute!" She was curious, so I showed her the picture I had in my cell phone. The only picture I had of the baby was one taken with Kook-jin nim, so I showed it to her, wondering to myself whether she would know him or not and thinking that she probably wouldn't. When I showed her the picture, she just gazed at it. So I asked her whether my husband's face looked familiar. She asked, "Isn't he one of the Moon family... ?" but she didn't finish her sentence.
So I said, "Yes, that's right. He is the son of the Reverend Sun Myung Moon."
The lady complimented me, "Oh, you have married well!"
Later that day, I thought to myself that though she did not recognize some fellow participants in the meeting, whom she had met a few times, she recognized my husband's face after one look, although there was nothing in the picture, no logo or brand name, to suggest who he was. So I felt that the world feels differently now, and people are looking at us with an open mind.
Another experience I had was in a beauty salon I have been going to since 2003 when I was preparing to enter the Miss Korea contest. Though I have been a client of the salon for a few years, it was only very recently that the owner told me her husband is in the precious stones business. She told me he had gone to another country to buy gemstones. When he arrived there, though, he found that all the stores were closed and everyone was on holiday. It wasn't marked as an official holiday on the calendar, so the man asked people, "What holiday is this, that the whole country has the day off?"
They answered, "It's a day off because Rev. Sun Myung Moon is visiting the country today." That really shocked her husband.
He was astonished to find that even in such a small, faraway country, Rev. Moon was recognized as a great man. This made him feel proud of being a Korean in that foreign land. The salon owner told me that she would like to attend our church, so I'm working on witnessing to her.
We should not lose the opportunity that this moment in time offers us, when the world is so changed and open to us. We know about true love, which Father has explained to us -- love that can bring even Satan to voluntary submission, don't we? And the power of the Divine Principle is also truly great.
Though I am a second-generation member, it is my belief that many of you in the first generation here have never forgotten how you felt when you first heard the Principle while you were still wandering in the world. I believe that those who are not our members will also be able to feel that.
We have our chairperson, Mrs. Erikawa, and our organization. If our leadership and organizational system can combine with our own lifestyle -- of practicing the Principle, true love and living for the sake of others -- I believe this business women's witnessing program will surely be fired up.
Finally I would like to express my gratitude toward our absolute, unique, eternal and unchanging True Parents, who for us are practicing lives of living for the sake of others, who do not forget even those on Cain's side and Satan's side but love them, who foresee the future and sacrifice themselves for us, and who have proclaimed the era of liberation and freedom and are lighting the way for us to follow.