| | |
| --- | --- |
| | The Words of In Jin Moon from 2012 |
In Jin Moon's Statement on Her Resignation
September 26, 2012
Posted on Facebook by Bill Miho www.facebook.com/bill.miho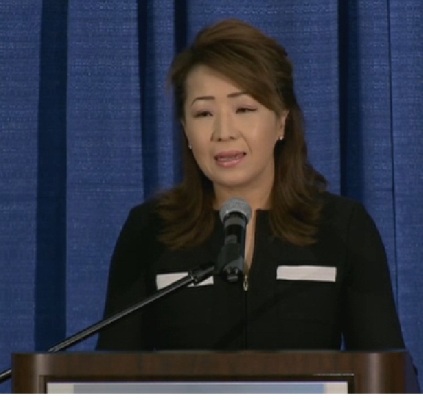 In Jin Moon -- August 12, 2012
Dear brothers and sisters,
I want to thank you from the bottom of my heart for allowing me to take all of your love and prayers to our True Father as he ascended to be with our Heavenly Parents. True Father must have been deeply comforted by all of you in different districts holding daily prayer vigils. Even though he is no longer with us physically, we are truly lucky to have seen and worked with our True Father during the years that he dedicated himself to the American Providence with True Mother by his side. I, for one, feel especially grateful to have served with the Headquarters team for the last four years as the Senior pastor of LLM and as the CEO of the American Movement.
Coming to work at HSA under tenuous circumstances I have often wondered why God called me to serve and how much time we would be given to do the job at hand. I never imagined that my team and I would have a couple of years to implement our vision for rebranding Unification Church USA. But with your help we saw the establishment of a united ministry Lovin' Life, GPA, Ballroom dance ministry, new educational curriculum, to name a few. We saw young Unificationists proud of who they are as children of God and True Parents and welcomed many new brothers and sisters as members of our global family.
I have always felt that the main goal of LLM is strengthening families by providing the tools to cope with real life issues in preparation for the Blessing and life after. Having experienced a traumatic process in the Blessing, I felt compelled to make sure that the mistakes of the past were not repeated in future couples and that families can learn to enjoy healthier and more satisfying relationships. I knew that the greatest strength of LLM was its message of love, empowerment and providing care and support for those in need. But I knew that the biggest weakness of LLM was my inability to embody a loving couple. Thus, I wanted to make as graceful an exit as possible transitioning into the next phase of my life after Foundation Day. That is why I feel so disheartened that in light of recent chain of events our True Father could not have a peaceful Seunghwa Ceremony.
True Mother has asked me to step down and I have done so willingly. I am truly sorry that the details of my personal life have hurt so many people. So much emotion has been expressed from love and support to hatred and condemnation. I accept them all and take full responsibility for the choices I have made concerning my life. No one at Headquarters took part in any cover up to "protect" my situation. No one was fired for unjust cause or to keep my situation hidden. My team has been nothing short of a miracle doing so much with so little. They are a great group of dedicated brothers and sisters who did their best and I am proud to have had an opportunity to serve with them.
For me the Blessing is the most important gift that True Parents brings. Therefore, I struggled with the failure of my marriage. I believe that marriage is forever provided that both parties uphold the values of the Blessing. Once it shatters, however, it is shattered for good. I decided long ago to err on the side of discretion for the sake of my children and have kept true to that commitment.
When I was called to public service first at Manhattan Center and later at HSA, I was still in the process of putting my personal life in order. But believing that God had a plan for me, I focused on my professional responsibilities of protecting HSA from numerous takeover attempts, concentrating on building up the ministry and keeping the country united with True Parents and our International President Hyung Jin Moon.
By the time Ben [Lorentzen] and I started working together, our first Blessings were over many years ago. And in realizing that both of us came from extremely abusive marriages, we found great comfort and solace in our friendship with each other. Now, we are in a committed relationship and we do have a beautiful baby boy. As a couple, we have pledged ourselves to God, True Parents and all of humanity. It was never our intention to hurt anyone. All we wanted was to love and to be loved. LLM was all about owning our destinies to love life gratefully as God's eternal sons and daughters. We will forever be grateful to our True Parents and to our church community.
I am so grateful for our True Mother's wisdom in placing Hyung Jin Moon as the new president and CEO. I know that America will be blessed under his compassionate leadership. We have all been dealt a different set of cards and it is my prayer that we can become a loving community knowing that we are all trying our best. Thank you once again for the last four years and may God bless you and your families.