| | |
| --- | --- |
| | The Words of the Heung Jin Moon |
Report On Heung Jin Moon's Accident
February 1984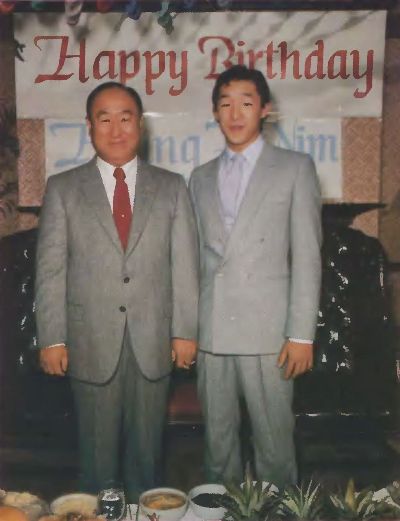 Father with Heung Jin Nim at Heung Jin Nim's 17th birthday celebration in November 1983.
Heung Jin Nim, our True Parents' second son, died on January 2, 1984 at 1:15 a.m., from injuries he received in an automobile accident on December 22, 1983.
The accident occurred on an icy road approximately one-half hour from Barrytown (New York), while Heung Jin Nim was driving his car, a 1983 Honda Civic. Two other blessed children, Jin Bok Lee and Jin Kil Lee, were in the car with Heung Jin Nim. They were also injured, but have recovered.
Heung Jin Nim's car, which was heading south on Route 9, collided with a northbound tractor trailer. The truck driver has admitted total responsibility for the accident. Police had placed flares along the road to alert drivers to the slippery conditions. The truck driver, seeing the flares, miscalculated the situation and stepped on his brake, thereby losing control over his vehicle and causing it to jackknife into the southbound lane, into the oncoming car carrying Heung Jin Nim and the Lee brothers.
The Honda Civic was so severely damaged that police had to cut it into five pieces to remove the injured young men. Heung Jin Nim suffered head injuries which normally would have killed a person instantly. Following brain surgery, he remained in a coma for twelve days, and passed away in St. Francis Hospital in Poughkeepsie, New York.
Both of the Lee brothers have testified that Heung Jin Nim saved their lives by heroically swerving the car so that he would sustain most of the truck's impact, instead of them.