Blessed Marriage and Eternal Life

Mrs. Hak Ja Han Moon

About Today's Program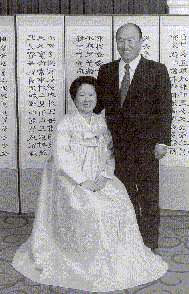 The Reverend Sun Myung Moon and his wife, Dr. Hak Ja Han Moon, established the Family Federation for World Peace and Unification (FFWPU) on May 3, 1994. With chapters in 185 countries, the Family Federation is dedicated to the realization of God-centered families and the pursuit of world peace through sponsorship of marriage rededication and blessing, educational conferences and service projects.

Peace begins with the God-centered unity of mind and body, husband and wife, and parents and children. The Federation embraces men and women of all races, nationalities and faiths in an uplifting vision of true love in marriage and family. Our goal is to create a global marriage culture which meets the challenge of modernity.

The speeches you will hear today, entitled "True Parents" and "Blessed Marriage and Eternal Life," express important aspects of the emerging culture of absolute love in the family. We examine the historic mission of true parents, and how we all can become true parents in our own families and communities. We explore the authentic basis for eternal life, and how a true husband and wife share a love which transcends life and death, and brings us into the heart of God through our intimate communion.

This speaking tour comes on the foundation of Reverend and Mrs. Moon, as true parents, officiating the marriage blessings of 40 million couples on November 29, 1997. It began in Korea, moved to Japan and now is visiting 16 cities in North America. At each stop, Reverend Moon or Mrs. Moon bestows a set of collected speeches of the Reverend Moon. The set of 15 volumes, entitled "Gathering for Reading and Learning," includes materials from his over 40 years of ministry, in Korea, Japan, America and worldwide.

Reverend Moon addresses the heart of God, the core values of the individual and family, spiritual leadership, raising and educating children, community leadership, and the values that guide nations. Today's two speeches are extracted from these volumes. Reverend and Mrs. Moon sincerely encourage us to dedicate time as a family early each morning for devotional readings from these spiritual and practical words. This will help bring God's protection of your marriage and family.


Download entire page and pages related to it in ZIP format


Table of Contents


Copyright Information


Tparents Home