| | |
| --- | --- |
| | The Words of the Bell Family |
The main emphasis in 1972 will be to find more members
Katherine Bell
January 1, 1972
Canada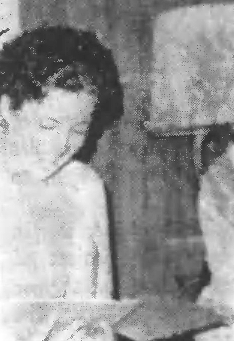 Miss Katherine Bell
It is Sunday, today and our Master, Mother, Mrs. [Won Pok] Choi, Mr. [Young Hwi] Kim and Mr. [Mitsuharu] Ishii left Toronto yesterday for Washington, D.C. We were so happy to have them come to Canada and visit us. I had hoped that they would come, but I don't think I ever really believed that they would. I can't describe how happy and grateful I feel that they came to visit our center in Toronto and I know all of us here feel the same.
Our Master and his party stayed with us for 6 days.
When they first arrived we were all rather shy but that soon passed. Somehow you can't stay shy around those who love you so much. While they were in Toronto much of their time was spent in getting an American visa, but there was also time for other activities.
On Tuesday, the Master and his party as well as all those who did not have to work or write exams drove down to Niagara Falls and spent the day. Other days there were trips to the department store or some sightseeing. In the evenings our Master -talked with us. It was so wonderful to have him with us in -person. There is so much about the Divine Principle that we still have to learn. I knew our knowledge was not very deep but realized more than ever just how hard we must work in order to understand the Principle and to share this understanding with others. Again and again both Mr. Kim and our Master both stressed the fact that we must study the Principle and that we must study for others not ourselves.
With the visit of our Master we are now much more aware of the need for the sharing of Principle with others. Our feelings and plan for the New Year will be mainly along this line. We also wish to begin studying anti-Communist theory again so that we may have some knowledge of communism and have at least a foundation of the theory of communism to build upon when we have more members. A number of us have been exposed to the theory of communism (thanks to the American Family) but we have, I am sad to say, not done very much with this knowledge because of our lack of members and our ignorance. However, we must now find some way to overcome this.
The main emphasis for the Canadian Family in 1972 will be -to find more members. We would like to double our membership at least and if possible do even more. With more members we should be able to establish more centers -- at least one possible two or three. Although we are a small country population wise (20 million) we have a very large area to cover.
I pray only that we may work very hard for our Master and Mother and establish a strong foundation so that our country can truly become God's country.
I wish everyone of Unified Family a most prosperous and. successful New Year and many blessings from Father.