| | |
| --- | --- |
| | The Words of the Bell Family |
Master's Visit to Canada: December 12 through December 18
Karen Dyck and Katherine Bell
December 18, 1971
Canadian Family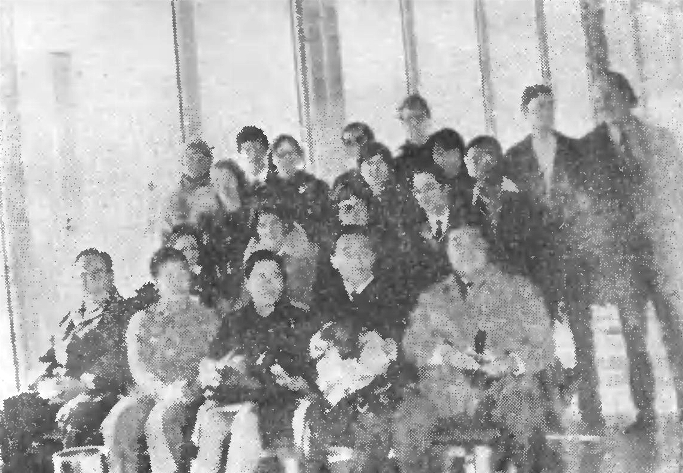 Taking picture with some of Canadian Family at the air port, from left to right, front row, Master, Mother, Mrs. [Won Pok] Choi, President [Young Hwi] Kim, Mr. [Mitsuharu] Ishii. (Below)
On Saturday, December 11, 1971 at 5:00 A.M., the Canadian Family received a telephone message from Japan stating that Our Leader and Mother would be arriving in Toronto, Canada, on the following day. The amount of excitement and anticipation felt by the Canadian Family was indescribable. We had been hoping and praying that Master could come to Canada and I owe we had been told that he would be here, on the very next day!
All the members drove down to the Toronto International Airport to meet Our True Parents. At 8:10 P.M., Master, Mother, Mrs. Choi, Mr. Kim and Mr. Ishii were cleared in customs and we greeted them. Katharine Bell, the Director of the Canadian Movement presented Mother and Mrs. Choi with corsages Master's first request was to see the Toronto Center. Master wanted to stay in the center and live with the members of the Canadian Movement. It was very beautiful having Our True Parents live with us in the center where we could be so close to them, talk with them and serve them. Most of us had never met them before and the experience was one of extreme happiness and fulfillment, mixed with the hope that they could stay as long as possible.
The first evening was spent informally. People gathered around the True Parents in our living room and Master asked each of the members personal questions such as their age, occupation and length of time in the movement. Master spoke with the students on the importance of their studies (that they should study not for themselves but to save Canada) and, on the student Anti-Communist movements on campuses. While some of the male members of the family moved the girls' belongings from the third floor to prepare the rooms for Master and his party, the rest of us sang and talked with Master who then passed around his album of pictures of himself, Maher and their 7 beautiful children.
Despite the fact that he had had a very long journey and little sleep, Master spends many hours talking with us.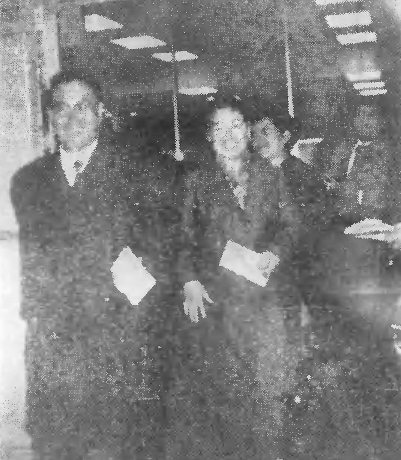 Master is arriving at Toronto Airport on December 12th.
After breakfast on Monday, The True Parents, Mrs. [Won Pok] Choi, Mr. [Young Hwi]. Kim and Mr. Mitsuharu Ishii visited the American Consulate to make applications for a visa to the United States. They were denied visas but Master was pleased to at last learn why the U.S. was giving him so many problems in obtaining a visa. The Canadian family prayed that Master could be granted a visa because it was so very important that he visits America. That afternoon Master and went shopping in one of the large department stores in Toronto. The Korean Family had given Master and Mother money to buy something for Canadian. Since Canada is known throughout the world for her fine furs, Mother chose a beautiful fur coat of dark Canadian mink. That evening Master spoke for 3 hours and half concerning various nations and their roles in Restoration.
On Tuesday, Master and his party, along with 5 members of the Canadian family, travelled to Niagara Falls where they took numerous photographs and visited the scenic tunnels under the falls. Even though we were dressed in long black rubber raincoats we found it very cold and wet in these underground tunnels, but Master seemed to really enjoy the experience. Later we dined at the top of the observation tower. Master and Mother wrote post cards to Korea. They shopped in the stores in the shopping center and when snow began to fall, we returned home for dinner. That evening Master spoke on the Formula for God's Providence. He outlined the three points of God's formula for mankind which were: separation from Satan, coming into God's love and the willingness to sacrifice oneself to save the world.
On Wednesday Master attended a movie with some of the Canadian Family members. "Man in the Wilderness" reflected the struggles of man alone in the wilderness and his fight against the elements. That evening we had many guests and Master spoke on Jesus and Restoration. Because it was our exam week, Master stressed that our studies were very important. "You must study", he repeatedly said. He spoke in the evenings so we could 'work or attend classes during the day, rather than upset our schedules.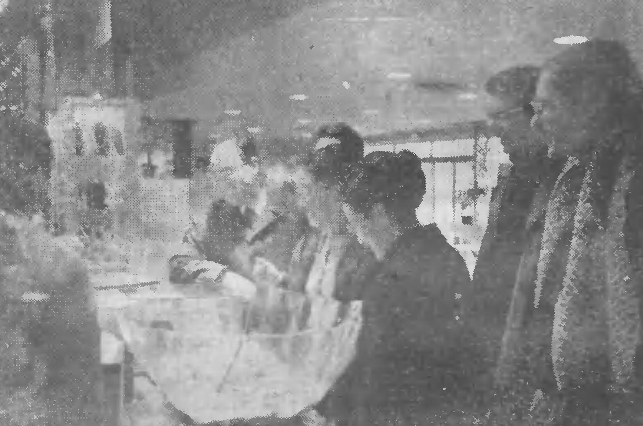 Shopping with some of Canadian Family
On Thursday Master toured Toronto. The University of Toronto, City Hall, and the Toronto Dominion Center, the tallest building in Canada, were visited by Master and his party. Mr. [Osami] Kuboki arrived and remained in Toronto until the following day when he left for Taiwan. This was the day that the visa problem was straightened out and Master, Mother, Mrs. Choi, Mr. Kim and Mr. Ishii were granted their visas. When we learned that they would be leaving the next day most of us remained at the center, wanting to spent the last few precious hours with our Master. He spoke to us and answered questions on political matters on Friday afternoon. Friday night Master spoke on Witnessing and Restoration and answered more questions concerning Korea and business matters. He also told us of his many plans for the future and how we should work hard and find more members. Master emphasized that the most important area of study was the Divine Principle and Anti-Communist theory.
On Saturday morning the Canadian Family went to the airport to say goodbye to Our True Parents as they left for Washington on the 10:30 A.M. flight. The strong feeling I had was that Toronto family would never be the same. We were so small. So very few people, yet we had the great Privilege of having Our Master remain with us for a week. He gave us so much love. Our goals became clearer, witnessing was done with a new heart, and Father seemed so close to us. Yet when I saw them boarding their plane for Washington I know that I would miss the True Parents and found myself wishing that they could have stayed longer. There is a certain emptiness that could only be filled when I see them again. But they belong to the whole world, don't they? Thank you Father for a week we will remember forever.