| | |
| --- | --- |
| | The Words of the Tam Family |
Original Divine Principle for a Peaceful Nation workshop in Dibang, Cameroon
Lihinag Tam
April 18, 2012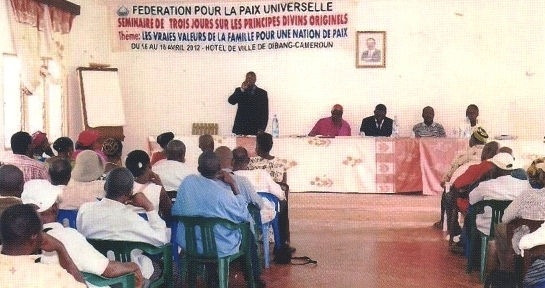 One hundred and twenty-nine villagers came to an Original Divine Principle for a Peaceful Nation workshop (April 16-18) at City Hall in Dibang, Cameroon. Lihinag Tam's family held the workshop as a tribal messiah activity.
The first day's theme was God's Ideal of Creation. The participants, for whom the lecture material was quite unexpected, asked many questions, which were satisfactorily answered. The second day's theme was The Fall: Why and How was God's Ideal Left Unfulfilled?
Questions came from all angles. Among many other things, people wanted to know why such truth had been hidden for so long. In the evening of the second day, the village pastor met the lecturer and asked him not to reveal so much truth, lest it cause the villagers not to follow the pastor's teachings after the workshop.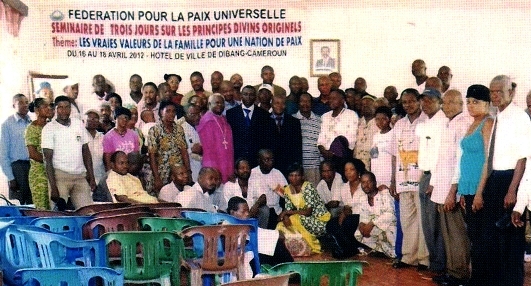 To further everyone's understanding of the Divine Principle, we invited them to Yaounde, our nation's capital, for a special workshop. The third day's theme was True Parents and the Blessing.
The villagers asked who True Parents are and registered to buy A Peace-Loving Global Citizen. Twenty-five people registered for the next Blessing Ceremony and ten couples went through preparation for the blessing ceremony. We learned from this that the harvest is now abundant if we follow True Parents' instructions to fulfill the historic mission of tribal messiahs.