| | |
| --- | --- |
| | The Words of the Suh Family |
I established a church, overcoming thousands of troubles -- A memorandum on missionary work in home land
Chun Soo Suh
January 1970
Translator Bongju Moon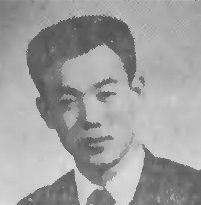 Chun Soo Suh
Heavenly Father was never indifferent to me!
It was on April 12th, 1964 that I got acquainted with the Divine Principle. At the time when I attended the nation-wide revival meeting of the Unification Church in Taegu, I was merely a 16 year-old high school boy of timidity.
But I was encouraged to find many brothers and sisters even to share blood with and was conscious of my mission, feeling Father's infinite love of me. Father allowed me to charge toward the front line for restoration.
I availed of winter vacation to go to a village called Wolsungli in Pyunghae-myon, Wuljin-kun. Upon reaching the village, where no one waited for me and all were strangers to me, I felt deeply Father's great lament.
What with witnessing despite the severe winter during the daytime, and studying the textbook for enlightenment to exterminate farmer's illiteracy, I was often obliged to sit up all night.
I made up my mind "Inwards, I will devote myself to relax Father's grudge against Satan at the risk of my life. And outwards, I will be an ensign at the front line for restoration to restore lost homeland."
In the course of keeping the creed, I restored my life and reassured of my mission.
I found our people's circumstances of hunger and unrealized nationalism, and felt a great pity for unenlightened farmers. They couldn't afford to lead a true life because they are absorbed in material urgency, namely food situation.
I had been skipping my lunch until graduation from school, since the enlightenment during the winter vacation.
I was going to rid myself of viciousness by fasting whenever an evil mind sprang from my inner side.
Based on such a few experiences, I entered a village called Kwanum-Dong, Chilgok-myeon on the 5th of November, 1965. I attended school, cooking for myself.
As soon as school was over, I had to be busy begging from door to door for lamp oil to be used that night.
Upon coming back home substitute for class at the same time with my stomach empty, I could not keep tears from running on my cheek to find some figures waiting affectionately for me in group. In spite of mental and physical exhaustion, I exclaimed the truth to them, holding back tears.
I organized 4-H club there and walked all around the village proclaiming the Principle and Ideology of extermination of communism, with a bull-horn on my shoulder. As a result I over straining myself however, I come to faint before a crowd of audience.
But they denounced me into the way of trouble only because I am a member of the Unification Church. It was believed that no Christian had set his foot in the village, for most of the inhabitants were Buddhists, (The title of this village Kwanum-Dong; it had been named after a Buddhist saint)
To make matters worse, some patrons who had been moved by my self-sacrificing service betrayed me because I was a missionary of the Unification Church.
But I asked them why I should leave there and what offense I had committed. Then I cried in a loud voice that I would never fail and be buried here to fulfill my mission. The Agricultural Guidance Office also denounced me on the ground that all my services to farmers were aimed a front for the missionary work of HSA-UWC.
Some school boys who had studied together began to drop out of my institute by twos or threes.
After all I was driven out of my living room where I had performed religious services. But I didn't yield to them. When the summer vacation came, I determined to build an institute by means of making the bricks for myself.
When I collapsed on the way of carrying clay from the mountain, Father's feature that was carrying sacks of fertilizer at Hungnam jail would encourage me to take my spade and spring to my feet again.
The bricks I had made with clay during summer vacation amounted to no less than 1,200 pieces. But finishing of a building required timber and a site besides bricks. I tried my best to raise funds to build an institute by selling pencils from door to door. But all was to no purpose. For bricks I had made with all might for several months toppled to pieces in the rainfall of an autumn day.
When I made up my mind to make bricks once again, the earth had already been frozen. I could not but weep bitterly.
At that moment the details of my pitiful case was reported in a daily newspaper, Youngnam Ilbo dated December 1st, 1966 under the title of "An exhausted young evergreen has bricks for institute swept away by rainfall, a dream of enlightenment by is fast broken of…"'
Thanks to this article I was able to complete the institute sponsored by Mr. Tae Jong Hak, mayor of Taegu City. The very 'Chang-kun Institute' Was completed at the presence of many supporters, including the leader of Kyungbuk Province of our church.
After graduating from high school with such a life, I began to pile up the altar of prayer and pains on a higher level than ever and suspended my dream of college entrance.
At dawn on Sunday I used to bath myself and then ran more than 8 km for the Holy Ground of Taegu City to adore Father.
But when I began to witness to build a church, people who had been taciturn began to build a church, people who had been taciturn began to persecute me in. turn.
Then my parents who had known my circumstances lamented and job. What disaster it is for you to be employed as a peasant, indulged in so-coiled the Principle! But I shook off mother's hands and started for my mission field some 500 km away in the rain. All the way to go there I went on praying with impatience to erect a church, for the church-contribution ceremonies were prevailed all over the country at the turning-point of the seven year course. I prayed in a voice strangled with tears that Father should gift me power and capacity with which I could form the basis for Father's triumph on this Satanic capital by all means.
But for all my self-sacrifice, services, devotion to them for more than 3 years, even by shedding tears and blood of me, they denounced me to the last.
Eventually I prayed that Father should make this village realize His Truth either by salvation with pity of them, or by punishment. (Based on the verse of the Bible. the Exodus of Egypt 21:23)
At this time Heavenly Father appeared in my parent's dream and told them to arrange one hundred thousand won of money even by selling a rich rice field before the gate.
As a result, I could erect a church. In the long run of three, month's efforts, we could have a ceremony of Chilgok Church- Contribution to Heaven with many Unification Church members, in eluding the leader of Kyungbuk District, Mr. Chung Whan Kwak on November 23th, 1967.
By a ringing voice of "HSA-UWC Monsei!" the earth of the village shook violently.
A sensible phrase of "Worship Heaven, Love People, and Proclaim the Truth" was carved on the girder of the church by Mr. Kwak.
But I was very sorry that a supporter of the village who had persecuted me positively was killed instantly and the mouths of the two other persecutors were distorted.
As a matter of course, though I had prayed for my part that the entire village should be rescued even by more severe punishment, I felt very sorry that they were really punished.
In the end a church was erected on the earth of Chilgok-myeon and Father's rod was used directly. I fit Father's true love and affection.
An article of my faith I always have is that "Heaven always stands by public justice and he is never indifferent to us unless we neglect in praying heartedly and lack integrity for him at the side of justice."
Chun Soo Suh