| | |
| --- | --- |
| | The Words of the Ravaglioli Family |
In Italy we were connected with God through the Divine Principle and Sun Myung Moon
Franco Ravaglioli
July 1970
Iolanda Pizzi (Aged 63)
I have been a medium for most of my life and for 22 years a spirit of Irish origin 700 years in the spirit world has been working on earth through me; he calls himself Horvart. From the time he began working through me he calls himself Horvart: From the time he began working through me he spoke about the man who would continue Jesus's mission. One who was destined to change the world and who was already on earth. At times he said that this man was in great difficulty and could not manifest himself as yet, at one time he said that this man was not free and on reading the part of the Master's life given to me it corresponds to the time when he was in prison. This spirit told many people what to expect and gave many particulars about this man's mission. Many of these things were registered and many people would also recall his words. A few months before I came in contact with Divine Principle, the spirit said that very soon I would learn something about this man. In fact a few months after I was introduced to Divine Principle... It was May 1969. As I read the book I felt that this was the truth. I was certain that this was, finally, the manifestation of the Christ. I did not consult the entity as I never make use of him for myself, he had already given me so much equilibrium. In the past I had had many experiences with Jesus whom I loved very much. One day the Master came and made me write, immediately after Jesus also made me write and for the first time he called me sister and not child. Finally my life had a scope. I was no longer limited not enclosed in a circle without development.
I now dedicate myself entirely to giving testimony of the Truth and many times use the spirit as testimony. I am doing this with my whole heart in all happiness for the Father. Thanks Master.
(Many People have come through Iolanda. She is really working for the Father.)
Amelia D'Alberti (Aged 65)
For many years I have practiced the art of healing. I was always in expectancy for something new, but I was never really sure what. What good could come out of this corrupt world? Then one day Jolanda spoke to me of this dispensation. I was very cautious at first because I had already frequented another group which did not satisfy in all. I began studying deeply into the Principle and many things become clear to me. One morning after the 5 a.m. promise I read about Jesus's crucifixion and experienced all his suffering. At Easter, during a study session, while Barbara was explaining the Divine Principle, a brilliant light came and Jesus appeared. This was a great day for me. I know for sure that this was the truth and I cried for joy. Thanks beloved Master.
Elio D'Alberti (Aged 37 and Amelia's son)
I live in the popular quarter of this huge industrial city called Milan. I am a travelling salesman. From the time I was a child it was a fight to live. One had to be strong so as not to be beaten and if one was weak one suffered the consequences. The intrinsic value of man is not existent and to be successful one had to be ready to make compromises. There is, therefore, no satisfaction in life. The traditional organizations, the church are contested and everyone is seeking a new way. I felt within myself that I would have liked to do something to change this world, but I always ended up like everyone else. One night between sleep and wake, a man came to me and said "Elio, you are living a useless life". I meditated for a long time over these words and I realized that whoever that man was he was right. I was already six months married, it was an unhappy marriage so I decided to get a separation from my wife, so as to save myself from moral and spiritual ruin. But I was very disturbed because of the vows I had made at the wedding ceremony and especially these words "What God unites let no man put asunder" so I went and consulted Iolanda. That very afternoon Martin and Dawn were present at the sitting. I asked the spirit if my wedding was valid before God, he replied "Yours, no but theirs (pointing to Martin and Dawny) yes. I was stupefied, I did not understand why theirs and not mine. Three months after, around September 1969 I was told about the Unified Family. Only then, after listening to Divine Principle did I understand the value of their marriage. On discovering the Principle I was able to find myself. I now know what I was looking for and I am trying to put in practice the Principle to, become a true man. I want to teach this message and help free man and the entire cosmos. I have accepted the Divine Principle and the Master. Thanks Father.
(Elio is vice-president of the group, and is very active. He prints our articles)
Luciana Ferrario (Aged 30)
My preparation was a long suffering one. For many years I was disturbed by negative forces and because of this I had to visit healers. It was through Amelia, who liberated rile, that I came in contact with Divine Principle. Five months ago, in fact, Elio and Amelia spoke to me about the new dispensation. My husband and I began studying Principle and because of the faith I had in Amelio and Elio I accepted it as Truth. Later, I had a dream in which Sun Myung Moon's identity was made clear to me. Thanks to the Master I now understand why I was so attacked.
(Luciana is the mother of two children. She types our articles.)
Mario Ferrario (Aged 34)
I have always examined things with my heart, for this reason when I heard Divine Principle I felt that this was truth. Something inside of me told me that this was truth. My father was a scout leader so he made me join the scouts. This gave him great pleasure and I was forced to make sacrifices. My natural instinct was to enjoy myself but in scouting I was forced to think of others. Even in choosing a wife I followed my heart although I could have married a beautiful girl, or even a rich one I chose Luciana because I felt within my heart that she was better than me and would help me interiorly. Because of my wife's disturbances I also came to know Amelio and Elio. I studied the Principle, at first I was a bit skeptical but my inner self told me that this was truth.. The way is full of difficulties, sacrifices and dedication and love towards others, scouting prepared me for this. Satan's way is easy and broad. God's way is the way of the heart of the True man. That is why I now belong to this big beautiful family. I hope that I shall never deviate from this the True way. Thanks Father.
(Mario is an electronic accountant. He is the public relations man in the Milan family)
Rosin Peirano (Aged 60)
My life has been one perpetual waiting -- waiting for something to be completed -- but I was never sure as to what I was waiting for. I desired true love, a complete knowledge of God and all things. This desire was so intense that I began receiving spiritual messages and I often visited mediums. At one sitting in 1960 my dead husband spoke to me. "Listen to me -- wait -- because you will be able to receive me… we will become engaged and began a new life together. Would you like that? Continue on the road you have chosen you are in truth." In 1963, an aunt who had died in 1943 gave me the following message "I was sent by one who bears your name… she asked me to bring you these flowers, one is a forget-me-not, the other a poppy and the other a daisy… April, April, April, no time for sleeping, smile and everything will adjust itself. "It was in April this year that was introduced to the Divine Principle, it was in April that I accepted the Master, it was in April that I decided to come and live in the center with Barbara. It was in April I decided to serve the Master with all my heart and to adapt my life to this most important spiritual manifestation, and do the mission, assigned to me.
The Father is helping me to cut all ties that would hinder me in serving Him. I feel within myself an infinite joy and spiritual liberty which I have never proven before. Thanks Father.
(Rosin sells insurance. She is the mother of two children both married.)
Giorgio Re (Aged 22)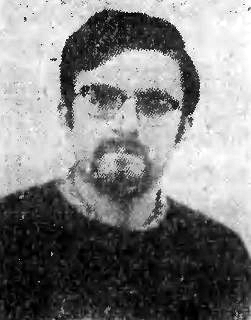 Giorgio Re
I came in contact with the Principle in October last year. The Principle for me meant finding God, a God whom I had never understood, One whom I never knew as Father. For the first time I left him near. Although it is only a short time that I am in Principle, on looking behind me at my past life I find that my conscience has changed and my standard of value is quite different. In fact I feel a sense of universal love surging up in me and now I know that the Principle is the way, the way of the Father. I am patiently waiting to grow spiritually, with that deep faith and unconditional love towards the Master, which although is still not what it should be is developing as I already feel in me that I can subjugate evil and help in making a better world where there will be no more hate, injustice, and all the evils existing in man. I had come in contact with, many ideologies and religions but only the Divine Principle has given me the security that I have been seeking. Let us love as the Father loves. In His Precious Name
(Giorgio is a veterinarian student and is our librarian. He also helps to compile our small monthly bulletin and the first issue will be in June.)
Carmen Cordova (Aged 37)
I was born in Messina, Sicily where I completed my studies. After my law degree I went to Rome where I thought I would have remained. Although in my profession I was entirely satisfied with my progress I was driven to leave and go to Milan. My decision was not at all a rational one and my friends quite perplexed. Milan seemed to welcome me in a special way because I had noticed in many stores charity boxes in honour of St. Theresa whom I had always believed in and with whom I used to converse. It was in the Graduate women's hostel that I met Barbara. I heard Divine Principle but I didn't quite understand it. I have kept wanting to have some spiritual experience but I have never had one. However studying deeper into the Principle has helped, me to understand many things. What encourages me most of all is the serenity, the interior equilibrium, faith, sacrificial spirit and immense love which I feel from Martin, Dawny and Barbara which keeps me going as well as that firm conviction that I was led from Messina to Milan to learn this truth and follow the Master.
(Carmen is a lawyer with her own private studio. It was through her that we met Iolanda and subsequently most of the people who have accepted Divine Principle came directly and indirectly through her. Three years in Principle.)
Angela Amoroso (Aged 36)
I was born in a small town in the South of Italy. In 1963 after my degree in economics, I came to Milan where after working as advisor in different marketing statistical establishments, established my own business in 1969. In 1968, on a visit to Rome I met members of the Unified Family, who invited me to listen to Divine Principle, just at the time when I was spiritually down. I remained indifferent towards the Master but in 1969 Barbara came to Milan and I began to study deeply into the Principle. One day God opened my eyes and I saw Jesus next to Barbara. This helped to convince me that this was the truth. Through the Master I was able to find God and find myself. From that moment I was no longer alone. I feel that the Father has given me a great privilege in forming a part of the Unified Family in this most important moment for the realization of God's plan. I pray that the Father will enlighten me more and more until I can love everyone as I love myself and become strong so that I can help in bringing the world to an everlasting peace.
In the Master's Precious Name.
(Angela is working hard at administrating her establishment with God at the center. Three of our members are working part-time. Pino the sixteen year old, Rosin and Giorgio. Before having the Center we used her offices.)
Anita Rertoncini (Aged 33)
Many things used to worry me during moments of sorrow and crisis and the questions I asked were: why did such terrible things happen in the world? Why were relations with friends, relatives and at work always so difficult? Why was there so much evil? Why were things always bad with me? I asked myself, if this state of affairs was to continue forever? Was there nothing that could change the course of things? When my uncle who was a priest died seven years ago I thought I had lost everything and was willing to follow him. I never felt him near however. It was while I was stumbling in this dismal despair, when I was spiritually and morally dissatisfied, and felt unhappy unable to enjoy anything at all, I visited a friend whom I had not seen for a long time. Angela. Right away she sensed my problems and I must say I was very surprised as I found her quite changed. She introduced me to the Milan Unified Family where I began listening to Divine Principle. From the very first lesson I felt great transport for the Principle and quickly realized that this was Truth itself. The more I listened the more I felt joy and happiness and love. A month after listening to Principle, my uncle visited me in a dream in which he said that he and his friends were learning from me. In another dream he directed me towards one of his friends to whom I have already given the book. Inside of me I was waiting for the Truth. Now I have found it I have accepted it with all my heart. Sun Myung Moon has taken my heart.
(Anita is a directress in a chemical research institute.)
Franco Ravaglioli (Aged 21)
The problem of religion was never very important for me. I have always believed in God but never in the church. My mother had known Jolanda for twenty years and all during this time paid frequent visits to get advice from the spirit who was working through this medium. I personally never wanted to go as I was very much afraid but one day I was summoned to attend a sitting in which this spirit, Horvart said to me: "The time for the Truth has come, we cannot go on anymore with our old knowledge of God and His creation" after a long conversation he asked me if I understood, I said yes, but this was not true so he laughed and told me that very soon I would have been given the opportunity to understand. One week later I was introduced to the Milan Unified Family and began studying the Divine Principle. Now I am happy, happy of living, happy at seeing a flower. My first goal is to help others to achieve this happiness, knowing God and living as God would like us all to live. I know I am living the most beautiful experience of my life. Thanks to our True Parents, who suffer for us and for the whole world.
(Franco is our chief translator and wrote this testimony in English but for some corrections. He is studying languages and works as a clerk.)