| | |
| --- | --- |
| | The Words of the Mackin Family |
Obituary for Thomas Patrick Mackin
September 18, 2013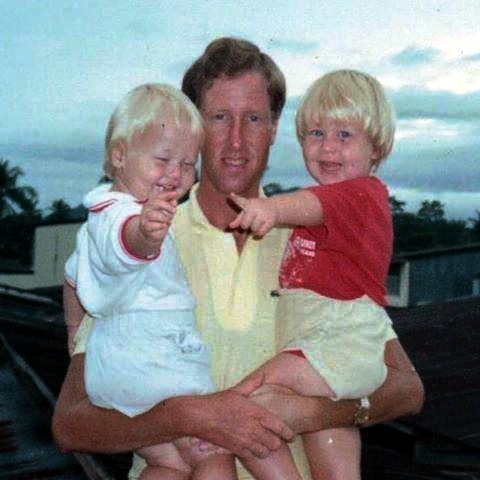 Thomas Patrick Mackin, age 58, beloved husband of Eva Stuedemann Mackin, of Milford, CT passed away on Sunday, September 15, 2013. Born on February 27, 1955 in New Rochelle, New York he was the son of the late Thomas and Joan Crabtree Mackin. In 1976 Tom became a missionary in the United States before going to Thailand in 1983 where he continued his missionary work until 1990 when he and his family moved back to Connecticut. Tom for many years worked at Colonial Toyota where he most recently held the title of IT and Security Systems Director. Tom was a gifted artist and truly loved photography. He was known for his great sense of humor and charming personality, he was a loving husband, father brother and friend who will be greatly missed by all who knew him.
In addition to his beloved wife Eva, Tom is survived by his three children Rebecca, Jessica and Patrick Mackin all from Milford, two sisters Katie McKenna and her husband Jack and Joan Miner and her husband Ernie as well as many loving nieces, nephews and many more loving family members. Tom was predeceased by his beloved son Christopher Mackin.
A Seonghwa service will be held on Saturday, September 21, 2013 at 10:00 a.m. at Cody-White Funeral Home, 107 Broad Street, Milford, CT 06460. Interment to immediately follow at King's Highway Cemetery. Friends and family may call on Friday, September 20th from 4:00 p.m. -- 8:00 p.m. In lieu of flowers memorial contributions may be made online in Tom's name to www.wfwp.us/ or donations may be sent directly to the Mackins at 26 Eddy Street Milford Ct 06460.
We are asking for your prayers for Tom and for his family. We especially need help from 1 am from now until Saturday the 21st.
Please contact Christine Hempowicz to schedule prayer times.
Please feel free to forward this e-mail to brothers and sisters outside of Connecticut who know the Mackins. God Bless you and let us all join together to pray for Tom's smooth transition.