| | |
| --- | --- |
| | The Words of the Lancaster Family |
Future Korean Journalists Visit America
Betty Lancaster
June 1990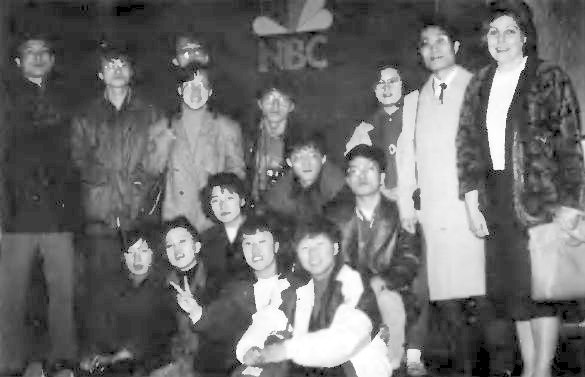 The student journalists tour a major television studio. Mrs. Lancaster is on the far right and Kyu is third from the right
Reflecting on the past months and all the Korean guests who have come to America for seminars and tours at Father's invitation perhaps one of the most interesting was the Student Media Group.
They were all campus newspaper writers or editors or at least had some affiliation with their campus media. Because they were students of journalism, this group had particular needs and specific expectations.
In Washington, they were enthusiastically hosted at The Washington Times building, at the Insight Magazine offices,
The World and I building, Atlantic Video, the New World Media Television Center, and many other places of interest to them. They especially loved the beautiful city of Washington, DC. The guests were well-taken care of by Ambassador Sang Kook Han and all his staff members.
The first clue to this being a most "colorful" and lively group, was watching them assemble for a formal group picture following their welcoming dinner in New York. Instead of the usual dark suits and jackets worn by most guests for this occasion, this group wore colors of all kinds. Actually, it made a nice color photo. As we have experienced before, emotions run high among the young and energetic. They were given a whole new world to digest and probably wondered how to fit it all into their everyday life upon their return. These media students were very verbal, asking many questions and expressing their thoughts.
A Visit to New York University
One of the outstanding events of their stay in New York was a visit to the New York University campus newspaper,
Washington Square News, at the invitation of its young editor, Marc Bell. At their offices located at Loeb Student Center, Mr. Bell talked to them in the large lobby of the Center, giving them a general introduction to NYU and to their publication. Afterwards, he ushered them to an upper floor where the paper was actually put together. Marc introduced them to their first American campus newspaper and the procedures that were followed on NYU campus (proudly announcing that they ranked #8 among U.S. university newspapers). This was done so casually, with our 135 Korean guests gathered around him -- some sitting on desks, some leaning against walls or just standing nearby. There was such excellent give and take following this presentation. The Korean students asked questions such as, "Do your professors write in your paper or only your students?" "Only students" came the answer.
We appreciated being given this opportunity and our guests expressed this to our NYU host. Dr. Dae O. Son, senior leader of this group, a professor and church member of long standing, was so impressed by this particular event fox his group. Dr. Son is also Editor-in-Chief of the Chongyohak Shinmun, an academic "professor-student dialogue" publication in Korea.
Much to our surprise, the best was not yet over at New York University. As the Korean students boarded the three buses awaiting them outside, Marc Bell ran back to his office and brought out boxes of beautiful university T-shirts, boarded the buses and personally handed one to each guest. He obviously enjoyed this episode as much as our guests.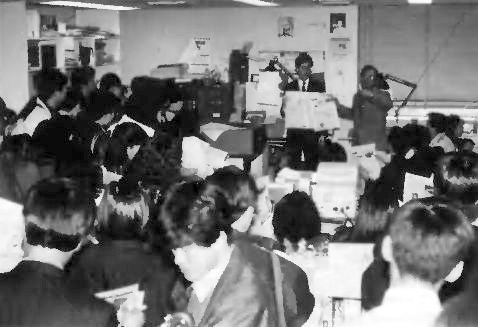 Mr. Marc Bell, the editor of Washington Square News, gives an overview of his paper
Media: a Business of Service
One afternoon was spent touring a major television studio and doing general sightseeing, which of course included the ever popular Statue of Liberty. Touring the offices of the Segye Times, our New York City based Korean language daily newspaper, was also enjoyable to the students. They were hosted by Segye's president, Mr. Byung Ho Kim. Here they could freely chat and ask questions in their own language. Of course the Segye Times also has major offices in Seoul, with distribution throughout South Korea, allowing the students to see a larger picture of the paper.
Professor Won Ho Chang, who is Chairman of the Advertising Department at the University of Missouri's School of Journalism, was invited to New York to address a portion of this seminar. In his speech entitled, "Some Lessons from American Journalism," Prof. Chang told the Korean students they have much to learn from American journalism.
Another highlight was a morning spent in the auditorium of the News World Building on Fifth Avenue as Ambassador Phillip V. Sanchez, Publisher of Noticias del Mundo, gave a presentation to the group. As Amb. Sanchez spoke of the goals and purpose of this particular publication in meeting the needs of the Hispanic population, words of wisdom and guidance were given that could benefit anyone entering the field of journalism. He said a newspaper must gain credibility in order to effect changes in values and attitudes in society; it must be profitable for the sake of the well-being of its employees so that in turn better communities are established; it must provide educational opportunities in the field of journalism through scholarships, seminars, internships, training and so forth. Its scope can even be effective toward world peace through linking and bridging other media. In other words, it must be a business of service to others. Amb. Sanchez praised Father as being the champion of Noticias del Mundo, which in turn is the champion of the Hispanic people.
A Special Friend
My remembrance of this group will always include a young lady named "Kyu." Kyu always seemed to be in my presence. The first evening I happened to be walking past the telephones when she needed assistance with an out-of-order number. Then, another day, as we were waiting for some groups to finish their TV studio tour, Kyu happened to be in a small group we had invited for refreshments.
We spent the time getting better acquainted. Kyu spoke perfect English -- so perfect that I asked her if she had studied in America. "No," she answered, "but I would like to explain the reason to you later." "Later" turned out to be one evening after dinner.
Kyu found me during a nice quiet moment. She explained when she was just a little girl her father began pulling her from her bed early in the cold mornings and sitting her in front of the television. He had discovered a program that taught the English language. Kyu would sit and quietly listen to the program. So many times she wanted to run back to her warm bed but her father always insisted that she sit and learn. She obediently did as she was told. This went on over a long period of time. Gradually, she realized that she could only perfect her skills by having conversation with an English-speaking person. When she was old enough, she sought out someone. She told me many interesting things that unfolded in her life concerning her second language. Through this sharing, Kyu wanted to make one important point to me: She felt certain in her mind and heart that everything had occurred for this one particular trip to America. With her special language skill, she was gaining far more than she could ever have dreamed of otherwise. She told me I could not possibly understand the wrong concepts she had about America, the American people, Father and the world outside of Korea. Now she felt liberated and excited in her heart. "You speak about God," she said. "I am not a religious person; I have never thought about God but I will be thinking about many things from this point on."
When the time came to say good-bye to this group, Kyu gave me a big hug and we expressed a lot of love. I cherished that moment as being representative of many of our guests' hearts, young and old, that are enlightened to embrace a new world being ushered in now: a world of true understanding, true peace and most of all, true love.