| | |
| --- | --- |
| | The Words of the Lancaster Family |
Korean Clan Conferences
Betty Lancaster
April 25, 1989
ICF Coordinator for Korean Conferences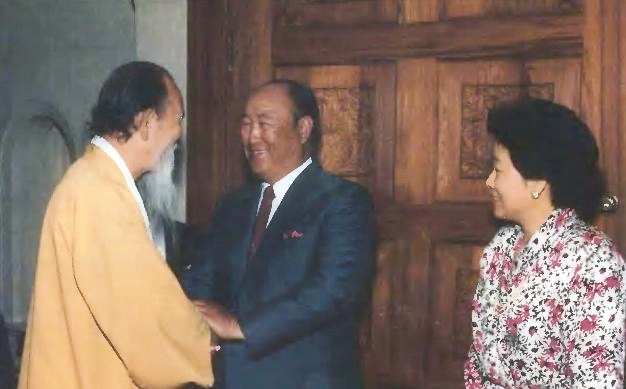 True Parents receive a moving tribute from the head of the group.
Father looked at his wristwatch periodically over the course of the day of Tuesday April 25th, 1989.
Those around him later said Father anxiously awaited the arrival of the "Chairmen from the Association of Family Clans in Korea," the representatives of every known family name in Korea's history. In the Korean language this group is known as "Jongchinhwe," which is actually a shortened version of the real name. There is no exact translation into the English language, so we chose to describe them as clan chairmen.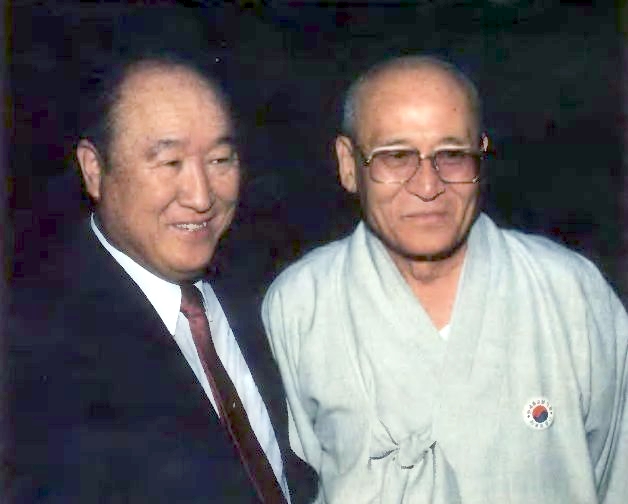 True Father and a clan chairman unite in spirit.
"They will soon be here," Father was heard saying more than once that Tuesday evening. Father receives many of our touring Korean conferences, but these were very special guests for they represented the entire history of Korea. There are 274 family names in Korea's history. Of course each family branched off into different locations within the country, giving a total of 3,534 tribes. However, there are 274 leaders to represent each name within this important association. Representatives who were unable to attend with this first group, which was accompanied by Reverend and Mrs. Young Suk Choi, will come at a later time.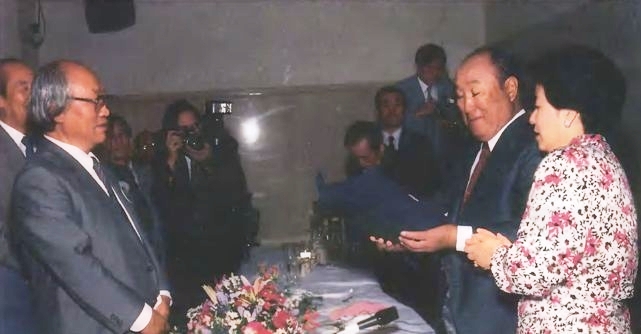 The guests are welcomed by Father and Mother to East Garden.
When the Japanese occupied Korea for 40 years, they burned all records of early history, much of which had been painstakingly written in script. Korean history was then later rewritten, much of it inaccurate. The members of this Association are searching for roots of family lineages. They are searching for records buried in Korea and in parts of China which prove the origin of the Korean people from the person of King Dangun, whom the Japanese tried to discredit as being only a folktale. During the occupation some elder citizens were known during the early occupation to have buried their papers in underground pots, some of which have already been discovered. So today these "tribal leaders" have united into a more organized association working together for the same cause they had worked for as individuals.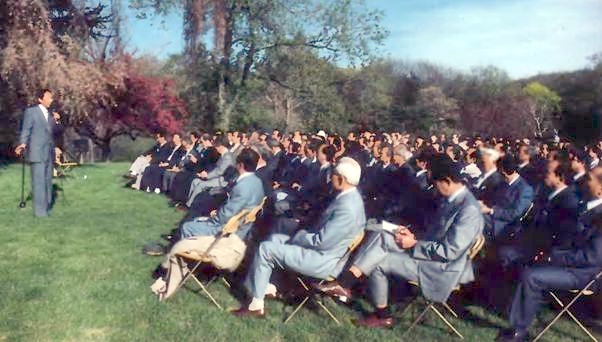 Mr. Hyo Yul (Peter) Kim addresses the clan chairmen on the lawn at Belvedere.
In America, we have been receiving many categories of people from Korea for our training seminars and tours-professors, religious leaders, high school principals, and writers, to name a few. While we truly treasure each and every one, still this was a most unusual group, calling for some special preparations. For one thing, we assumed the participants would all be elderly; at times we referred to them as "the grandfathers' group." We added a few people to the staff thinking they would need special assistance. However, when they arrived we were surprised to see many of them were quite young. They ranged from young to middle years to several elderly ones, including one 90 and two 80-year-olds. It might very well have been the younger ones were representing elders unable to participate. Father, also surprised at their overall young ages, said "Good, good."

Banquet at East Garden.
Chief of the Clans
Recently, Father was appointed by this Association to be the Chairman of the entire Moon Clan! This was exciting news in itself, but following the dinner which Father hosted for them that Tuesday evening, they symbolically appointed him Chief of all the Clans! There will be a formal ceremony held later in Korea making this official. Following the dinner, the leader of the group informed Father of this during a very moving speech expressing gratitude to True Parents. Tearfully, he paid tribute to Father.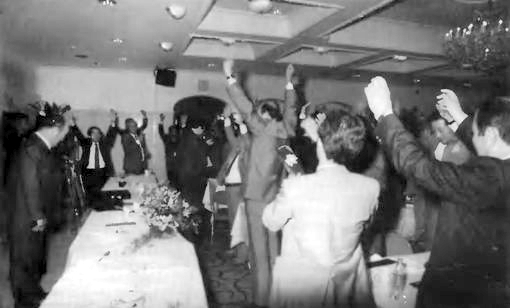 Father receives a warm cheer after his speech.
At the ceremony to be held later in Korea, the Association will crown Father the Chief of Chiefs! Imagine the magnitude of this in the spirit world and throughout Korea!
Seven representative members of the group did three full bows before Father. Representing all of Korea, both North and South, this spiritually signified the acceptance of Father by the entire nation of Korea. Kim Ii Sung of North Korea is from the Kim family of Jeinju City in South Korea! Certainly all of this must be forerunning the physical unification of North and South Korea.
The highlight of the dinner that night was well-prepared striped bass that Father himself had caught in the upper Hudson River region.
Songs were offered to True Parents. One guest was so moved he got up and began dancing. Father and Mother each offered a song to the guests about their homeland.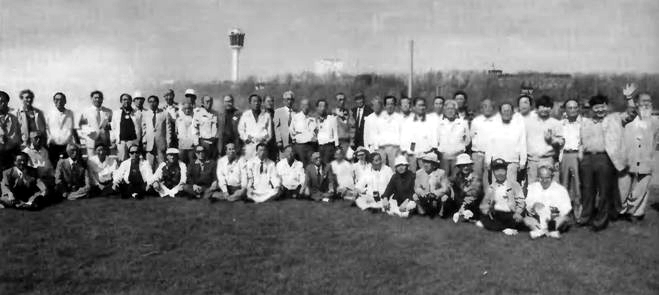 The Association visits Niagara Falls.
Father spoke on the meaning of true love, True Parents, man/woman relationships, and the Unification Church.
He clearly explained that their destiny was to be connected to Father. He said some of them had been negative toward Father and still had come on the tour -- because of their ancestors in spirit world. They must connect with Father for the sake of their future. This Association will be instrumental, Father said, in uniting Korea.
After such a strong speech in which Father did a lot of laughing and some chastising, he gave each of them a gift. Father also suggested that they be given a trip to Niagara Falls on the east coast and the Grand Canyon on the west coast of the United States.
After many goodbyes to the buses, Father sat outside on the hill at East Garden until he knew they were safely back to Manhattan, as he is known to do for many guests.
This group essentially received the same seminar in Washington, DC and New York which has been given to other groups except that this one had a less intense schedule.
At their closing dinner in New York City, Rev. Joong Hyun Pak invited the newly-appointed New York area tribal leaders to join as table hosts. Each of them brought a small gift for the visitors. What significance might this night have had -- tribal leaders from the East meeting tribal leaders from the West. And so the "Treasures" returned to the Fatherland. Who can possibly know their true value except True Parents.