| | |
| --- | --- |
| | The Words of the Lajdova Family |
Singing to True Mother on Foundation Day
Erika Lajdova
February 2014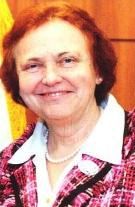 I faced a predicament when I was deciding whether to go to Korea to attended Foundation Day last year. To go or not to go -- the finances were limiting me, but the feeling that Foundation Day comes only once in all of history won. I had three goals -- to attend the Foundation Day events, to meet my three children, who are studying at Sun Moon University, and to sing in front of True Mother (this was my strongest desire, but looked to me like an impossible dream).
Korea is the chosen land and many things happen there based on the direction of your thoughts. I remembered that we had done an experiment with iron filings in physics class; we spread the filings out on a white piece of paper and saw that they were arranged chaotically. The moment we placed a magnet under the paper, however, the position of the iron filings accorded with the lines of magnetic force. The invisible magnetic waves arranged the filings in an organized way. Similarly, if we keep the heavenly laws, our Heavenly Parent can come and arrange everything as needed.
We scheduled our flight for February 19 but the plane would arrive on February 20, my birthday. I turned sixty last year, a round birthday.' As a joke, I said that I would celebrate my birthday in heaven, in the clouds. Looking back, I feel that my whole three-week stay in Korea was like celebrating my birthday. I received so much...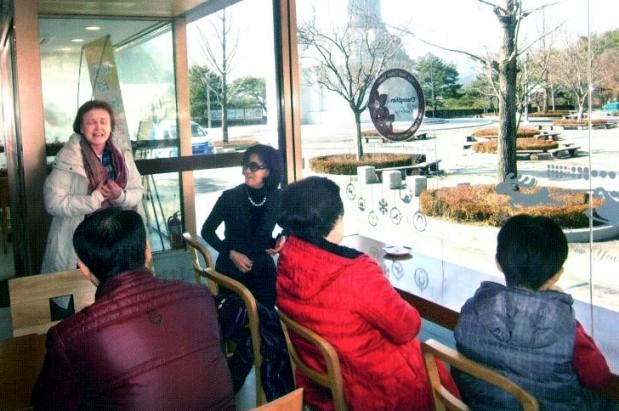 True Mother with Shin Joon nim while listening to the song that Erika is singing. Mrs. Won Ju McDevitt, Mother's personal assistant, is dressed in black.
Finally the day we all longed for had come. Foundation Day was here. We woke up to a snowy morning and it was as if all of nature wanted to celebrate the day as clean and pure as it could be. Beautiful sisters in white dresses and brothers in dark suits were running in the hallways, preparing for their part in this special day.
When the program started, the hall was completely full. My husband, who participated in the leaders' meeting, surprised me with the news that I was also invited to Cheon Jeong Gung for the banquet, which was scheduled after the ceremony in Cheongshim Peace World Center, even though I was not a national leader.
The amazing program in the Peace World Center with True Mother and other members of the True Family was unforgettable. That is how new opportunities begin for us.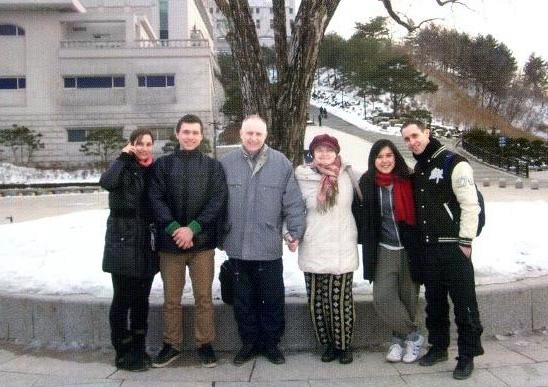 Erika, her husband Juraj and their family united under the Tree of Love
After the program, we went with all the leaders to Cheon Jeong Gung. We were seated at a table numbered eighty. Utter someone came and moved us to table eight, which had the advantage of being very close to True Mother. We could see the stage clearly and thus the whole program. Eight, signifying a new beginning, is my favorite number. Besides other performances, our daughter Jana performed onstage with Australian CARP members because she had been helping them as a staff member during the days that the Australians had spent in Korea. We could also meet our other daughter Monika, who had been staffing for a UPF conference.
After the banquet in the Cheon Jeong Peace Palace, we separated. My husband went to the Youth Center, and I went to the Chung Pyung Heaven and Earth Training Center, where I am always happy to be. I planned to meet my husband again on Thursday, February 28, at the Youth Center.
On the way there, I was thinking about biblical figures whose way of worshiping God was simple but sincere. Abel had a flute that he played for his sheep. David played the harp and composed psalms. When he fought Goliath, he used just a few pebbles and killed him. Francis of Assisi was called a "simpleton of God" -- he left his home naked without taking anything with him and dedicated his life to the religious order. Mother Theresa also met presidents wearing only simple clothes and successfully asked them for donations for her patients. Somehow, I felt as if I were one of them, simple and empty. I had only a bottle of water and phone with me.

As I was approaching the Youth Center, I met a sister who told me that all of those at the leaders meeting were getting on buses and going to Cheon Jeong Gung to meet True Mother. I hurried and arrived, all sweaty, at the Youth Center. My husband got off the bus and told me that a sudden message came to go to Cheon Jeong Gung. We asked if I could go as well. The answer was yes.
The meeting with True Mother was not just a courtesy call. True Mother wanted a serious promise from us that we would take care of our nations until 2020.
The next day Friday, March 1, my husband came to Chung Pyung for lunch and then we went to the Chung Pyung bakery for ginger tea. We also needed to plan how to use the time in Korea as efficiently as we could. There were about five people there.
We were just about to stand up and leave, when a black car stopped just in front of the bakery and to our great surprise True Mother got out of the car and entered the bakery with Won Ju McDevitt, one of True Mother's grandsons, a man and another woman.
They all came in and ordered ice cream for everyone inside. Suddenly the idea came to me to ask Mrs. McDevitt if I could sing for True Mother. My husband encouraged me to ask her. I went to the cashier where she was just paying for the ice cream and spoke to her.
She asked True Mother. I was waiting and then True Mother agreed. I chose an Italian song "Mama," that I have known since I joined forty-one years ago. The song exactly fit my hearts' feelings: Mother, I am very happy to come back to you.... Mother, you will be with me, never will I be alone. Mother I love you so much. Mother, you are the core of my life!
True Mother asked where I was from. I told her I am from the Czech Republic. I started singing and I could see True Mother liked my song. My goal was to make True Mother happy. She sometimes appears sad, and it is obvious that she misses True Father very much. I believe she often wears sunglasses so that nobody can see how much she cries.
We all escorted this special group to the car and waved goodbye. The dream was over. Let's have impossible dreams and let's make them come true -- be in the right place at the right time -- is the lesson I saw in this.
I am so grateful; I wouldn't exchange any amount of money for this experience. My Foundation Day was deeply connected to True Parents.