| | |
| --- | --- |
| | The Words of the Inose Family |
Newsletter for July 7, 2011
H. Inose
July 7, 2011
(heavenly calendar 6/7)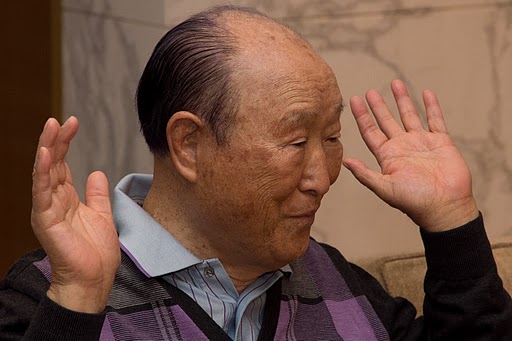 Brothers and sisters around America:
Glory to God!
True Parents have walked a way of blood, sweat and tears, which no one can understand, in order to liberate God and human beings. And finally, in 2010, the victorious settlement of the Parents of Heaven, Earth and Humankind was proclaimed. Therefore, as Prof. Oh explained in his lecture on 11/22/2010, "True Parents have achieved ultimate unity and become 'God of Day.' (on 5/8 heavenly calendar of Cheongi 1) True Parents have become the manifestation of 'God of Night.' Finally, 'God of Night' and 'God of Day' could be united through the manifestation of True Parents, and they emerged as the True Parents of Heaven, Earth and Humankind. 'God of Day,' whom 'God of Night' has waited for a long time since Before Creation, has emerged. 'God of Night' and 'God of Day' were united and they emerged as the True Parents of Heaven, Earth and Humankind, so God's providence will make progress rapidly from now." Now, True Parents' Speaking Tour in Europe has finished successfully. It is the age when True Parents' victory will be expanded horizontally and substantially.
Also, Kook Jin Nim and In Jin Nim visited Malaysia and brought a great victory on the national level. On July 17, a world rally will be held in Nigeria with 3000 domestic and foreign leaders attending. As we can see, we have now entered into the time of substantial and horizontal expansion of True Parents' victory, so we should start again with a completely new heart.
In order to make a substantial foundation with heavenly fortune, it is important to practice with absolute faith what True Parents instruct us, the blessed central families. As True Parents emphasized again and again and In Jin Nim also emphasized in her sermon, we have to throw away our old notions and habitual thinking completely, and practice the content of the Original Divine Principle every day to change our life into that of original Creation.
Rev. Hideo Oyamada talked about our attitude and the meaning of the Original Divine Principle workshop for Boon Bong Wangs and National Messiahs which was held from May 19 to 24 centering on True Parents as follows:
1. An Instruction by Rev. Hideo Oyamada, Boon Bong Wang of Japan (Excerpts from KMS News No. 379)
--- The first purpose of this workshop was to let Boon Bong Wangs and National Messiahs start anew. Then, at the end of the workshop, every participant was appointed as a lecturer of the Original Divine Principle education. As a conclusion of the workshop, Father emphasized, "There is no other way of living but to follow Father's words. Those who do not follow Father will fade away." Only True Parents have the authority to change the blood lineage. It is impossible for True Children to do it. Therefore, Father said, "Follow me centering on my words." This is the point of the Original Divine Principle education.
I would like to share what Father especially emphasized at the workshop and what impressed me: "As the True Parents live revolutionarily, you also have to live seriously. Live a day like a thousand years." "Don't conform to the stereotype. Abandon your habits until now. You need to start again your life and faith centering on the True Parents." "Now is the age of cosmic revolution and recurrence. You have to live strictly following Father's words." "The desire to sleep and sexual desire…. In particular, to govern the sexual desire is more difficult than dying. However, Father has overcome the way of trial." "Throw away the old notions. You should start anew. Otherwise, you cannot live with the True Parents." "We have achieved a revolution of environment to some extent, but without a revolution of humankind, it is meaningless. Therefore, it is only education that we should do from now. What kind of education? It is the education of the Original Divine Principle and the Absolute Sex."
From now on, blessed families, Tribal Messiahs, National Messiahs and Boon Bong Wangs have to be united with each other and bring the Abel UN and the Cain UN under control. At the commemorative ceremony of the 49th Day of All True Things, Father said, "Those who cannot fulfill the responsibility of the Tribal Messiah will fall away automatically." The Tribal Messiahs have to take the members of their tribe to heaven to the last man. They have to fulfill ancestor liberation and blessing until 210 generations, who are their tribe in the spirit world.
However faithful we may be, we do not know when we might betray God and True Parents. Therefore, the first step to straighten ourselves is to thoroughly live a life of Hoon Dok Hae with a right attitude.
2. A Right Attitude for Hoon Dok Hae (from the book of True Father's words in Japanese, Hoon Dok Hae and the Mobilization of the Spirit World)
--- Father's words have been given in connection with the movement of the spirit world during the 50- year history of our church. Therefore, when Father's words emerged later, the spirit world which cooperated in the past will cooperate, and the realm of heart in which everyone prayed seriously with Father in the past will cover the world with Father's words.
When the person who reads Father's words weeps, everyone there will weep, and when he is impressed, everyone will be impressed. This surely happens for any kind of people. Why? Because the spirit world directly comes and works. The spirits who were impressed with Father's words in the past cooperate with the person on earth. Therefore, even though you try to educate people by your ability, no one can enter into heaven. When they follow True Parents' words, they can directly go to heaven. Even though you educate others after becoming a PhD, the spirit world can never cooperate with your words. --- (p. 32)
--- Father's words which you read at Hoon Dok Hae are the records of victory for which True Parents have fought. It is a record of the victorious tradition. Therefore, you have to apply its traditional fact to your daily life until we accomplish the realm of liberation of the cosmos. You have to critique your daily life and establish the substantial realm as your object partner. --- (p. 49)
--- When you do Hoon Dok Hae, you have to read, read, read and read to overcome Father's heart at that time. You have to overcome heartistically. --- (p. 49)
--- The reason why we now do Hoon Dok Hae like this is to let you on earth inherit the seriousness of the spirit world at that time. If you regret with the seriousness which Father had in the past that you could not participate in the providence at that time, and if you read Father's words regretting that you could not cooperate with the providence at that time, you would weep bitterly. --- (p. 49)
3. For the Victory of Witnessing
When we seek to fulfill True Parents' desire toward America, the Elder Son Nation, True Parents ask us to strengthen the church activities, ministry, especially witnessing. True Parents talked about witnessing a lot at various times. Here, let's think of witnessing from Father's words on April 1, 1977, "How to Witness: To State Leaders." By deeply knowing and practicing these words, let's make a breakthrough and offer the result of witnessing.
--- If a person has deeply loved someone other than God, then after joining the Unification Church he has to overturn that standard and build a deeper sense of love for God and the True Parents. This deep feeling of love is the shortest route to receiving assistance from the spirit world. You can communicate with spiritual world instantly when you are consumed by a love for me which is so intense that you cannot help but have tears running down your face. Sisters especially may have this experience. If you have that experience three or four times, then the spirit world will immediately open to you.
Since your goal is to come as close as possible to God, then you need to deeply long to be with me. You must be able to overcome any number of sleepless nights and hungry days in your desire to see me. When you have conquered your physical body, then the spirit world will be right there to assist you. Sometimes in meditation or prayer a person may suddenly realize the significance of my life, how I came after many thousands of years with such an arduous distance to conquer. That person may have an intense desire to buy me the best clothing in the world, although he has no means to do that. Then later while he is dozing off I will appear in the finest clothing and tell him, "Don't worry. You have just given these to me. I am wearing your gift." This is an important experience. This correlation between your deep desires and your experiences always exists. Have you ever experienced such a thing?
Where shall you begin in order to reach that level? It is actually not too difficult. When you encounter any man on earth, you must value him in the realization that I have come just to save that man. You must feel that love and closeness for the most insignificant man, let alone for the great man whom you can easily appreciate. You must love the least important man because I have come to save him. Train yourself to feel that closeness for another person. When a member joins, no matter how shabby he may look you must remember that I came for him, and value him just as much as you value me. You need to feel the intense closeness and vitality of such love.
You need to experience how glad I must be to meet that person for the first time in 6,000 years and learn to develop that heart for all the people you come into contact with. Gradually you have to deepen the intensity of your feeling for them so that when you see them for the tenth time you are as happy as you were when you first met them. If you can associate me with them in your mind, then such deep love for them will eventually come naturally to you.
Your own yearning to be with me wherever I go can be immediately transmitted to others. I am limited to having only one-way relations with members. You, however, stand in a more advantageous position since you can relate in so many different ways with people, envisioning them as my brother or sister or parent, and treating them accordingly. In this way you are in a better position than I.
Now God's authority has been liberated, and True Parents' victory will emerge substantially. It is a surprising age. In such a new age, it is God's blessing that In Jin Nim, whom God and True Parents have prepared and trained for a long time, stands in the center of the American providence. In Jin Nim is carrying out Lovin' Life Ministries in order to witness to the True Parents as breaking news most quickly and effectively around America. Therefore, let's be completely united with the heart, thought and vision of In Jin Nim who marches forward to open a new age with a new method. Then, let's fulfill our duty and responsibility as responsible children and offer great results to God and True Parents. Please be careful for your health in this heat of summer. We will start the Kodan condition of sincere devotion in June of the heavenly calendar as follows. I pray that many brothers and sisters will participate in this.
21-Day Condition of Sincere Devotion around America
Period:
From June 10 (Sun) to 30 (Sat) (heavenly calendar) From July 10 (Sun) to 30 (Sat), 2011 (solar calendar)
Condition:
1. 21-minute prayer
2. To recite "Chambumonim (True Parents), Eog-Mansei." (more than 12 minutes, if possible, longer, with the music of Rev. Hyung Jin Moon)
Purpose:
1. For the long life and safety of the True Parents
2. For the True Family (for the safety and victory of all True Children centering on Rev. and Mrs. Hyung Jin Moon, International President)
3. For the victory of True Parents' rally in Nigeria
4. To unite with the heart, thought and vision of In Jin Nim centering on Lovin' Life Ministries
5. For the victory of the Las Vegas providence
6. For the wholehearted cooperation of Japanese members in America for the victory of WFWP National Assembly from August 4 to 6
7. To put Father's words into practice to make a substantial foundation of victory with brothers and sisters united in heart, in total cooperation with the spirit world
8. For the victory of the Tribal Messiah activities (Cain-type and Abel-type)
9. For the victory of witnessing through the unity of the 3 generations centering on the True Family; To find new candidates for the blessing
10. For the victory of Kodan activities and donation in July.