| | |
| --- | --- |
| | The Words of the Hur Family |
Educator of Missionaries - Yang Hur
February 2012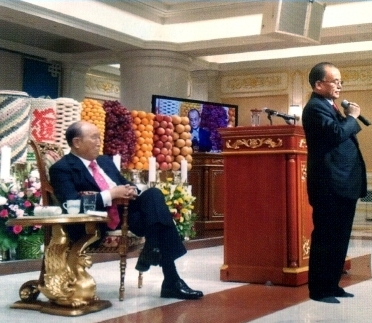 Rev. Yang Hur should be recognizable to anyone who often watches videos of True Father's speeches or s lucky enough to attend them. Rev. Hur is often called out by Father to sing at his speeches. His diminutive size and the strength and quality of his singing voice make him a memorable figure. Before beginning his presentation at the National Leaders World Assembly 2012, Rev. Hur sang one of the songs Father often requests from him, Ulsan Arirang.
Rev. Hur explained that Hyung Jin nim and Kook Jin nim had approached Father to suggest a mission for Rev. Hur but that Father had set aside their suggestion and instead ordered Rev. Hur to be an educator of missionaries. This role calls for Rev. Hur to be with Father frequently. In regard to his new mission, he wished to speak about important providential matters with the national leaders. He began by speaking about the background to Dr. David S. C. Kim's ascension ceremony, the first one to be called a Seonghwa Ceremony. Rev. Hur said that David Kim's second son had said that he felt his father was great because of the life he'd lived. He said, "Dr. Kim's second son had lived in an orphanage because his father and mother were always out doing missionary work. The head of the orphanage had taken good care of him. He felt grateful to three people -- True Father, the head of the orphanage and Dr. Chang Shik Yang for taking responsibility for helping Dr. David S. C. Kim." This attitude moved Rev. Hur deeply. Rev. Hur reflected on the new mission that Father has given him and felt that he is to follow Father like a shadow, listen carefully and communicate the gist of what Father has said to Tongil Segye, so that this information can be projected out to missionaries worldwide. Rather than being someone who educates missionaries based on his own experiences, he feels that his role is to convey to missionaries what Father is speaking about.
Another aspect of his work, he feels, is to convey the work that is being done and what is being said by the international president and the Tongil Group chairman. Rev. Hur related that Hyung Jin nim always packs fishing and hiking gear whenever he travels with True Parents, because one cannot predict what Father will decide to do. He also heard Hyung Jin nim say, "God gave Kook Jin hyung the head to run an organization and gave me the blessing to be able to attend True Parents from close proximity. I intend to serve them perfectly."
For the final sixty-seven days of 2011, True Parents stayed in Korea. Dr. Seuk had explained that for forty of those days, one of Father's legs had been in a cast. Rev. Hur observed, "Father went through his full daily schedule each day and did not yield his position as commander of the providence during that time." While in a cast, in addition to speaking at Sun Moon University for four hours after pushing away his wheelchair and leaning on the podium, he toured the nation, visited Mt. Sorak and several islands, in a wheelchair and went to sea to set fishing conditions despite his circumstances and the cold weather. One of the islands True Parents visited was Tokdol is disputed territory claimed by both South Korea and Japan (where it is known as Takashima). Rev. Hur reported that Father said, "The surface of Tokdo is very rough, like my face. Tokdo has a father island and a mother island and is very lonely, like me." Rev. Hur added, "Father gave a benediction on Tokdo; 'Let this journey reveal this nation to the world and make this God's fatherland, which will steadily progress toward the liberation of heaven earth and the whole universe."'
On November 11, after Hoon Dok Hae, Father said that through true love, Korean unity was still possible. In November last year (when Kim Jong Il was still alive) Father decided to donate three thousand tons of flour to aid North Korean people. Rev. Hur said, "Father wrote, 'Donated -- three thousand tons; I'm sending this on November 5 to my brother, Kim Tong-il. Please accept it.' Then, Father wrote his name and he signed the paper."
According to Rev. Hur, though people say Father loves fishing, he has often seen Father onboard a boat without touching his fishing rod because the seas are too calm. About such times, Father told Rev. Huh that he cannot be in debt to members who are working hard. In calm seas, Rev. Huh said, he has often seen Father onboard investing himself in prayer.
Two things seemed clear from Rev. Hur: Father trusts him to convey his heart to missionaries and Father loves to hear him sing. Rev. Huh related a cherished personal memory of a helicopter ride with True Parents in which Father asked him not to stop singing until they reached Cheon Jeong Peace Palace. They did not touch down until some twenty songs later.