| | |
| --- | --- |
| | The Words of the Hara Family |
In Memoriam Hitoshi Hara
July 20, 1987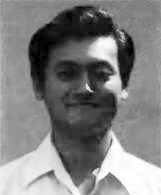 Hitoshi Hara had been a member of the Unification Church for less than a year when he came to the United States from Japan in 1984. He worked for over three years with our movement's food distribution program in Denver, Colorado.
This summer he joined a team in New York fundraising to support the American ministers' ICC.
On July 20, greatly inspired by Father's announcement of the 40-day witnessing condition to begin that day, Hitoshi began a seven-day fast and decided to go out fundraising, even though his team had scheduled free time for the day. Later that afternoon he was found near the stoplight where he had been fundraising, with a gaping gunshot wound in his abdomen. He was taken to a hospital, where he died early the next morning. He was 23.
Apparently someone had tried to steal the bucket of roses he carried, and when he tried to get the roses back, he was shot. According to police, the type of weapon used had a destructive capacity far beyond the legal limit of handguns. The person who shot him has not been found.
A Seunghwa ceremony was held in New York City, led by Dr. Mose Durst, president of the Unification Church of America, and Rev. Ken Sudo, director of the New York church. Brothers and sisters who knew him well testified to over 200 guests about Hitoshi's courage, commitment, and faith.
Hitoshi's parents came from Japan to attend the ceremony and also visited the food distribution facilities in Denver where their son had worked. In a service there, they were greatly comforted by a sermon by Rev. William Ephriam, a minister very close to our movement, who also lost a son from a gunshot wound.
Hitoshi was known as a very pure, dedicated, and hard-working brother. Regional Director Rev. Chong Bok Hong asked every center in the Denver region to honor him as an example of faith to all members.