| | |
| --- | --- |
| | The Words of the Diagne Family |
Day of Families Observed at a School in Dakar
Ambroise Diagne
May 19, 2012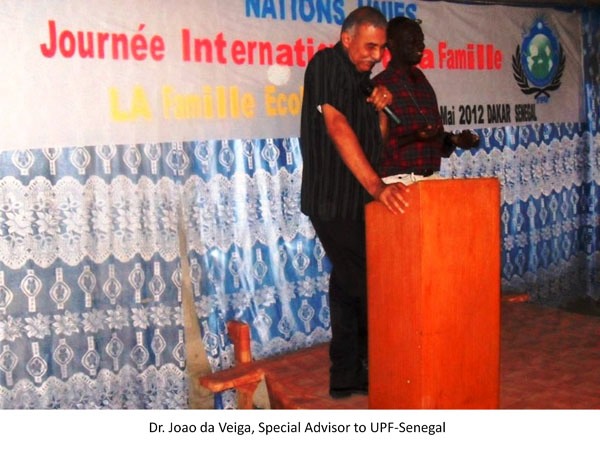 Dakar, Senegal -- An International Day of Families forum took place in Dakar on May 19. Approximately 270 participants attended the program in a school that is under construction.
The event opened with a Muslim and Catholic invocation, followed by the national anthem. Mr. Ambroise Diagne, Secretary General of UPF-Senegal, gave a PowerPoint presentation on "The Family as the School of Love and Peace." In his presentation, Mr. Diagne stressed that fidelity and pure love before marriage are the bases for building a stable family, which is the base for the children to grow well. He also presented statistics showing the importance of children being able to grow up with both parents.
The district school superintendent, Aboubacar Sadikh Diop, expressed appreciation for the fact that the International Day of Families was organized in a school within his district for the first time.
Dr. Joao Da Veiga, a medical doctor and special advisor to UPF-Senegal, stressed the importance of centering one's family on God and having a "culture of giving." He emphasized the philosophy that ''one owns what he or she gives, since what we actually have in our possession is not ours in reality."
All the speakers affirmed the importance of parents' role in the education and proper development of children's behavior. The program closed with elementary school students presenting songs.