| | |
| --- | --- |
| | The Words of the Dhakal Family |
Day of Families Observed in 15 Cities of Nepal
Ek Nath Dhakal
May 15, 2012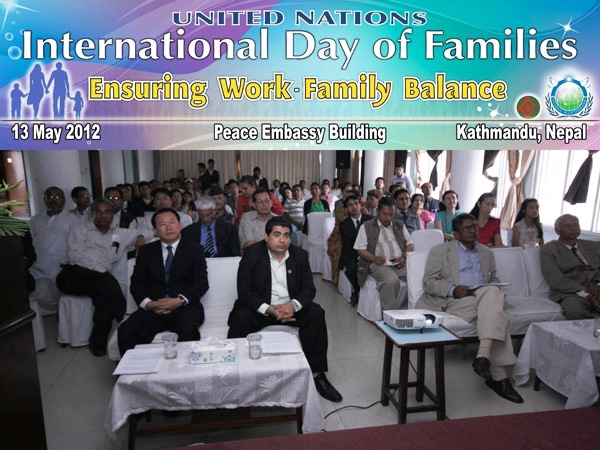 Kathmandu, Nepal -- "As a police officer, I regret that I have left home early in the morning while my children are still sleeping and when I arrive late at night they are already asleep," said Deputy Inspector General Prem Kumar Shahi of Pokhara, Nepal's second-largest city and a popular tourist destination. "This program has awakened us to balance work and family."
Ensuring work-family balance was the theme chosen by the United Nations for this year's International Day of Families observances, May 15.
Interactive forums, presentations about family values, and awards of scholarships were features of UPF's International Day of Families programs throughout Nepal between May 5 and 14. Nationwide, around 1400 people participated in events in 15 locations. The message of UN Secretary-General Ban Ki-moon was read at each program, and local news media reported on the programs.
"I have been working a long time as a senior officer in Court," said Hon. Vishworaj Joshi, Chief Judge of the Appellate Court of Dang, a remote area near the border with India. "It is sad that I can see an increasing number of family conflicts and breakdown. The time has come for us to make an effort to solve it."
The series of events promoted family and community harmony as Nepal seeks to consolidate a democratic form of government and build consensus on a new constitution after the Maoist insurgency and civil war of 1996-2006. Hon. Ek Nath Dhakal, UPF-Nepal President and Member of Parliament, affirmed that while the nation is drafting a new constitution, "it must be supportive and friendly to the family, the key to building a healthy and prosperous country."
The International Day of Families celebration in Itahari, a transportation hub in eastern Nepal, honored inter-caste and inter-faith couples. While about 80 percent of the people are Hindu, there are also many Buddhists and Muslims in Nepal. One participant commented, "This day reminded us to think deeply about healthy families, brotherhood and sisterhood in our nation, and creating one human family in the world."
UPF-Nepal's networks in all 75 districts of the nation make it possible for the United Nations message on occasions such as the International Day of Families to reach a grassroots level. UPF-Nepal has also established a District Peace Council Committee of Ambassadors for Peace in every district of the country. These councils are composed of Ambassadors for Peace from many professions.
Local organizers and supporters contributed in-kind donations and monetarily to carry out the International Day of Families events. Access to quality education is a challenge, especially outside the major cities of the country, and UPF-Nepal has a particular interest in the UN's Millennium Development Goal of universal access to primary education. As part of the International Day of Families programs in Janakpur, Kailali, Nepalgunj, and Sarlahi, scholarships were presented to less-privileged students. In June, UPF-Nepal is organizing an inter-religious service-learning project that will include building a school library and renovating the community drinking water system in the village of Chitlang in the Makwanpur district. In previous years, UPF's Religious Youth Service volunteers helped build classrooms in Banepa and Bungamati, make improvements to a school in Pokhara, and put a roof on a school near Lumbini, birthplace of Lord Buddha.
UPF–Nepal, recognized as "the most active NGO supporting Nepal's peace process," is committed to building a peaceful nation by strengthening families and supporting the UN's Millennium Development Goals. Strengthening marriage and family not only supports children's education but also helps reduce extreme poverty and child morality, improve maternal health, and decrease the likelihood of HIV/AIDS transmission.
"I have attended many programs but I have never seen such a good program emphasizing the value of families," commented Mr. Basanta Raj Bhattarai, Chief District Officer in Hetauda, an important industrial district of Nepal.
Note: The UN's Millennium Development Goal monitor reports that a large portion of Nepal's 28 million people rank among the poorest people in the world. The 1996-2006 conflict left growth significantly behind the booming economies of neighboring countries. Nepalese have the lowest life expectancy in Asia, and almost half the children are chronically malnourished. School enrolment rates are encouraging, but there are serious concerns about the quality of primary education and the low school completion rates.