| | | | |
| --- | --- | --- | --- |
| | The Words of the Dhakal Family | | |

Peace Tour V: Nepal
Ek Nath Dhakal
December 2006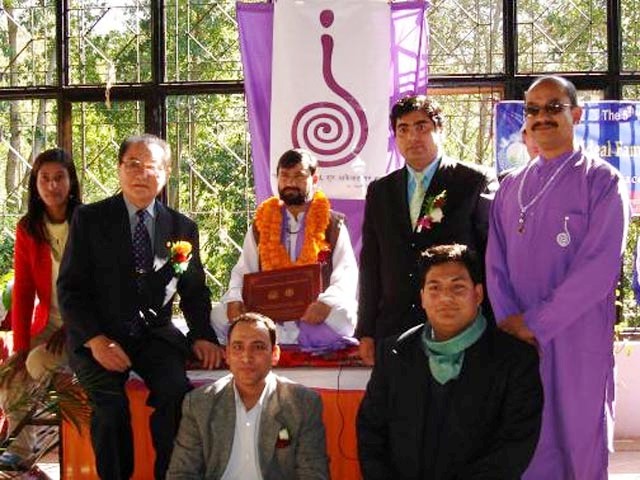 Mano Kranti-Gurudev Bikashnanda welcomes the Peace Tour.
Already more than 900 Peace Tour V events have been completed throughout Nepal. Out of these, 20 events were addressed by two distinguished Korean Ambassador for Peace, Prof. Lee Chang Sup and Dr. Cho Kyung Chong.
At the Katmandu Metropolitan government rally, the Executive Director of the Metro Area testified that Father Moon's teaching is a proof of Peace building, and pledged that and Katmandu Metropolitan office will practice Father's Moon's teaching in their work.
At another event, the Peace Ambassadors were warmly welcomed by the great Hindu leader, Gurudev Swami Dr. Bikashnanda with 200 of his followers. At the closing ceremony at Peace Embassy Building in Katmandu, 100 distinguished VIPs including former speaker of the House of Representatives Hon. Taranath Ranabhat, current deputy speaker Hon. Chitralekha Yadav and seven current member of the parliament were among the audience, which also included former ministers, MPs and many top national leaders
Prof. Lee Chang Sup, a Korean Ambassador for Peace, said it is Father Moon's wish that Nepal, as country of Mt. Everest and Buddha, should become first country to apply True Parents teaching. In responses, deputy speaker of the house, Hon. Chitralekha Yadav said "Father's Moon's teaching is already approved by world and can bring peace and unity to Nepal" She further added, "Let us remember Father and Mother Moon today on behalf of all Nepalese peace loving people. If we completely follow them, complete peace will begin".


Download entire page and pages related to it in ZIP format


Table of Contents


Information


Tparents Home